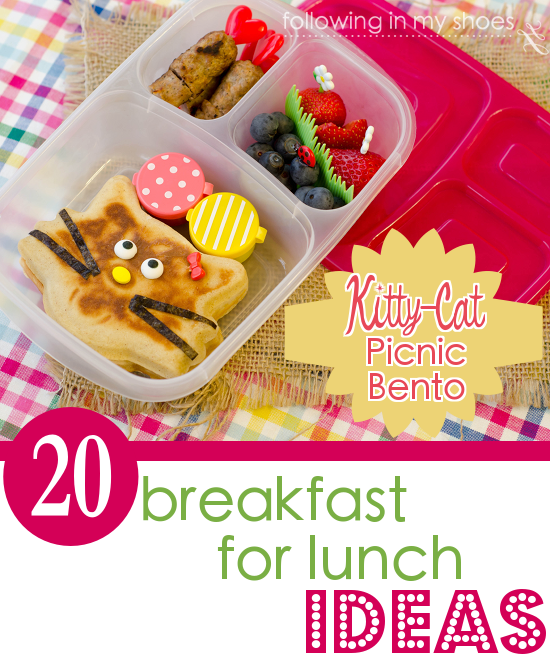 Kitty-Cat Picnic Bento (breakfast for lunch):

Stored in an Easy Lunchbox container: 2 Cat Pancakes (decorated with icing decor, nori, and a bow pick), Maple Syrup (in the two small sauce containers), nitrate-free Breakfast Sausage, Blueberries and Strawberries.

Not pictured ('Cause Mama forgot!): a small kefir smoothie
My Kidlets have been on a weird kick lately — given a choice, they would eat "breakfast" morning, noon, and night.  The three of them have consumed copious amounts of oatmeal, fruit, cold cereals, waffles, omelets, scrambled "cheesy eggs," and (of course) bacon and sausage.  They just can't get enough.
So, I wasn't surprised when Mr. Boy asked for a "Cheesy Egg" lunch last week — it was the week we went through three dozen eggs in a mere four days.  The Kidlets ate eggs and more eggs and even more eggs, with "Cheesy Eggs" being the favorite preparation.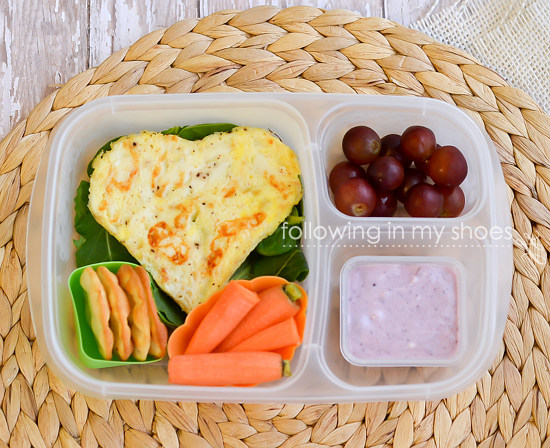 (FYI — cheesy eggs are simply scrambled eggs cooked with shredded cheese!)
Now, for my palate, cold eggs just aren't appealing . . . but, my picky three year old doesn't care and got his beloved eggs for lunch.
That boy is weird.
More "Breakfast for Lunch" ideas
Hardboiled (or oven-boiled) eggs pack well.  If you have an Egg Mold, you can shape the eggs into stars, hearts, fish, or cars.
Scrambled eggs also travel well — just make sure to use cold/freezer packs in the lunchbox to keep everything safe.  For the "heart-shaped" eggs shown above, I used this nonstick heart egg rings while the eggs were cooking.   Alternatively, you could prepare the eggs omelet style and then use a cookie cutter to cut your desired shape from the eggs.
Homemade muffins — forget buying a package from the store, fresh muffins are a snap to make and freeze well.  Anytime you want to send breakfast to school, just pull one out of the freezer the night before.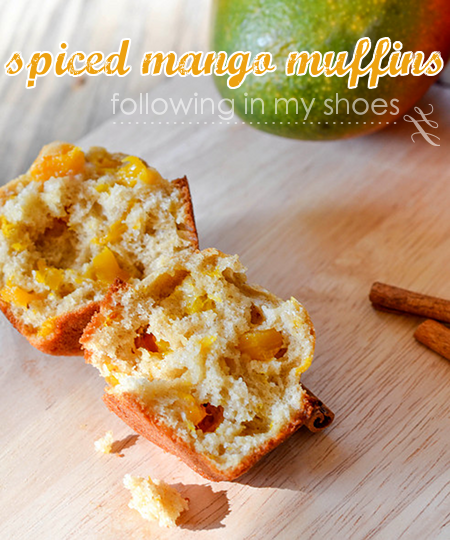 Breakfast tacos (flour or corn tortillas, filled with eggs, cheese, breakfast meat, etc) will pack well in a bento.  Just make sure to store any salsa or taco sauce in a separate, leak-resistent sauce container to avoid a soggy lunch!
Pancakes and waffles are another "make ahead" food that can be frozen until your little one is ready for them.  For the Kitty and Monkey pancakes I made, I used pans similar to these animal shaped fry pans (they were a Christmas gift from the Kidlet's Great-Grandmother.  I'd say she knows me well!)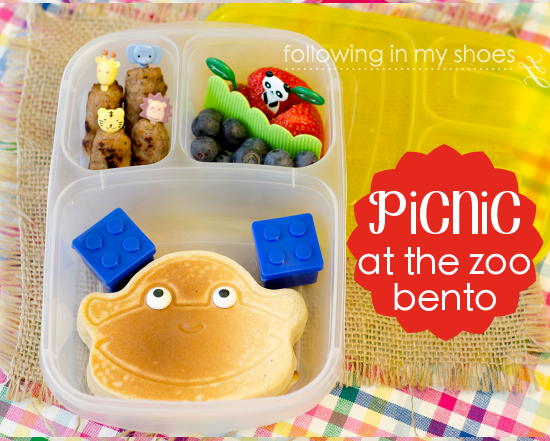 Drop Biscuits are a favorite around here because of their simplicity and great flavor. The recipe has only 3 ingredient, so it's easy to throw these in the oven for your kids — plus you can add in various ingredients such as cheese or fruit.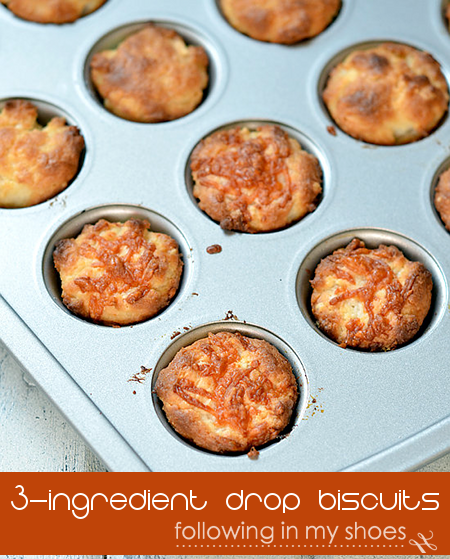 Do you pack breakfast foods for lunch?  What are your favorite breakfast foods to send? Look at the Linky below for even MORE "Breakfast For Lunch" ideas!
I Heart Lunch!!
I adore getting inspiration and ideas (and even "THAT'S how you do that" moments) from others out there … so let's share with one another with the "I Heart Lunch Weekly Link-up."
You can link to any kid-lunch/bento or family-friendly recipe on a blog post or via flickr photos — this linky is for any kind of healthy school lunch and kid-food, regardless if it is Bento-style or not. I want to celebrate our efforts to provide good and enjoyable school lunches for our families!
My only request is that you either add a link back to this post or include the Lunch Graphic (which links back) to your post so others can get here to view the linked lunches too!
Link up your school lunches and bentos!  Please use a permalink for your post rather than linking your general blog/flickr account URL — this will help people go directly to your fabulous lunch!
Now — link 'em up!