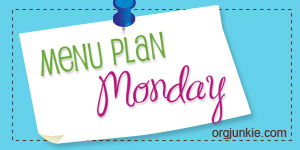 For the next few weeks, my menus are going to be a leeeetle different than normal.
Over the summer, as I've explored and experimented with healthy cooking, I've not worried about the time needed to prep and cook my recipes.  I've just cooked whatever recipe made my mouth salivate and my stomach growl when I read it.
(um . . . yeah, I like food)
But, lately, Hubby has been pacing the kitchen in the evenings — after a day working, working, working, the poor boy's stomach just can't take waiting around for dinner.
It reminds me of when I was still teaching high school; after being on my feet all day, the last thing I wanted to do was prepare a time-consuming meal.   No, I was all about getting something made — regardless of how healthy — and getting made NOW.
Usually, I turned to convenience foods for quick meals; yes, I admit it — I made my share of boxed meals because "quick" was my priority.
Priorities have shifted now that I know what my body needs and I understand how to create a balanced meal plan.  I love knowing that what I prepare for my family is good for them.  But, as Hubby's tummy has been reminding me, my family still has a need for fast and easy meals.
To help with this challenge, I have joined H-E-B (my favorite Texas grocery store chain) and ConAgra Foods for their Back to School Meal Maker Challenge.  Over the next six weeks, my weekly meals plans will focus on fast, easy, AND healthy lunch and dinner recipes.
(FYI, yes — Hubby is beyond thrilled that he no longer has to wait for dinner.  Thrilled, I tell you.)
Each of the dinner recipes I'm using this week require around 30 minutes total (some even less) to prepare/cook, but still focus on healthy preparation and ingredients.  LOVE THEM!
Monday:
Rosemary Chicken with White Beans & Artichokes (I never got to this recipe last week, and since it's fast/easy/healthy, it's tagging along today)
Tuesday:
Whole Wheat Pasta and Homemade Spaghetti Sauce
Wednesday:
Chicken Tacos 
Thursday:
Friday:
10 Minute Basil, Tomato, and Mushroom Pizza
For Saturday & Sunday, we'll eat any left-overs from the week.  Cooking doesn't get any easier than that! (or cheaper)
This post was originally written for a Back To School Meal program with HEB and ConAgra.  I was compensated for my recipe creations and posts.