What can you do with a can of tomatoes?
What can you do with can of tomatoes . . .
For your family-y?
Ok — so, after that debacle I think I can safely say song-writing is not my forte.
But I AM very good at finding new and healthy ways to use "convenience foods."
GASP — Rachel!  Convenience foods?  Prepackaged foods?  Those aren't healthy!
Au contraire, my good readers.  If you are choosing wisely, you CAN create healthy meals while using convenience items — healthy meals that are ready in less than 20 minutes AND budget friendly.
First, let me be clear and explain that I am NOT talking about boxed meals or microwave meals or anything like that.  What I consider to be a convenience food is different than that; I'm talking about canned items — tomatoes, tomato sauce, etc.
In case you're wondering, I hate, loathe, despise, and abominate cutting up tomatoes.  (HATE it.)  It takes forever and is soooo messy.  It's only for the most special of recipes that I will bother with cutting up tomatoes; instead, I use canned diced tomatoes.
So . . . what did I make?
Thin crust pizzas and my new favorite soup — both are cheap, healthy, and so easy to prepare.  You can make each recipe while toting a crabby baby. . . the standard by which I judge how easy a recipe is.
Let's make our Basil, Tomato and Mushroom Pizza.
You'll need the following ingredients:
Flatout Wraps (certified whole grain with flax — healthy and perfect for portion control)
Hunt's Petite Diced Tomatoes
Low-fat Mozzarella Cheese

Mushrooms (I used pre-sliced mushrooms — remember, I hate chopping stuff)
Cold-pressed Olive Oil
Garlic Powder
Dried or Fresh Basil
Salt and Pepper (optional)

To assemble:
Use one Flatout Wrap per adult (1 grain serving) and brush each wrap very lightly with olive oil.  Sprinkle Garlic Powder and Basil over the oiled bread.
On top of each wrap, sprinkle 1/4 cup of shredded cheese (1 dairy serving), and 1/3 of your diced tomatoes (1 veggie serving), and about 1/2 cup of sliced mushrooms (about 1/2 veggie serving).
Lightly sprinkle with salt and fresh-cracked black pepper.  (I also VERY LIGHTLY brushed a little olive oil on the mushrooms to help them cook.  This is optional.)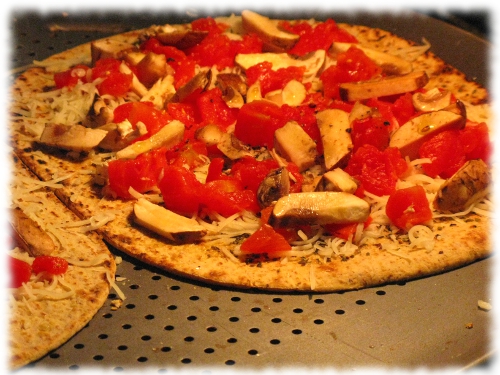 Bake for about 5-7 minutes in a 350 degree oven, and then turn the oven temp to Broil (or lo-broil, if you have that option) for 2-3 minutes.  I have found that cooking the pizzas in this manner allows for the full flavor of the ingredients to come out and results in a perfect crunchy crust.
And now, on to the Spicy Florentine Soup
Ingredients: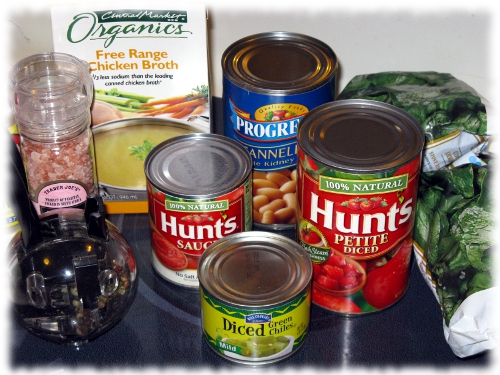 32 fl. oz Chicken Broth
2 cans of Canneli Beans
1 Can Hunt's Petite Diced Tomatoes
1 Can Hunt's Tomato Sauce (salt-free)
1 Can Diced Green Chilies (slightly drained)
1 Package of frozen chopped Spinach
1 tsp Basil*
1 tsp Oregano*
1 tsp Onion Powder*
1 tsp Garlic Powder*
1/2 tsp each of Salt/Pepper*
(*these are the amounts with which I started — I added more "to taste" throughout the cooking process)
To Cook:
In a medium pot and over medium heat, heat up the chicken broth and the tomato sauce.
Add the spices.
Drain the excess liquid from the diced chilies and then add them to the liquid.
Add the beans and diced tomatoes (don't worry about draining either of these ingredients).
Simmer over low-medium heat until hot, tasting periodically as the spices release their flavor.  I ended up adding additional garlic, salt and pepper.
About 3-5 minutes BEFORE you plan to serve the soup, raise the cooking heat and add the chopped spinach.  Allow the soup to simmer/low-boil for no more than 4-5 minutes.  It won't take long for the spinach to cook.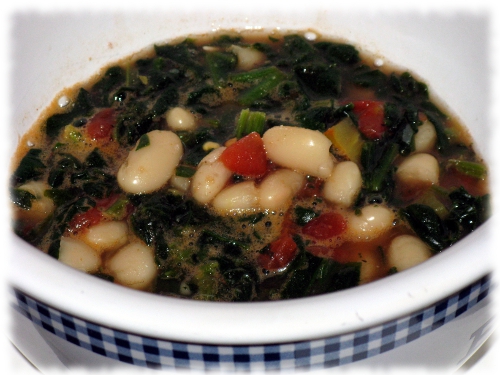 By the way, the soup is a BIG hit in this household; my kidlets gobble this soup (yes, even the spinach) every time I make it.
*Disclosure: this post was originally published as part of a Back To School Meal program by HEB and ConAgra; I was compensated for my recipe creations and posts.