Alternate Title #2: The Crock-Pot — A Girl's Best Friend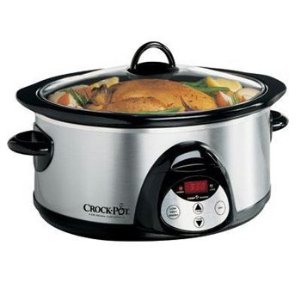 I am IN LOVE with my crock-pot; the subdued, elegant chrome and black color scheme . . . it's soft to the touch buttons . . .the way light bounces off the clear glass lid.
Not only is it good looking, it has a great personality, is dependable, and always keeps our relationship hot.
Regardless of the season, my crock-pot gets quite a bit of use — yes, even in the summer.  I'm not sure if you were aware of this, but Houston is . . . well . . . hot.  Blazing hot.  Scorching.  Smothering.
And, it's humid.
Hot + Humid = Rachel does NOT want to cook.
Luckily, I have my crock-pot; on these miserably hot, damp days in Houston, I throw my food in there, turn it on, and let it do all of the work for me.
Not only does it free me up from a hot, steamy kitchen, it frees up time.  I can start dinner early in the day and it's ready on-time without any further work from me.
Love it.
One of my favorite, FAVORITE meals to make in my crock-pot is a beef roast with potatoes and carrots.  It's my comfort food — the flavors and smells of my childhood  . . . Sunday dinners and Easter at Grandma's house.  I still find my mouth-watering when I think about my Grandma's roast.  HOLY COW (no pun intended), that woman can make an awesome Sunday-dinner pot-roast.  There isn't a roast better than hers.
My husband, however, disagrees with me.
HE thinks his Mama's pot-roast is "the best."
I learned his opinion early in our marriage, one Sunday afternoon, when I proudly set my first "cooked as a married woman" pot-roast in front of him and he said, "Hmmm . . . this isn't the way my Mama makes it."
(yeah, it was all I could do not to through my stiletto through his head at that moment)
Of course, I've forgiven him for such a stupid, new-husband statement and, when he's lucky, I make his mama's recipe for him.
To be honest, it's good.   Am I going to say it's my favorite?  No — that distinction stays with my Grandma's roast.  (I'm loyal like that)
But, it's good and definitely unique.  Why?  My mother-in-law uses mustard.
Yes, MUSTARD!
When I saw the H-E-B in-store coupon for Gulden's Spicy Brown Mustard a few weeks ago (by the way, I hope you stocked up on it when I shared that coupon!), I decided to see if I could change up "Mama's Roast".   Put my own little twist on it.  Make my husband start saying "My WIFE makes the BEST roast."
(in addition to being loyal, I'm just a wee bit competitive)
Here's RACHEL'S Spicy Brown Mustard Pot Roast
Ingredients:
One Boneless Chuck Roast
4-5 Cups of Baby Carrots
1 chopped White Onion
Salt/Pepper
2 T Worcestershire Sauce
2-3 T Spicy Brown Mustard
Directions:
Layer the Onion and the Baby Carrots on the bottom of your crock-pot.
Season the meat with salt and pepper and then place it atop the vegetables.  Dash the Worcestershire Sauce over the meat and then pour the Mustard, using a knife or spoon to spread it evenly.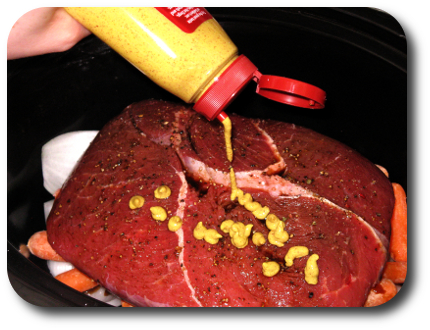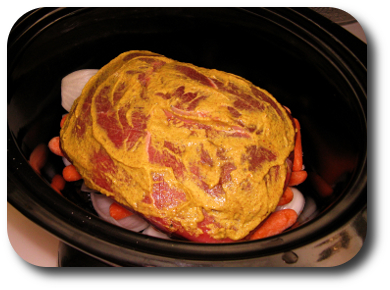 Cover with enough water to cover all the veggies and base of the roast.  Place the lid on the crock-pot and set on "Low."
Depending on how your crock-pot cooks, you'll need to let the roast cook or 3-8 hours.  (mine cooks ridiculously quickly, so it only took about 3.5 hours for mine to be tender and falling apart)
The Verdict
I loved the difference a Spicy Mustard made — of course, I'm always a fan of spicy brown mustard and beef (love brown mustard on a prime-rib sandwich . . . YUM).
The combination of Spicy Mustard and Worcestershire gave the roast a nice tangy flavor, but it wasn't over-whelming.
I bet you'd like to see a picture of it cooked, right?
Well . . . here goes: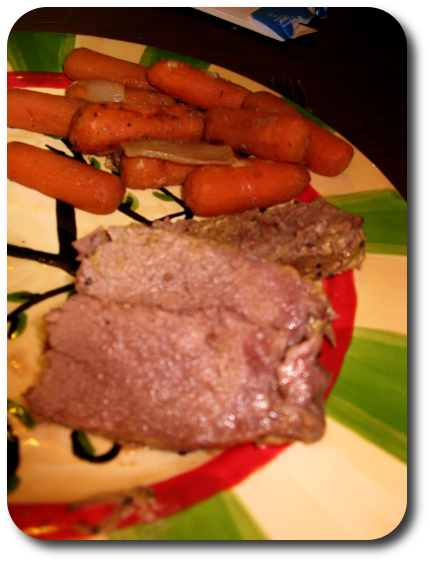 Isn't that the WORST food photo EVER?
My friends, this is an example of what happens when your three year old is pulling on your arm . . .your one year old is screaming and trying to climb up your leg . . . and your husband is asking if he can just eat. . . .AND your batteries die right after you press the shutter button.
You end up with this one and only picture.
Out of focus.
Way too much flash.
A horrible pic of a really good, tasty roast.
*Disclosure: this post was originally published as part of a Back To School Meal program by HEB and ConAgra; I was compensated for my recipe creations and posts.