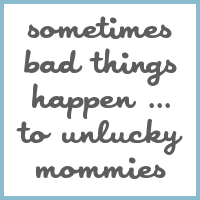 Oy ve, and again I say Oy VE!
With great effort, I have worked these past two days to embrace my little two week challenge of knocking out some pounds with the end-goal of feeling better about myself.
Little did I know when I took on this task that I would discover something absolutely shocking about my body.
Since the birth of Barney Kneeknuckles, my body has developed the ability to defy gravity.
Specifically, my stomach and my — ahem — girls.
Yeah.  Not.  Good.
It all started with my BRILLIANT idea of getting a few moments of cardio in while Barney Kneeknuckles miraculously napped in his bed — a rare feat for him since he typically insists on snoring away in my arms.  And only in my arms.
But in his bed he slept, and I counted my lucky stars that I — the Mommy with a mission to exercise — would have a few moments to herself.
Not knowing how long Barney would sleep, I made my ill-fated choice to take on those quick bursts of movement popular with elementary kids and drill sergeants.
My sleep-deprived mind forgot one important detail: elementary children and military drill sergeants (well, most of them, I assume) aren't nursing mommies.
With nursing — ahem — girls.
Big nursing —ahem — girls.
And, in an equally bad decision making moment, I decided NOT to head into the bedroom to dig out my sports bras, since I was determined not to wake the baby.
Bad. Bad. Choice.
I should'a double bagged those girls.  I should'a gone into my jumping jack spree with them taped and bandaged.  I should' known they needed something.  Any protection would have been better than the thin, cotton jersey nursing tank I was wearing.
But I didn't.  And I jumped, arms and —ahem— girls flying above my head.
Ow. ow. ow. ow.
! ! ! ! ! ! ! ! ! ! ! ! ! ! !
I quickly stopped, shocked (and a little out of breath) by the force those body parts had gone up and away … and then back down to the earth.
Stunned but still determined to exercise, I held them down with my hands.  That's right.  I did jumping jacks with the lower half of my body only … while the top half forced itself into immobility.
That's when I made my second discovery: my two pregnancies and two c-sections did a bad thing to me.
A bad, bad, bad thing.
The lower half of my abdomen can also defy gravity.
Where's the Barbie with these features . . . ' cause I sure could have used some forewarning as a kid dreaming of the glamorous life of "Mommy."
Oy.