January 2nd — we'll disregard the year for a moment because, regardless of the year, this is deja vu for me.
January 2nd — another resolution.  Another "I must lose weight this year" mantra.
January 2nd — another chance to begin.
A few weeks ago, I shared that Hubby and I are recomitting to a healthier lifestyle.  To be honest, that committment has been in word only the past few weeks.  I FULLY and WHOLEHEARTEDLY used the excuse of "the holidays" to gorge on whatever delicacies came my way.
But, even if it hadn't been the holiday season, I would have — most likely — not been successful with losing weight and getting back on the healthy track.  Over the past few months, I've learned something about myself: I am a stress eater with "Sugar" being the number one item I turn to when stressed.
Halloween Chocolate.   Nutella (oh, lordy — Nutella).  Chocolate Chips straight out of the bag.
Catching the theme here?
Yeah, since Halloween, I've been an extreme choco-holic, using the  sweet stuff as a way to combat fatigue and the drain of our chaotic lifestyle.  And, like I knew it would, it has caught up with me.  I'm back above the 200 mark.
(sigh)
It's frustrating to know it happened but it's even more frustrating to know that I LET it happen … that I did it to myself.  It's frustrating to see pre-pregnancy clothes once again getting tight.  And, it's frustrating to look at pictures from Christmas Day — and to see what 203 pounds looks like.
Yes, I know I had a baby four months ago.  Yes, I know I'm nursing.  But I can definitely take better care of myself — for me and for the sake of my family.
It's time to once again step up and beat up on the stress, the fatigue, the excuses for not being the healthiest Rachel I can be.
The Special K Plan
I was approached to try out a two week meal plan using products from Special K (yeah — the Special K from those infamous red dress commercials).  Since I was already committed to a better lifestyle and better eating habits, I jumped at the chance for some help.
Help and encouragement.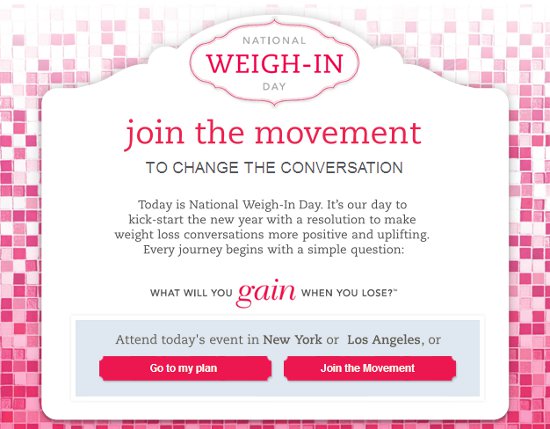 That encouragement begins right away on the revamped Special K Plan website, which debuted a new theme as it kicked off "National Weigh-In Day."  A theme of gaining . . .
That's right — they use the word "Gain."
During the process of surveying women about weight loss, they discovered roughly 62 percent of women "fixate on the number of pounds they hope to lose, which often derails them from their weight-loss plan."  From my past experience of losing nearly 40 pounds during 2010, I know how easy it is to get wrapped up in a number.  If you don't see what you want, frustration sets in.  You question what you're doing … start looking for something your doing wrong… you focus on NUMBERS (good and bad) instead of just being healthy.
After completeing their survey, Special K re-worked the "Special K Plan" to meet the needs women indicated raked high on importance:
Tracking tools are now available, including the ability to track via mobile devices
Peer Inspiration and Motivation Communities
Customizable Meal Plans:

On-The-Go Options

for busy lifestyles;

Adventurous Options

for "Foodies";

Vegetarian Options
Ultimately, the Special K brand wants to make stepping on the scale fun.  Yes, FUN!   Instead of zeroing in on the numbers, Special K wants us to envision what we'll gain as we lose:
Self-satisfaction (that's what I want)
Confidence
Happiness
A Sense of Achievement
Self-satisfaction is what I will be working toward the next two weeks.  I will be following the "on-the go" meal plan ('cause, with three kidlets my time is crazy.  Hence, the Great Chocolate Addiction of 2011) and joining my husband in a P90x challenge.
(the P90x has nothing to do with Special K; it was one of Hubby's Christmas presents and I promised I would do it with him.  Lord, help me!)
My hope is that the next two weeks will help me retrain my brain to think positively about myself and about the business of getting healthy.  I don't want to be upset when I look at the scale numbers.  Instead, I want to rejoice that I'm eating better … that my husband and I are making time to be active … that I feel better with the life choices I am making.
Self-satisfaction.
It's what's for dinner.
And lunch.
And breakfast.
p.s. Consult your physician before starting any diet or exercise program. Average weight loss when replacing meals with two cereal meals is 4.8 pounds. Weight loss may vary. Average waist circumference reduction when replacing meals with two cereal meals is 1.3 inches. Weight loss may vary.
Disclosure: I participated in this program through a partnership with TheMotherhood on behalf of Special K. I received product and supplies to complete the plan. All opinions and statements are based on my own opinion and experience.