American kids and obesity has become an all too common combination.
According to the CDC:
Childhood obesity has more than tripled in the past 30 years.
The prevalence of obesity among children aged 6 to 11 years increased from 6.5% in 1980 to 19.6% in 2008.
The prevalence of obesity among adolescents aged 12 to 19 years increased from 5.0% to 18.1%.
There are plenty of things that get the finger of blame — video games, television, sedentary lifestyles, the addition of high fructose corn syrup and other sugars to foods, school vending machines that dispense a great variety of high calorie sodas and sugary, fatty junk foods.
And, of course, the Fast Food industry gets a lot of the blame with the toy and grease laden kids meals.
A lot of famous names have been taking an active stand against the rise of childhood obesity, trying to get more awareness for fresh, healthy food choices AND the need for kids to be more active — First Lady Michelle Obama and Jamie Oliver have been two of the most vocal against our Nation's obesity epidemic.
In September, when I traveled to NYC to do a training run with Jared Fogle (of Subway) and Meb Keflezighi (Olympic athlete and 2009 NYC Marathon winner), I ate lunch with Lanette Kovachi, Subway's Dietitian.  She was kind enough to answer my questions and to explain how Subway is making sure they offer healthy options for their kid-sized meals.
Each meal consists of one of their lower fat, lower calorie sandwiches — either turkey breast, black forest ham, or roast beef and all the veggies you want.  For sides, the kids meal does NOT include chips, but instead comes with either fresh apple slices (no sugary caramel dipping sauce) or yogurt.  And, forget the soda — drink options for Subways "Fresh Fit" Kid Meals are water, juice, or milk.
(of course, a parent could add on chips and a soda for their child to consume, but they would be charged extra — there are no substitutions for those items in the kids meals.)
With these healthy options, Subway makes sure that their kids meals are lower in calories, fat, and saturated fat.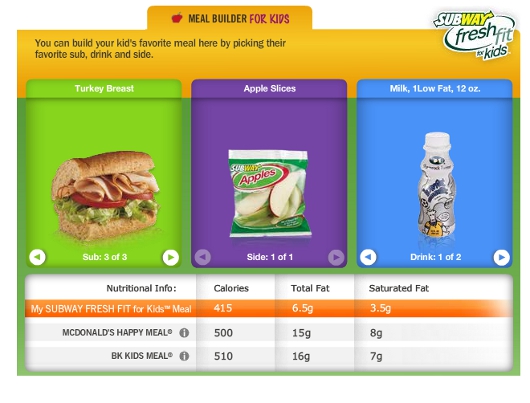 (nutritional info displayed on Subway's site is based on data obtained in 2010 from www.bk.com and www.mcdonalds.com)
Each meal also comes with a reusable lunch bag that features a famous athlete — someone who has committed their life to being healthy and active.
I love that there are healthy options available when my kids are out and about.  I firmly, wholeheartedly believe that it is ULTIMATELY up to us as parents to teach our children about living healthy, making wise choices and staying active.  In fact, I think that would be the BEST way to combat the childhood obesity problem in this country . . . parents making sure their kids are active and eating healthy.  We are their first line of defense.
Giveaway
Jared's big race is November 7th and in light of his re-commitment to living a healthy life, Subway and the Commit to Fit Program want to help kids also focus on being healthy and active.
Famous Fans Giveaway

This week's giveaway winner will receive a his or her choice of Kid's Prize Pack:
Michael Phelps- swim goggles and a cap
Tab Ramos- Soccer ball and pump
Ryan Howard – Phillies hat
Nastia Liukin- hair accessories, wrist bands and water bottle
Laila Ali – boxing gloves
In addition, *I* will be providing a $25 Subway giftcard to the same winner . . .yep, coming from me.  I'm feeling nice today.  🙂
Mandatory Entry: leave a comment answering

one

of the following questions:
Who inspires you and your family to stay active?
How do you make sure your children are living a healthy life?

Bonus Entries (please leave a separate comment for each bonus entry):
Like Following In My Shoes on Facebook (1 bonus entry)
Subscribe to my RSS Feed (1 bonus entry)
Follow Following In My Shoes via Google Friend Connect (1 bonus entry)
Follow me on Twitter (1 bonus entry)
Tweet the following message:


I want my kids to be committed to living a healthy life! Win a Famous Fans Pack from @subwayfreshbuzz. #commit2fit  http://bit.ly/cZ2kyd

(NOTE – I have disabled the ability to "right-click" on my blog, but you can still copy text.  To do so, highlight the text and then, while HOLDING DOWN the control button, press the "c" button.  This will copy your text and allow you to paste it in Twitter.  1 bonus entry per tweet – Max of 3 tweets per day; please include the link to your tweet in your bonus comments)

Follow @subwayfreshbuzz on Twitter. (1 bonus entry)
Like Subway on Facebook. (1 bonus entry)
Leave a message on the Subway Facebook wall to cheer Jared on for his race next Sunday (5 bonus entries – in your 1st bonus entry comment, please let me know your FB name so I can verify your comment on their wall)
p.s.  If you want more info about the Commit to Fit program and for a chance to win up to $26,200 please visit the Subway Facebook page at Facebook.com/Subway
Open to US Residents only.  Giveaway will end at Midnight, Tuesday, November 9th.  Winner will be notified by email and will have 48 hours to confirm his/her win.
Disclosure: Subway also provided me with a Famous Fan Pack when I attended the Commit to Fit launch event in NYC.