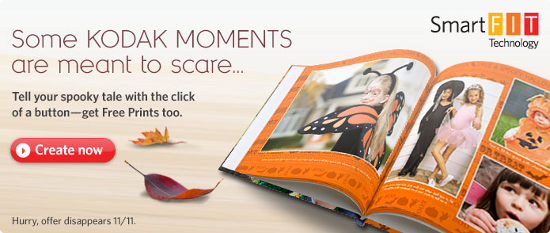 I have a confession to make — I took over 203 pictures this weekend.
TWO HUNDRED AND THREE!
Pictures when we went to the Houston Zoo Boo . . . when we went our church's "Trunk or Treat" event . . . and, of course, Halloween night when we went Trick or Treating with friends.
Oy vey, 203 pictures.
I've uploaded several to Facebook, shared some on Twitter, and (of COURSE) will be posting some of my favorites tonight for my weekly "Wordless Wednesday Post."
But, none of these online sharing options allow my kidlets the chance to look at their pics, unless I sit with them  — at the computer and holding their hands so they don't dirty up my screen.  Yes, they're hands are STILL sticky from all the candy.  (don't judge)
BUT . . . I was given the chance, yesterday, to give my kids a tactile way to remember the sweet, gooey fun from their Halloween weekend.
What better way to get pics off of the computer and into the hands of my kids and family?
Now through November 11th, Kodak Gallery is offering "exclusive Halloween-themed Photo Book templates."
That's right — the perfect Halloween book, with pages and templates to match the mood of your Halloween pictures.
Using our new SMARTFIT Technology, you'll be provided the affordable luxury of quality design and page layout backed by KODAK's exceptional standards and commitment to preservation and storage of your memories.
Sounds good to me!
Giveaway
TWO winners will each receive a $50 American Express gift card that can be used toward their kodak.com Halloween Photo Book.
Mandatory Entry
Tell me which picture from your Halloween weekend would make it into your Halloween Photo Book.
Bonus Entries
Like Following In My Shoes on Facebook (1 bonus entry)
Subscribe to my RSS Feed (1 bonus entry)
Follow Following In My Shoes via Google Friend Connect (1 bonus entry)
Follow me on Twitter (1 bonus entry)
Tweet the following message:


Share your Halloween Memories!  Win 1 of 2 $50 AmEx GC's to create Photo Books at Kodak Gallery!  http://bit.ly/cXl1Ls  #kodakgalleryfan

(1 bonus entry per tweet – Max of 3 tweets per day; please include the link to your tweet in your bonus comments)
This giveaway ends Sunday, November 7th, at 12:01 am CMT.  Winners will be notified by email and will have 48 hours to confirm their win.
Disclosure: For sharing this giveaway, I was given a $50 gift card to create my Kodak  Halloween Photo Book.