Synopsis:
I'm 190.
Again.
For the 3rd time.
I'm glad I haven't gained, but I'd be happier to see my weight continue to drop.
In this week's vlog, as I started thinking about this plateau, I've decided there are a few factors at play:
I'm not monitoring my portions — I know from past experience this is a "must" when it comes to my weight loss, so I need to get back at doing that.
My activity level has not been as intense as those weeks when I've seen losses. . . . obviously, this is another area to revisit.
Something I didn't mention in my vlog is sleep — I have NOT been sleeping well for the past month or so.  It's pretty normal, now, to stay awake till 1am, 2 or even 3 am EACH night.  Ugh — I need to work on clearing my mind early in the evenings so that I can quit thinking about everything, quit finding stuff to work on, and just SLEEP!
So, it's time to put my big girl panties on and be diligent with my health.  Each of these areas are incredibly important and have always been weaknesses for me — areas where I easily slip back into bad habits.  Time to slap my hand and get back on track!
(feel free to call me out on Twitter and check on my progress — I love accountability!)
* * * * * * * * * *
This week our Sister of the Week is Miss Stephanie (@fitmomtraining), also known as "Mama Guns!"  She's a fabulous resource for us and you all NEED to talk to her about the Mama Guns challenge.  This first in a series of Mamavation Sisterhood Challenges is all about weight/strength training.
If you have questions about this challenge, Stephanie will be talking about it tomorrow night on Mamavation TV . . . . which I will be hosting.
YES!  You read that sentence correctly; Leah is out of town and I will be filling in her shoes (well, trying to do so . . . my feet are kinda big . . . and I'm clumsy . . . and I've never done this before . . . EEEEEEK).
In addition to seeing me and Stephanie on the show, you'll also get the chance to chat with/listen to the rest of the new Mamavation Leadership Sista's; we will each be talking about our respective areas (hydration, fiber, movement, support, veggies/fruit, food labels, etc).  This will be a good chance to put faces and Twitter handles together, ask your questions, and help us learn how we can help you as we support each other.
* * * * * * * * * *
Chef's Requested is our Blogging Carnival Sponsor this week — great portion control option for those like me who try letting "being too busy" fly as an excuse to avoid monitoring portion amounts.
* * * * * * * * * *
I look forward to chatting with you all tonight on Mamavation TV . . .  PLEASE don't let Leah's absence keep you away!  The girls and I on the show tonight need the rest of you to calm our nerves and help make this "non-Leah" show a success!
(I really don't want her to regret asking me to fill in!)
p.s.  Per the requirements of the "Mama Guns" Challenge. . . .here is my fierce, 

FIERCE

photo depicting the world's largest guns.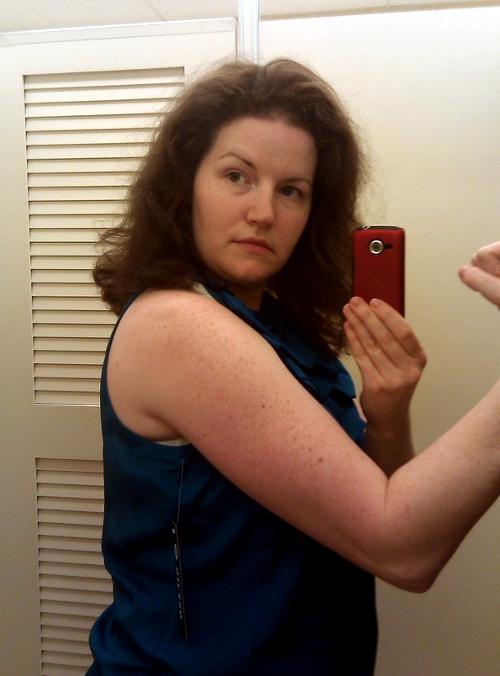 (Don't laugh too hard . . . I really am flexing in this pic! And, yes, this was in a dressing room.)