Growing up in a ranching family where beef was "what's for dinner," pork wasn't a protein often served outside of breakfast bacon and Easter ham.  But. I married a pork-lovin' Texas boy, making it a necessity to widen my protein palate to include the other white meat.
Fortunately, for Hubby … and our marriage … I have three pork dishes that I have made my own, tweaking and tasting until even my beefy-tastebuds are swooning.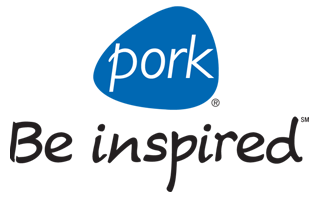 This week, in honor of National Pork Month, I am FINALLY sharing one of my pork recipes with everyone.
(Sniff, I feel as though I'm sending my baby off into the world.  Give me just a moment — I'm verklempt.)
It's a slow-cooker recipe (y'all know I love my slow-cooker) that I make when we have company over or whenever I need an easy but bold meal for a crowd.  Even Hubby has made this particular recipe — last May, when I was in Oklahoma for the birth of my niece, Hubby followed my careful instructions and WOWED the wives in our church Life-Group with this yummy, finger-lickin' pork dish.
(seriously, I heard about it over and over and over and over.  You would have thought he had INVENTED pork the way he and those ladies bragged)
But … I'm not sharing this dish today.  I'm not even going to reveal what it is.  Nope, you'll just have to wait till Thursday.
(when you'll also get a fun giveaway in addition to my recipe)
Instead, I'm going to let you know that Costco is also celebrating National Pork Month with weekly specials on various cuts of meat.  This past week, they had a sale on pork chops … this week, it's all about the Pork Sirloin Tip Roast.
(which just happens to be a VERY flavorful cut exclusive to Costco)
Costco Deal for Pork
All this week, you can visit your local Costco and receive $2 off the Pork Sirloin Tip Roast.
It's a great deal — especially since we're talking about a store specializing in bulk meats.  I picked up the packaged roasts last night — a package of four that was around $14.  Take the $2 off and you have four roasts — FOUR MAIN COURSES — for about three bucks each.
You can't hardly beat that!
For recipes and tips, visit In The Warehouse, Costco's online newsletter where they are offering tons of ideas for the Pork Sirloin Tip Roast.  And, if you need even more inspiration, check out Pork: Be Inspired.
And, if you do find yourself inspired this week to cook up some pork for your family, be aware of the recent changes made by the USDA: last May, the USDA lowered the cooking temperature guideline for pork loins, chops and roasts from 160 to 145 degrees F, with a three-minute rest.  Following this new guideline will not only keep your family safe, it will also create the juiciest, yummiest return on your cooking investment.
How We're Eating Pork This Week
Now that I have (hopefully) gotten you excited about National Pork Month and the pork specials at Costco, it's time to share my menu-plan for the week.  And, yes, it's a very pork-centric meal plan . . . something I didn't realize until just now.   Oh well, this ought to keep Hubby happy for awhile!
Monday:   It's all about pork with my slow-cooker recipe (to be revealed on the blog Thursday)
Tuesday:  School Night at Chick-Fi-La (the Little Lady is SO excited about this … apparently, there WILL be a cow there)
Wednesday:  Slow Cooker White Bean and Smoked Sausage Chili, mini baguettes
Thursday:  leftovers
Friday:  Slow Cooker Pork Carnitas and refried beans
Saturday:  Spaghetti with my Slow Cooker Marinara and Italian Sausage
Sunday:   Dinner with our Life-Group
What about you — are you a pork-fan?  Any favorite recipes?
Disclosure: I am working with Costco, the National Pork Board and TheMotherhood to help promote National Pork Month; I am receiving a stipend for my work and was given "Costco Cash," which was used to purchase a membership and recipe ingredients.  Any opinions expressed are my own.