I have been planning the kidlets' Halloween costumes for MONTHS — deciding way back in FEBRUARY that we would play with a Dr. Seuss costume theme.  Or, more specifically . . . Barney Kneeknuckles (who will be a whopping 2.5 months at Halloween) will be the Cat in the Hat and the two older Kidlets will be Thing 1 and Thing 2.
It's perfect.
Last year, for the Little Lady and Mr. Boy, I made the majority of their costumes — they were supposed to be Ladybug Girl and Bumblebee Boy (from a children's book series), but everyone thought Mr. Boy was a GIRL bumblebee!  Even with the 'stache we drew on his face, we still heard (over and over), "What a cute little girl!"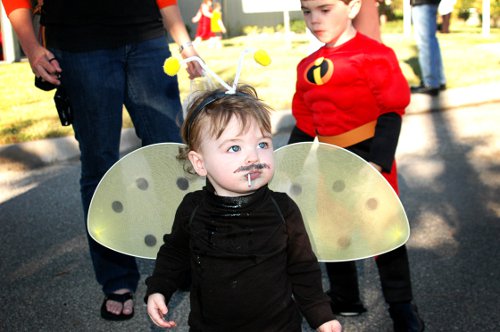 (grumble, grumble, grumble)
With three costumes on the docket this Halloween, I have been utilizing Pinterest (the ultimate time-waster) to find tips, tricks and tutorials for Dr. Seuss costumes.  I picked up all of my supplies this weekend … now just to make everything!
Dr. Seuss Costume Ideas and Tutorials
As I have been searching, I've come across other DIY costume ideas — some just adorable, some cute and some just downright hilarious.  Here they are if you are still unsure as to what your Kidlet will be donning this Halloween.  (as with the links above, click the picture to access the source article via Pinterest)
DIY Halloween Costume Ideas and Tutorials
| | | |
| --- | --- | --- |
| | | |
| | | |
| | | |
| via Pinterest (fyi – I have used this tutorial – it's easy! It would work well for any tutu-based costume.) | | |
| | | |
| | | |
| | | |
| | | |
So … what are you kidlets dressing as for Halloween? Are you making or buying?