It's been awhile since I've shared a menu plan with everyone.  Don't worry — we're still eating around here, but I've been working with a recipe site, reviewing some of their recipes.
And now, I get to let everyone know about it.

Ready Set Eat is a brand-spanking new site focusing on easy and quick to prepare meals for families.  Each recipe uses a combination of fresh produce and meats, along with convenience ingredients like canned tomatoes, tomato sauce, etc., to help you get dinner on the table within thirty minutes.
What Ready Set Eat recipes have we tried over the past few weeks?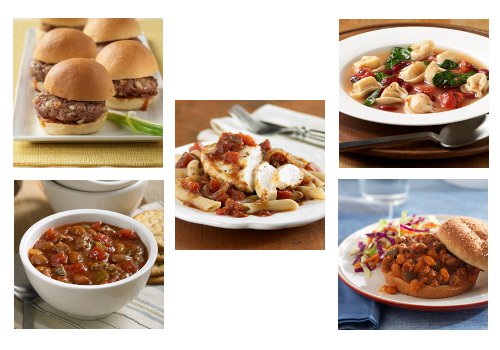 Asian Inspired Mini Burgers, Chicken Breast with Balsamic Tomatoes, Tortellini Vegetable Soup, Chili Con Carne and Beefy Bean Sloppy Joes have been a few of the winners for our family.
What do I mean by "winners?"  I mean both kidlets gobbled them up, I got a "Mmmmmm" out of Hubby, and my preggo nose and tongue were able to eat the dishes without any problems.
THAT'S the definition of a winning dish in my book, folks.
Probably my favorite aspect of each recipe is the easy with which you can alter the recipes as needed; rather than a complicated list of ingredients, most of the recipes call for anywhere from 4 – 8 ingredients.  When one of the recipes calls for something we don't or can't eat (like ground beef), it's easy to make a change.  Even the prepared, convenience items can be substituted for home-made versions.  We don't use ready-made barbecue sauce, so I whipped up a quick batch of my own and used it in the Beefy-Bean Sloppy Joes.
Easy-peasy.
Go ahead and check out the site — new recipes are being added all the time.  You can search for recipes by main ingredient or by dietary needs (carb control recipes or low-calorie recipes).
If you're a Facebook junkie like me, you can also keep up with them on their new Ready Set Eat Fanpage.   And, of course, they're also on the Twitter scene: @ReadySetEat.
So, what Ready Set Eat recipes am I planning to add to my February meal plans?
With the cold front Houston is getting this week, I think Southwestern Turkey Soup looks soooooo good and comforting.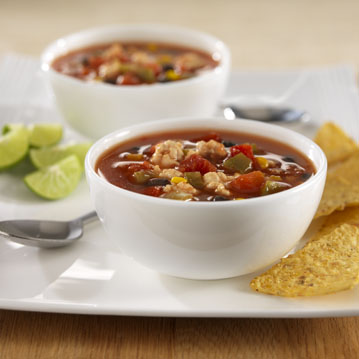 Don't you agree?
Disclosure: I have been hired by Ready Set Eat to try recipes and provide my honest reviews.  You can view my reviews on the Ready Set Eat website.  All opinions expressed there (under my profile, Following In My Shoes) and in my blog posts are mine and not influenced by Ready Set Eat or its parent company, ConAgra.