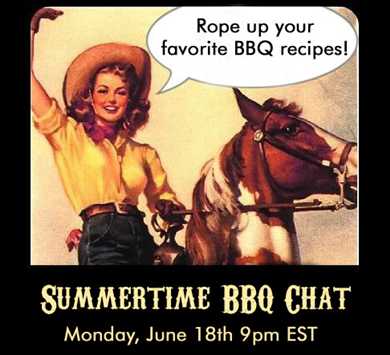 Please join me and my Savvy Living Community co-hosts — Kasey from Time 2 $ave, Whitney from Mommies with Style,Tiffany from Eat at Home, Brittney and Bethany from A Penny Filled Pantry — for a live chat tonight, June 18th, at 9pm EST!

Tonight, it is ALL about Barbeque … ideas, recipes, tips. The works!
So, "rope up" your favorite BBQ recipes, ssddle up your horses cowboys and cowgirls and join us tonight. It's always fun, regardless of the topic. You can participate here on my blog or in the community itself.
Hope to see familiar faces/names around tonight!
disclosure: I am a paid community leader for the Ebates Savvy Living Community … the fun had from the chats and discussions is a free bonus! Swing by the community when you have the chance — would love to see you there!