Oy.  Sigh.  Ugh.  Blah.  GAH!
I feel as though I don't know whether I'm coming or going — there is SO MUCH to do before Barney Kneeknuckles arrives in 2 weeks and 2 days …. 16 days …. 384 hours.
ARGH!!!!!!!!!!!!
Nesting has set in, and with it has come more problems.  I'm not just here in my house (trying to escape the triple digit Houston weather) washing and organizing baby clothes.  If only!
No, I'm here pulling everything out of every stinkin' closet, cabinet, and room in this house.  Scrubbing, cleaning, purging, boxing up, throwing away . . . my house is in SHAMBLES because of this "need" to have e-v-e-r-y square inch of this home in order.
Only two rooms (mine and Mr. Boy's) have been completely completed.   The rest?  Well, it ain't pretty, folks.  Not. At. All.
And, because of the chaos, every other aspect of my usually ordered life is discombobulated.  Like — what are we going to eat tonight and the rest of the week?  Up until about four minutes ago, I had NO clue.  No idea.  No menu plan.
ME — WITHOUT A MENU PLAN???????
(sigh)
Since I HAVE to feed my family, I'm taking a few minutes to whip out a menu for the week — then, it's off to the grocery store (not an easy feet at 36 weeks and 5 days … which really feels like 52 weeks and 10 days pregnant.  Just sayin'.)
A Visual Meal Plan
(just in case you like pictures)
Tuesday
Wednesday
Thursday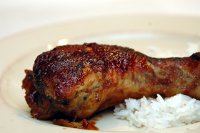 Baked BBQ Chicken — recipe coming soon!
Friday
Saturday
Sunday
And — that's done.
Here's to trying to eat (without getting heartburn) and trying to get everything ready for Barney Kneeknuckles.
Oy.