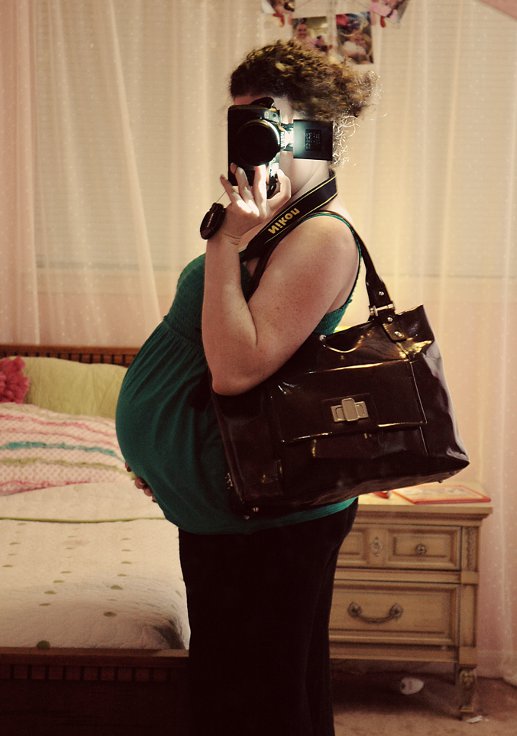 37 weeks today.  That's what the medical community considers "full-term."  You just consider it the final state of misery.
Those last few weeks when the baby feels like he or she weighs ten million pounds.
You can't breathe — can't sleep — can't look at your husband without wishing God had given men the ability to bring forth children.
And, forget about being able to walk like a woman.  At 37 weeks, you pretty much just look like a drunk elephant keeling through life.
Good. times.
Yesterday, at my growth scan, we learned that Barney Kneeknuckles is big.  B-I-G.  Measuring a little over two weeks ahead, s/he's closing in on 8 pounds and has the head circumference of a 39+ week baby.  Guess THAT information could explain the lovely waddle and "bowling ball in my pelvis" feeling I've had for a couple of weeks now.
When we arrived back home, Hubby — stammering a bit — suggested I might want to go ahead and pack my bag.  "Just in case."
(I think the two week count-down suddenly became very, very real for him)
This morning, instead of finishing the myriad of nesting projects that have taken over my life, I packed my new Amy Michelle Diaper Bag with everything I could possibly need while in the hospital.
What This Mama Packs In Her Hospital Bag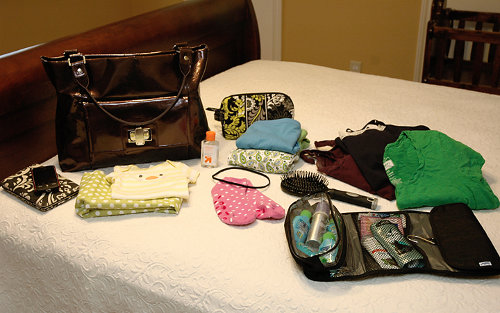 Now, I am an admittedly light packer for hospital stays. . . mainly because my hospital provides nearly everything while you are a patient there.  But I do pack what I consider my essentials:
Toiletries (travel sized shampoo & conditioner/mousse; toothpaste/toothbrush; lotion; body wash; deodorant; cotton swabs)
Hairbrush and hair accessories (pony tails holders and headbands to keep the crazy curls in check)
Make-up Bag (because at some point, it would be nice to NOT look like death warmed over)
Nursing Tanks
Coming Home Clothes (the baggier the better, my friends — you will NOT leave the hospital looking like your pre-baby self)
Granny Panties (um, yeah — you want those.  TRUST me)
Slip-resistant socks (for those excruciating walks the nurses make you take after a c-section)
Hand Sanitizer (you aren't touching my newborn without clean hands – not. gonna. happen.)
Barney Kneeknuckles Coming Home Outfit and Blanket (not shown in this picture …. still keeping that info a surprise!)
Wallet and Cell Phone
Using the Amy Michelle Cosmo Bag
This gorgeous chocolatey brown bag, known as the Cosmo Bag, is one I've had my eye on for quite some time — and now that it's in my possession, I can't WAIT to start using it as my diaper bag for the kidlets.  All THREE of them.
(that's still hard to believe sometimes.  Three… oy)
Since it is roomy and has PLENTY of storage spaces, I decided I could "sacrifice" and use it as my hospital bag too.
('cause it's just too pretty to refrain from using it any longer)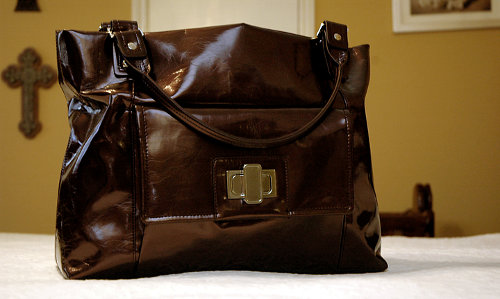 I learned within my first few days of Motherhood that a diaper bag with lots of room and organization compartments is CRUCIAL.  My first diaper bag (which I used with the Little Lady) was hand-picked, by me, because it was green.  My favorite color.  And that was the ONLY reason I wanted that bag.
This time around, I went with "pretty" and functionality.  Yes, it's possible to enjoy both worlds with a diaper bag.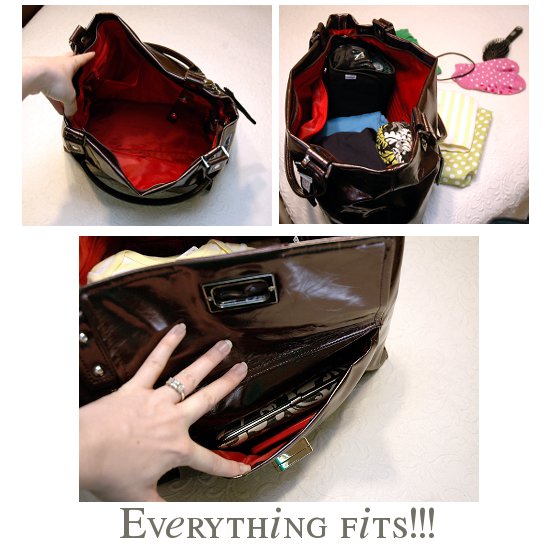 Details:
Baby's Section:
Changing pad (24″ x 14″) – Remove padding to wash lining
2 Internal bottle pockets (baby or water bottles)
Quick release pacifier holder
5 pockets for maximum organization
Compartments for diapers, wipes and bottles
Stroller attachments included
Mom's Section:
Top zippered closure
Buckle closure outside front pocket
Credit card slots
Easy to find key ring
Bright antimicrobial lining
4 metal feet on bottom
Size
Weight
Warranty
One year against manufacturer defects
The diaper bag retails for $99.95 and only comes in the chocolate/red combo (the one downside to this bag — not much color variety).
If this particular (GORGEOUS) bag isn't your cup of tea, Amy Michelle has thirteen other styles.  Their bags don't have the typical "diaper bag" look, so you can use these for your kids, traveling, or work.  You can purchase Amy Michelle Bags from various USA/Canadian stores, as well as directly from their site.
So . . . now . . . Hubby has his manly diaper bag, I have my pretty and functional diaper bag, my must-haves for the hospital stay are packed. . . guess it's time to have this baby!!

Only two more weeks.  SQUEAL!

P.S. Is there anything you consider to be a "hospital bag essential" that you think I've forgotten to pack?  Let me know so I can double check.
Disclosure: The views and opinions expressed on this blog are purely mine alone.  I was given the Cosmo bag to review.  No other compensation was received.