Now that I am past the late-pregnancy killer-heartburn stage, I (once again) am having a love affair with food.
I'm trying to be sensible about it — after all, I'd rather NOT regain the 30 pounds I've lost in the 3 weeks since Barney Kneeknuckles' birth.  Yeah, I'd like to avoid that scenario.
But Pinterest and my favorite foodie blogs make it difficult to remember my desire to focus on clean eating and portion control . . . especially when I am faced with sights  like this: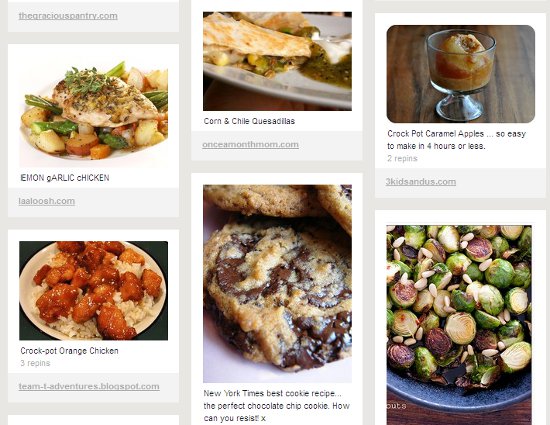 And that's just a small portion of the recipes I have pinned (or bookmarked) on my "Food I want to EAT" pinterest board.
As I work on my weekly menu planning, it's not hard to find enough recipes that sound yummy.  The difficulty comes from the fact I only have a limited number of meals each week for which I can plan. . . and usually a GAZILLION recipes I want to try.
(sigh)
Yeah, I *tried* two week and even month long meal planning last year. Sooo not for me.  Given how much I enjoy planning meals, I thought longer-term plans would be ideal for us.  I even converted my monthly calendar to a pdf in case others wanted to download and use it.  Or, did I convert pdf to word?  Either way, I thought I had stumbled upon the best idea ever.  Um … yeah.  Not so much.
While I don't have a pdf to doc option for everyone today, I did manage to FINALLY narrow down my Pinterest finds for the week.  Yay for me.
What We Are Eating This Week
Breakfasts
Breakfast Tacos, Breakfast Cookies, Oatmeal
Lunches
Cheese & Sausage Kebabs, Homemade Pizza "Uncrustables," Puzzle Sandwiches, PB&J Roll-ups,  Salad (for Mommy)
Snacks
Homemade Trail Mix, Roasted Chickpeas, Fruit and Whole Wheat Crackers, Veggies and Homemade Dip
Dinners
Monday: Sweet & Sour Chicken Skewers, Jasmine Rice, Roasted Brussels Sprouts
Tuesday:  Slow Cooked Pork Carnitas, with either Homemade Refried Beans or Chipotle-Lime Black Bean Soup
Wednesday:  Crock-Pot Greek Chicken (leftover from last week), Egg Noodles, Roasted Broccoli
Thursday: Leftovers
Friday: Homemade Pizza Night
Saturday: Gluten-free Minestrone Soup, salad, Copy-Cat Olive Garden Breadsticks
Sunday: Dinner with Church Life-Group
(for more menu planning ideas, visit www.orgjunkie.com)
Are you on Pinterest?  Leave a comment with your username and I will follow you!