Picture it.
Fluorescent-green numbers (6:15 am, thank you very much) glowing from the face of my alarm clock.   Me, gracefully dressed in the ol' flannel "Mom-Jammies" … curls a hot mess thanks to a night of sleeping with multiple children … doing the Dance of Joy all by myself.
(quietly, of course, so as to not wake up aforementioned Kidlets)
Oh, yes, I did the Dance of Joy, in the wee hours of the morn, because THIS Mama had a good scale day at the end of a long, good week.
Remember last Sunday, when I whined and cried about gaining three pounds during my first week of the Omron/Mamavation challenge?  Yeah, I know — I was crazy annoying, right?
Well, this week I'm singing a different tune — a much different tune.  Ready for the numbers?
Drumroll, Please
Weight —

Application weight: 210

January 13: 203.8

January 20: 206.4

January 27: 202.8

Total weight lost for challenge: -7.2 lbs

Inches —

January 13th Waist: 36 inches
January 27th Waist: 34.25 inches

January 13th Hips: 48.5 inches
January 27th Hips: 47.5 inches

Total Body Inches Lost: -2.75
After a loss of 3.6 pounds this week, I'm happy but I'm ecstatic knowing I'm losing inches … and it isn't just the knowledge that my body is really melting away, but with the proof that the changes I made this week are working.
What did I do to drop weight and inches?
Wore my Omron Pedometer every. single. day.  My daily goal is 10,000 steps, or roughly 5 miles.  In my daily routine, it's honestly hard for me to get those steps in naturally.  So, through out the day (usually during Baby Barney's naps), I hop on my treadmill, turn on a show via Netflix, and walk.  At a speed of 4.0 mph, I average about 121 steps a minute (another tidbit of info my pedometer tracks for me).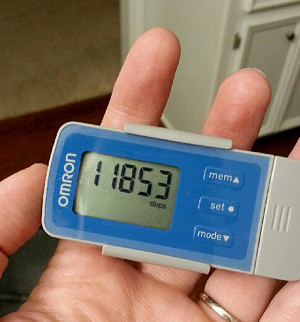 By dinner-time, I'm usually close to 8,000 "steps", so one more treadmill session before bed gets me to 10,000.  And, then, I sleep.  Hard.
Exercise and activity wears this girl out!
I changed how and when I eat certain foods. After some reading of various articles and talking with friends, I decided to stop eating whole grains, fruit, and added sugars past 4pm.  That's right — my evening meals became very different.  No bread, no rice, no pasta … no apples, no blueberries, no pineapple … no chocolate, no desserts, NO CHOCOLATE.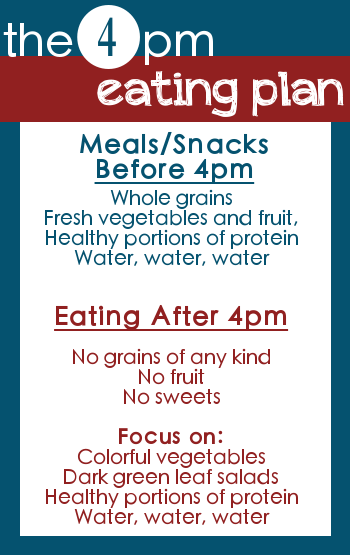 Instead, whole grains and fruit exclusively come during breakfast and lunch — the parts of the day when my body can utilize those carbs and calories more effectively thanks to activity.  At dinner, I focus on appropriate portions sizes of protein but load up on dark greens, asparagus, brussels spouts and roasted sweet potatoes (the only "potato" I allow myself (at night) since they are so full of fiber, antioxidants, beta-carotene . . . and they regulate blood-sugar).
Honestly, this dietary change was my BIGGEST alteration to my fitness plan this week … and I think it is what is really responsible for weight and inches falling away.  More proof that it worked?  One night, I cheated and had pizza.  Not only was I bloated the rest of the night, but the next day I stepped on the scale just to see what happened from eating carbs at night.  My weight was more than it had been the previous morning.
Now, I realize our weight can greatly fluctuate at any given time and any given day, but this week, during my 4 pm experiment, I monitored my weight daily and only saw an increase the morning after NOT sticking to my protein/vegetable dinners.  Otherwise, each morning, I saw my weight whittling away.
Where Do I Go From Here?
I hope to continue seeing the numbers drop and I'm hoping my cravings (yes, still get sugar and bread cravings) will go away as I work on REALLY eliminating the last of the refined/processed items in my home.
I will continue with my 4pm Diet and will continue drinking lots of water…. fyi, I recently purchased an infusion water pitcher and I LOVE it.  I've tried a variety of fruit/vegetable/herb combos and have realized I'm a simple girl…. I love water with lime.  It is soooo good, especially when I'm hot and sweaty on the treadmill.  I stop at ten minute intervals for water breaks and take in about 30 ounces each time I'm on that machine.
And, of course, I'm going to continue meeting (and hopefully exceeding) my 10,000 steps goal AND I'm going to continue the strength training/fat burning plan I've been given through Mamavation.  I'll share it next week for those who are interested!
P.S. I have a "Healthy Living" Pinterest board where I pin healthy living articles, recipes, work-outs, and more if you want to follow along for ideas.  We can all be a little healthier, right?
 Now — what have you done for your health this week?
ETA: If you're interested in learning more about what we #iheartOmron ambassadors have been doing, tips, AND a chance to win some of the Omron products we have been using, join us for the official celebratory Twitter Party on February 20, 2013 (Wednesday) between 8-10pm EST (5-7pm PST).  Our overall focus is about working out SMARTER not longer!  Please RSVP and get full details on the giveaway component here.
This post is sponsored Omron Fitness as a collaboration with Bookieboo Blogging Network and Mamavation – a community dedicated to weight loss for women and obesity prevention for families.  I was provided with product and compensation for my time and honest opinions.