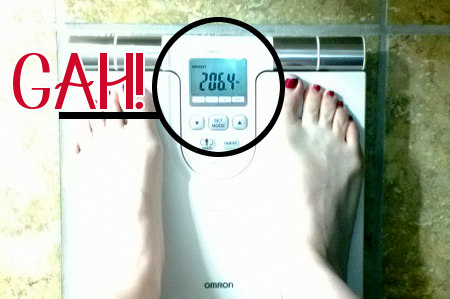 See that picture?  That yucky, yucky picture?
Yeah …. I GAINED weight in my first "official" week of the Omron and Mamavation fitness challenge.  Gained.  GAINED!
To admit frustration is an understatement.  I was angry and sad with the knowledge that despite my hours and hours on the treadmill … despite the strength training exercises (sigh … burpees… my new dreaded word) … I gained nearly three miserable pounds.
It's enough to make a girl want to spit.
But, the Husband reminded me of something.  This:  "The One Where I Talk About the Thing I 'Don't' Talk About."
Lightbulb moment, folks.  Regardless of my PCOS (a common hormonal condition), every time I start watching what I eat and exercising, my nearly broken body decides to shape up and become "normal."  Regular.  Nearly predictable.  It seems it likes the healthy living route.
And, during those times, I have the joy of experiencing a few extra pounds.  Just for a week.
So, the frustration is gone.  My body is just working.  Like it's supposed to.  Being a normal, healthy girl…. I just wish it had waited till this whole challenge was over.
But, never mind.  Next week is an entirely new week and a new chance to shed this water weight and then some.
Just. You. Watch.
How do you combat bloat and water weight gain?
Disclosure: This post is sponsored Omron Fitness as a collaboration withBookieboo Blogging Network and Mamavation – a community dedicated to weight loss for women and obesity prevention for families.  I was provided with product and compensation for my time and honest opinions.