"I will NEVER eat a fish Taco."
This weekend, I ate those words.
And . . . this: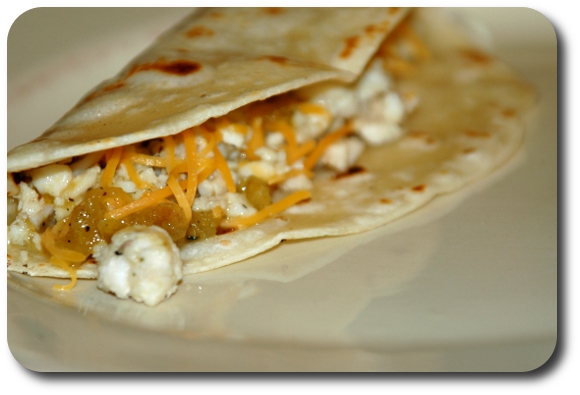 My verdict?  OH, MY WORD.  WHY . . . why . . . why did I wait so long to try these?  Why did I assume (*just* because I am most decidedly NOT a fish person) that I would hate fish tacos?
I was a fool.
Where did I realize my mistake?  At our grocery store — seriously!  One of the "demos" that day was this simple, SIMPLE recipe . . . a dish my husband pretty much dared me to try.  I did, expecting to be disgusted but found myself in AWE of what the Demo Chef created.
Just delicious.
I quickly grabbed some fresh tilapia, a sassy green salsa and went home determined to recreate the recipe.
And, folks, I did it!
Now, the Demo Chef used all "featured" ingredients, including a seasoned butter.  Well, this cheapskate frugal mama was not about to spend $4 on a little tub of something that she could make at home; instead, I took a little bit of butter and mixed in a garlic/herb blend of spices (Mrs. Dash's) and just used that.
To repeat: just delicious.
[print_this]
Fresh and Delicious Tilapia Tacos (serves 4)
3 large fresh Tilapia Fillets
2 T unsalted Butter (yes, I splurged on butter for this)
1 tsp Mrs. Dash's Garlic and Herb Blend
Fresh tortillas (whatever kind you prefer – I made fresh ones)
Garnishes: Cheddar Cheese, Fresh Lime, Green Avocado Salsa
Directions
THOROUGHLY rinse the fish — and I mean thoroughly.  This step gets rid of any "fishiness" that may be there.  Pat dry with paper towels.
Place the spice blend and the butter in a skillet and melt the butter over medium heat.
Add the fish and cook through — as it cooks, use a biscuit cutter or something similar to chop/flake the fish. Don't let it over cook and get dry!
Place desired amount of fish on your tortilla and top with a squeeze of lime, a sprinkle of cheddar cheese, and your favorite salsa (we used a GREAT green avocado salsa that had a kick. YUM).
[/print_this]
* * * * * *
As someone who still is NOT a fish person, I can't believe how much I enjoyed these . . . in fact, I 100% sure I like these BETTER than our normal ground turkey tacos.
SO GOOD!
Mr. Boy was also a fan.  🙂
(this recipe is linked with Life As Mom …. check her 5 Favorite Fish Recipes post for more fishy goodness)