It's time to address one of the unexpected but good benefits of healthy living:
p.s. There were many, many, many technical difficulties making this vlog; I'm sorry that the video is so small and that the captions are even smaller. (sigh)
Don't forget — the Mamavation Twitter Party is TONIGHT (Oct 18, 7pm central).  If you have not yet RSVP'd, do so! Not only is it a fun time as we chat about living healthy and promoting good nutrition/activities in the lives of our families . . . but there are TONS of prizes.
Seriously — tons.
Weight Update: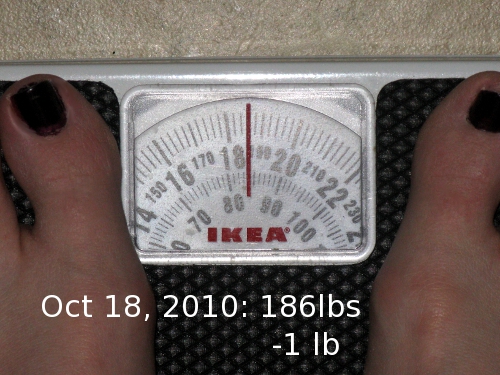 Down to 186 this week, which brings my total weight loss to 34 lbs since March. Only 6 more pounds to go before I reach my next "big" goal weight and get to REWARD MYSELF!!!
What will my reward be?
Do you really wanna know?
Really?
Ok, but can you keep a secret from my mom?
(I'm going to get another tattoo!)
Oh, wait . . . my mom reads my blog.
(big sigh)
The Commit to Fit/Subway IPOD Shuffle and Itunes Giftcard WINNER
Congrats to . . . . CHRISTINE!

Her name was pulled by the WordPress plug-in, "And The Winner Is."  She's one lucky girl!
Stay tuned for more giveaways from the Subway Commit to Fit program!!!