This post was created in partnership with Bing. With a type or a swipe you can search the web, the cloud, apps, and your PC or tablet, all in one place using Bing Smart Search on Windows 8.1.
I'm a recipe junkie.  On my bookshelf, there are multiple rows of new and vintage cookbooks, covering grain-free cooking, old-fashioned baking, grilling,  Thai and Mexican food, and a few good ol' church cook-books.  Online, I have saved and shared our family's favorite recipes over the years, and I have done my fair-share of online recipe searches when I want to try something new.
Now, there's a new way to look for recipes and it's the Bing Food & Drink App .  And, it has features that may just change the way we look for recipes, folks.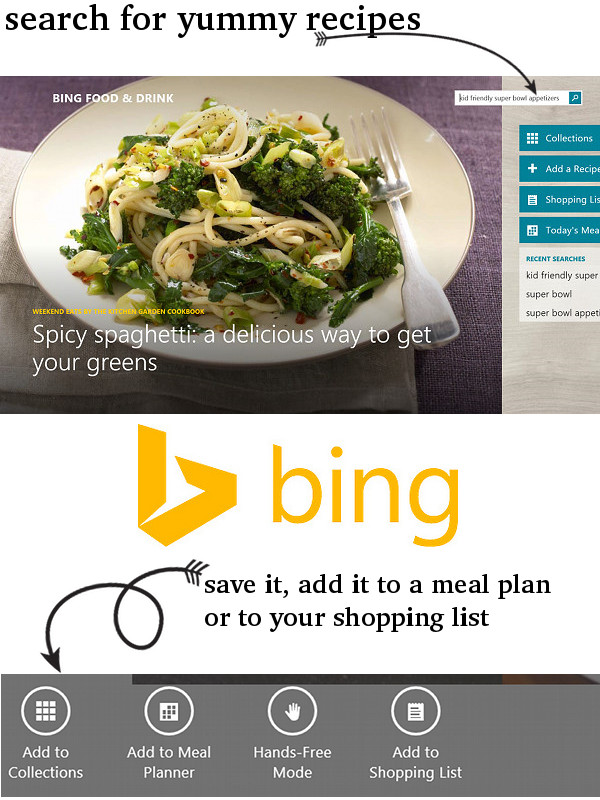 Easy Search Feature to browse for any and all online recipes … like Superbowl recipes (yes, I'm still trying to figure out what to prepare for the game!).  Plus, there are easy-to-select filters to refine your search results.
Hands-Free Option — use this and not have to worry about getting food or flour or smudgy fingerprints on your computer or tablet (if, that is, you're like me and use technology IN THE KITCHEN while you cook).
Add your selected recipes to the Food & Drink App's Meal Planner.  Yes, you can find recipes and create a weekly meal plan all at the same time!
PLUS, you can add to your shopping list while using the Bing Food & Drink App.  It just gets easier and easier doesn't it?
There's more than just food in this Food &

Drink

App; you can use the Food & Drink App to research wines, find the perfect pairing for your meal, and quickly see the rating of any given wine.
As mentioned, I've been on the hunt for family-friendly and grain-free recipes to enjoy during the Super Bowl.  The Bing Food & Drink App brought up many recipe ideas and by using the filters, I was able to find both appetizers and main-dishes that might just make an appearance during the game.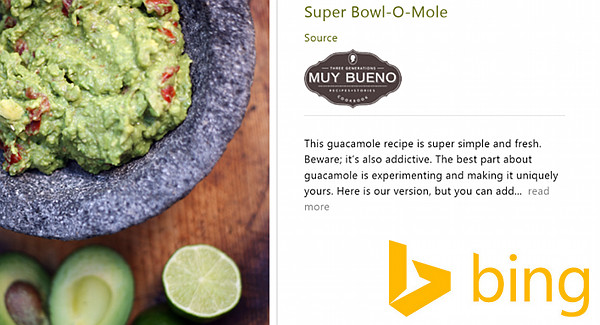 Or …. they might just show up sooner than that.  Yeah… like this weekend.  Mama's hungry!
Disclosure: This post was sponsored by Bing . I was compensated for my time. As always, all opinions are my own.