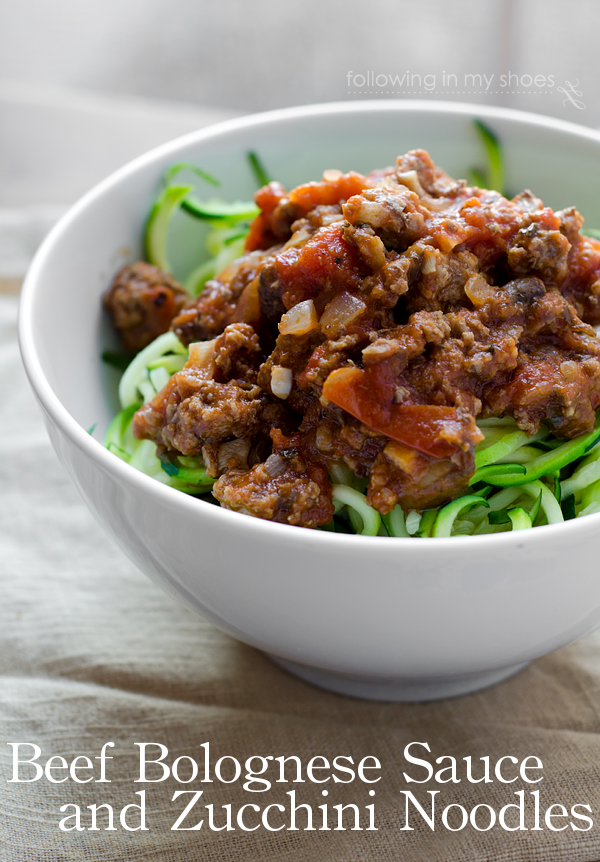 If you asked Barney Kneeknuckles what his favorite, FAVORITE thing to eat is … he'd look at you with his big blue eyes and confidently answer, "Noo-nules."
And, then, I'd interpret and tell you (in my best, smoothest James Bond impersonation): "Noodles. Zucchini Noodles".

Zucchini Noodles — or Zoodles, as they are also called —  are our new favorite discovery in this grain-free world.  Heck, even if we WEREN'T grain-free, we'd still be eating these long veggie strands 'cause they are just fun!  I mean, we all remember being kids and discovering a perfect, long spaghetti noodle and then slowly slurping it up.  That's the best part of spaghetti night, right?
WELL … with Zoodles, every. single. noodle. is the longest noodle ever, and each and every one is the joy of Barney Kneeknuckles' little two-year-old life.  He loves making them (he helps turn the Spiralizer), eating them, and (of course, because he's a boy) comparing them to his brother's and seeing who has the longest zoodle.
(Oy.)
Zoodles have become a near weekly item on our meal plan, and each time, I serve it under my new favorite Beef Bolognese.  It's a thick, rich and hearty paleo beef bolognese and sooooo comforting on these random, freaky cold nights we've been enduring enjoying here in Texas.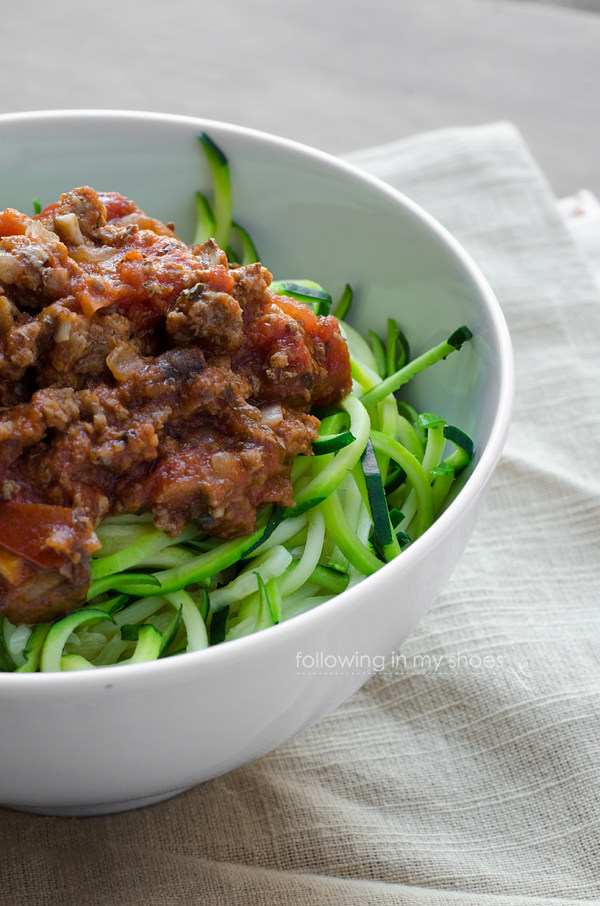 Sigh … and now I'm hungry.  The perils of food blogging!!!!

Beef Bolognese Sauce
Ingredients
1 pound of ground beef
8 oz sliced mushrooms (I prefer cremini)
½ large onion, diced (approximately 1 cup)
2-3 cloves of minced garlic
1 14.5 can tomato sauce
1 14.5 can diced tomatoes (no salt) -- do not drain
1.5 tsp dried basil
1 tsp ground oregano
.5 tsp dried parsley
salt and pepper to taste
Instructions
In a large frying pan, cook the diced onion and ground beef (over medium-high heat) till the meat is browned.
Drain the grease from the pan, lower the heat to medium, and return the meat/onions to the pan. Add the diced garlic and sliced mushrooms and cook till the mushrooms have softened (4-5 minutes).
Add the tomato sauce, diced tomatoes, basil, oregano and parsley, stirring to incorporate.
Allow to simmer 10-15 minutes and then add salt and black (or white) pepper to taste.
Remove from heat and serve over zoodles (or pasta).
How To Make Zoodles
Ingredients
3-5 medium Zucchini (we find 1-2 per adult is perfect)
salt/pepper to taste
Instructions
Wash the zucchini and trim the ends; if you prefer, you can remove the skin of the zucchini but it isn't necessary.
Using a julienne peeler or spiralizer (which is what I use), create your Zucchini Noodles.
Place the noodles in a microwave safe bowl and loosely cover with plastic wrap.
Microwave on high for 2 . WATCH THEM CAREFULLY because it doesn't take long to overcook!
Remove from the microwave and drain any liquid. Salt and pepper to taste. Serve immediately.