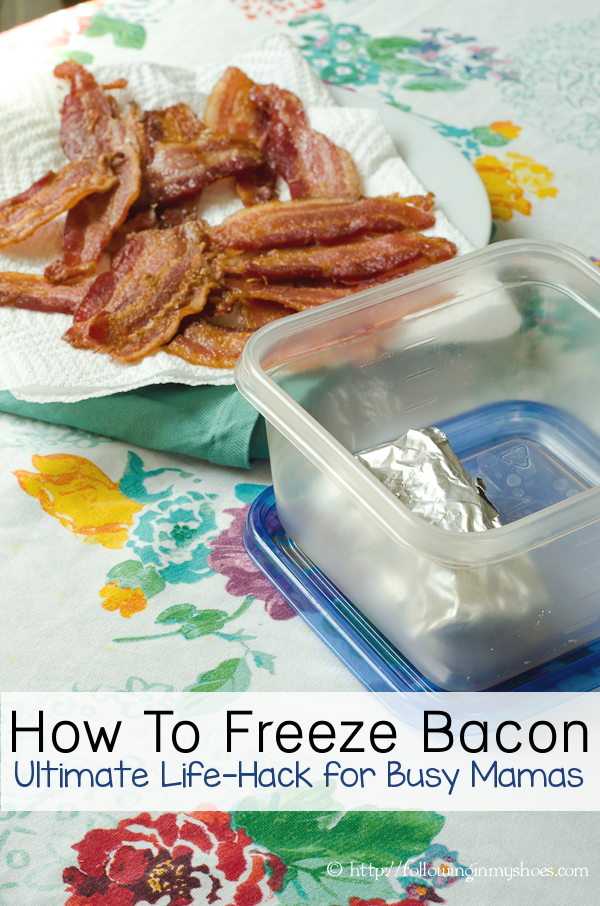 Alrighty — this lil' drive-by-post comes courtesy of the anticipation of crazy school mornings. 'Cause I am RIGHT SMACK DAB IN THE MIDDLE OF THAT CHAOS.
We have met the teachers, given them their fifty-million glue sticks, and purchased our new school shoes (which two of three children promptly wore out in the rain and mud).
But, knowing that we are just about 72 hours away from tightly scheduled mornings and check-list-mandatory evenings is stressing this Mama out. When stressed, I make plans and lists. And, apparently, I also freeze bacon.
Now, it isn't the only thing I'm stuffing into the freezer: paleo tortillas, chocolate chip blender muffins and grain free waffles have all found their way inside — ready to be brought out for breakfast or stuffed into a healthy school lunch.
Earlier in the week, I shared how to cook bacon in the oven — THE BEST WAY TO PREPARE BACON!  The Kidlets were allowed to sneak a couple of pieces (bacon is their love language) but the rest was sealed and popped in the freezer.  It's all about whatever life-hack makes my mornings easier, people.
And, yes, anything that allows me to feed my people before school and STILL have time for my coffee totally counts as a life-hack.

Can I Freeze Bacon? Absolutely!
Ingredients
Cooked bacon
Freezer Safe bags, aluminum foil, etc.
Instructions
Cook the sliced bacon (check out my oven method for bacon).
Allow bacon to cool and drain on paper-towels
Using either freezer-safe bags or aluminum foil, seal the bacon into "family-portions" (enough cooked slices your family's breakfast; I decided to limit my people to 1-2 slices per person), removing as much air as possible. I have tried both methods and the bags are obviously faster when you are packaging. If you opt for aluminum foil, you can lay the slices out on a sheet of foil and then roll the foil up over each slice (aka jelly-roll style) -- make sure to seal the ends!
Place packaged family-portions into a hard freezer-safe container; this extra step will ensure the bacon slices don't turn into bacon bits after someone throws a heavy steak or carton of ice-cream on top of them.
To Reheat: remove frozen slices and either heat up in a pan on the stove-top or on a paper-towel lined plate in the microwave. Serve immediately.