Grain-free meals are *starting* to kinda, sorta, maybe get a little bit easier.
A little bit.
There are still days we (yes, myself) crave doughnuts and cookies and the soft, glorious, stretchiness of bread.  But, with each week that we keep grains out of the house, it becomes that much easier.  The Little Lady, knowing that her doctor has requested she be grain-free (and lactose free) due to her stomach issues, has willingly participated in grain-free meals — that poor girl is eager to see consistent relief from pain.
Only Mr. Boy has truly had a hard time with the transition; he's a Toast and Butter kind of boy.  An Oatmeal boy.  A Waffle kind of boy. . . and not getting those things anymore has been difficult.
Luckily, this week, I discovered two things: (1) Cashew Meal from Trader Joe's and (2) a cashew based Belgian Waffle recipe from Against All Grain.  CUE THE ANGELS SINGING!
When Mr. Boy  came into the kitchen and saw the plate of fluffy, tall, golden waffles, he ran screaming into the living room: "LITTLE LADY!!!  Guess what?  Mommy made WAFFLES!  REAL ONES!!!!!!"
They were SUCH a hit that I'm spending this holiday weekend making and freezing batches of them.  Hello, easy and grain-free morning meals!!!
I'm also working on several different grain-free/paleo breakfast foods and snacks — the "grab and go" type that will be easy to pass out when the Kidlets start their perpetual "Mommy, I'm hungry" chant.
Cheesy Bunny Crackers. Nut Bars. And our new family favorite — energy bites (think "mini Lara bars.")
They're pretty much awesome.
Slowly, but surely, we're discovering a whole new gastronomic world of grain-free awesomeness.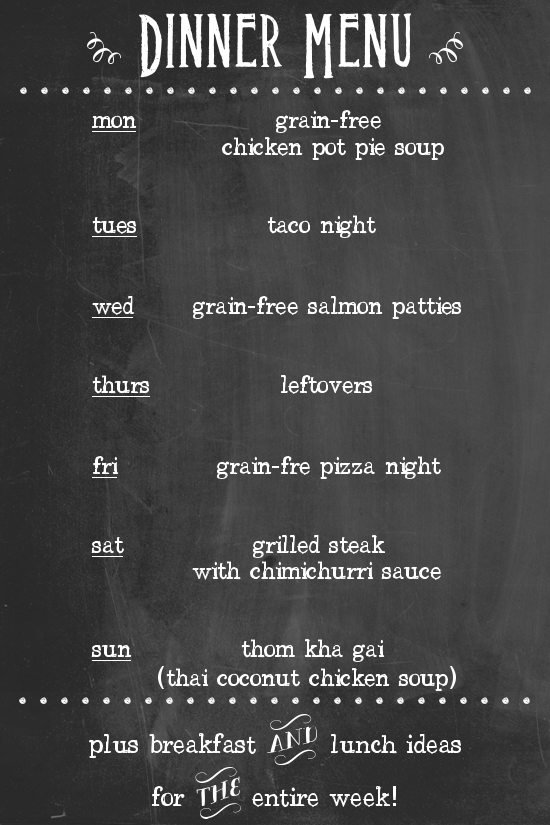 What We're Eating This Week
Dinners
Lunches
Monday: School Holiday
Tuesday: Grain-free Corn Pups (new recipe in development), Roasted Fingerling Potatoes,
Wednesday: Taco Boxes: leftover tortilla wraps/burritos, beans, grapes, carrots
Thursday: Apple-Wich (apple slices, sandwiched with almond butter), Chicken Sausage; Chocolate Pudding; Carrots & Peas with HomemadeDip
Friday: Grain-Free Zucchini Muffin; Avocado Slices & Tomatoes; Hard Boiled Egg
 Breakfast
Yogurt and Breakfast Bread
N'Oatmeal (from 21-Day Sugar Detox Cookbook)
Scrambled Eggs, Bacon
Snacks
Energy Bites (sharing the recipe later in the week — it's our new favorite treat!)
Veggies and Dip
Chia Seed Pudding