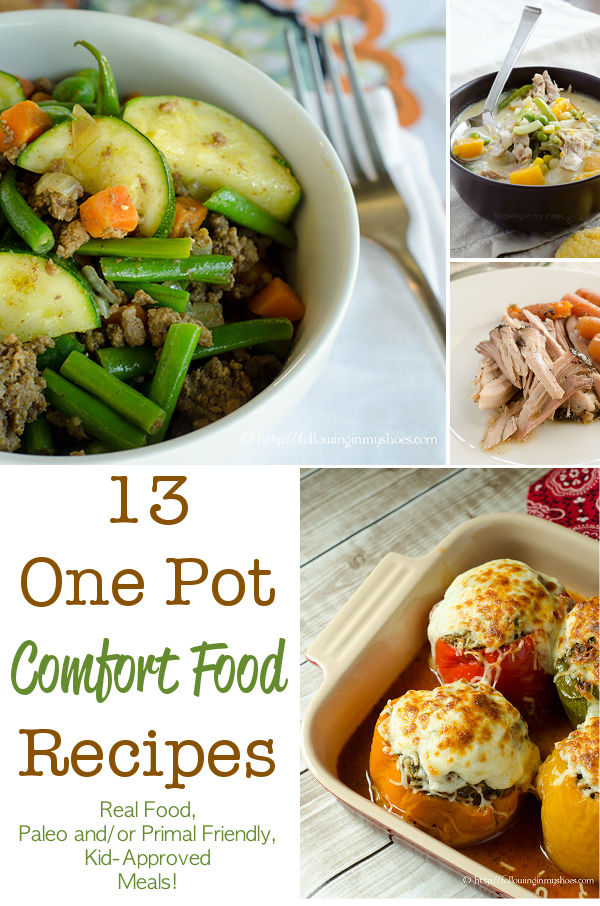 Between the billions of feet of snow and the below freezing temps that hit the majority of our country this past week, I have been craving comfort food.
Of course, I can't lay all blame at the feet of Ol' Man Winter.  Stress has dealt a few cards my way and I've wanted everything rich and delicious and evocative of childhood hugs and cozy blankets.
Yeah, food is totally my love-language.
I know the majority of us are focused on a certain, important Thursday this month but I'm thinking about every other day … the ones were I don't want dressing and turkey.  Those days when I want to throw a bunch of food into a baking dish or the slow-cooker and then enjoy the steamy goodness that is ready a few hours later.
I. Want. Comfort. Food.
13 One-Pot comfort Food Recipes
Need a few comfort food dishes … wait, HEALTHY comfort food recipes … to add to your dinner repertoire?  Click through the Foodie Slideshow below to drool over real-food recipes such as Moroccan Beef and Veggies, Grain-free Chicken Tortilla Soup, Slow-Cooker Coffee Braised Asian Pork …. and more.

Check out 13 One-Dish Comfort Food Recipes

by Rachel Hamill Lacy at Foodie.com
disclosure: I partnered with Mode Media and Foodie.com to present this recipe collection.