After a few years of hinting and wheedling, the Husband, the Brother-in-Law, and the Mother-in-Law have gotten their way.
The Kidlets (and Wee Nephew) have pet chicks.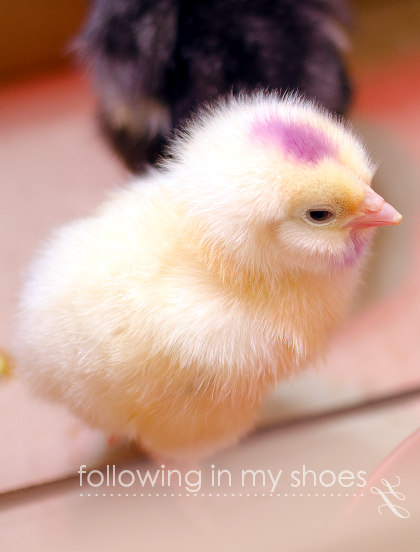 Salmon Faverolle 2-day old chick
My Mother-in-Law has wanted to give the Kidlets "Easter Chicks" for years; after researching our zoning laws here, we finally gave the go ahead and proceeded to get things ready for new babies.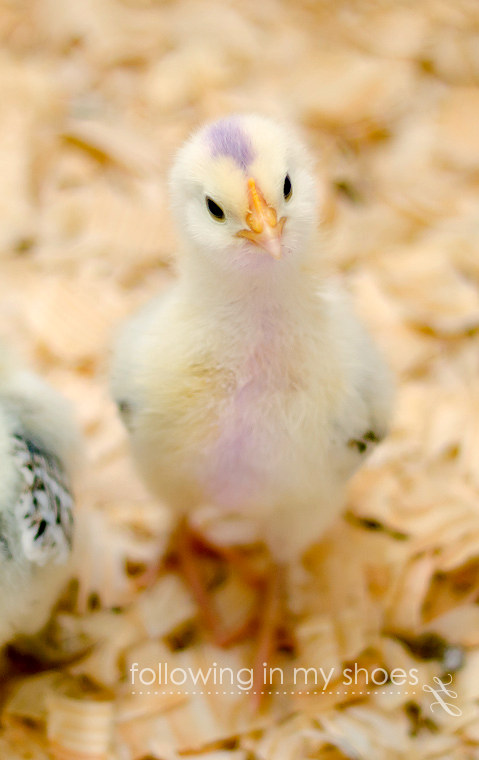 The same Salmon Faverolle chick from above … just with two weeks of growth on her! (the purple is not part of her coloring — it is vegetable dye used to mark her since she was a single special order among other random chickens sent to the feed store).
It's definitely been an adventure — teaching the chicks how to drink water, learning how to maintain a proper brooder temp for the wee babes, and (sadly) dealing with pet death.  One of the chicks died this past week; she had been weak since day one and we had expected her to go several times … but it didn't make the loss any less traumatic or hard to explain to little ones.
Little ones who then prayed and prayed and prayed for God to bring her back to life.  And a Little Mr. Boy who decided that if she had only been named "Jesus" that little black chick could have resurrected.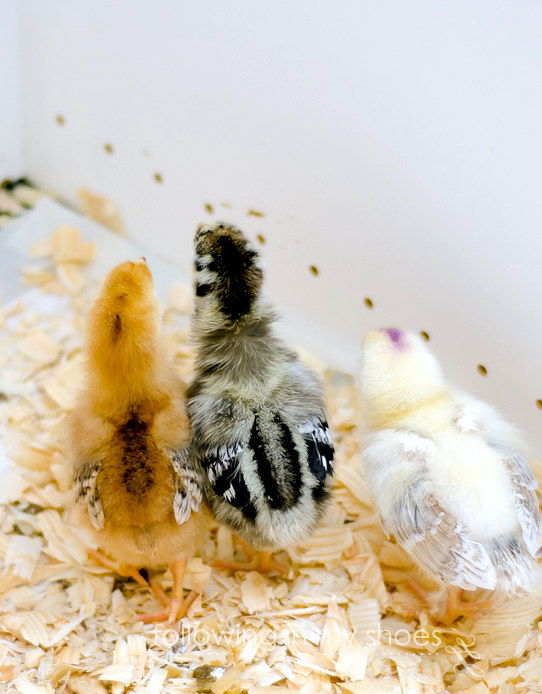 It's amazing how quickly these animals change day by day —
and sometimes even hour by hour.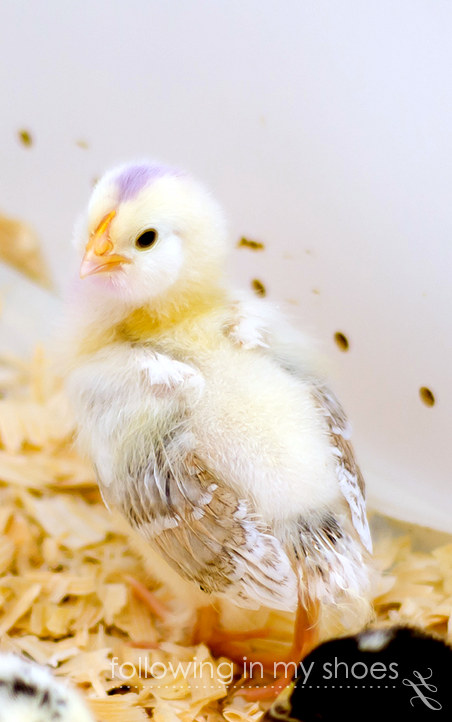 In a brooder we borrowed from a friend, we have six little feathered friends:
The Dowager Countess (our oldest chick — a Salmon Faverolle who will lay creamy pink-brown eggs)
Lady Mary (6 days old — an "Easter Egger" who will lay blue or green eggs)
Edith (6 days old — another "Easter Egger")
Sybil (6 days old — a Silver Laced Wyandotte who will lay brown eggs)
Fancy Bow Wow the 2nd (my Brother-in-Law's "replacement" bird — a 6 day old Rhode Island Red who will lay (a ton) of brown eggs)
Jesus Christina (my Brother-in-Law's other chick, a 6 day old Barred Plymouth Rock — whose name was inspired by Mr. Boy.  She is another brown egg layer)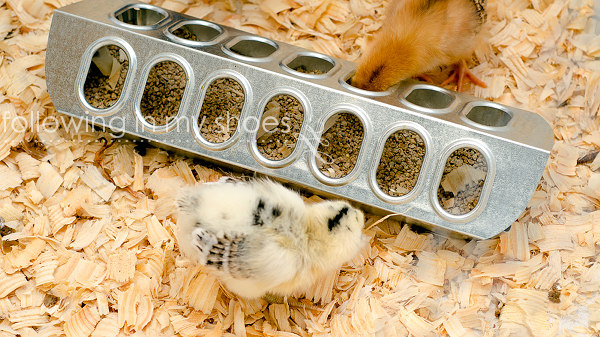 We ordered them through a local feed store, who uses Ideal Hatchery out of Cameron, Tx.  Ideal will also ship birds directly to pet/farm owners, but the minimum order was much larger than we could legally accommodate.  Thankfully, our feed store worked with us to get us the breeds we wanted.
Backyard Chickens are becoming more and more popular as cities begin to allow them within city limits and families realize how beneficial these animals truly are.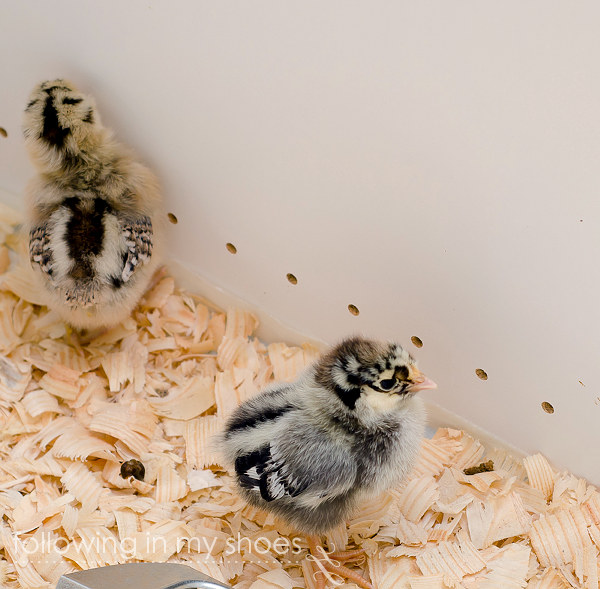 Daily, fresh and delicious eggs … interactive and unique pets … year round pest control from bug-hungry birds … and nutrient rich compost for your garden.
And, if you don't mind eating something you've named … a Sunday dinner.
Although, the Little Lady has already put her foot down against THAT happening here.
Yes, as you may have noticed, our family's chicks have a Downton Abbey theme going on . . . which will be even more apparent when I introduce you to the coop the Husband is working on.  A coop otherwise known as "Cluckton Abbey."