When we put our Houston home on the market last year, one of my first projects was to tackle cleaning the double ovens.
Which… meant tracking down the years-old can of Easy-Off from under my kitchen sink … and then hoping the nozzle wasn't completely clogged from a near decade of never (yes, NEVER) being used.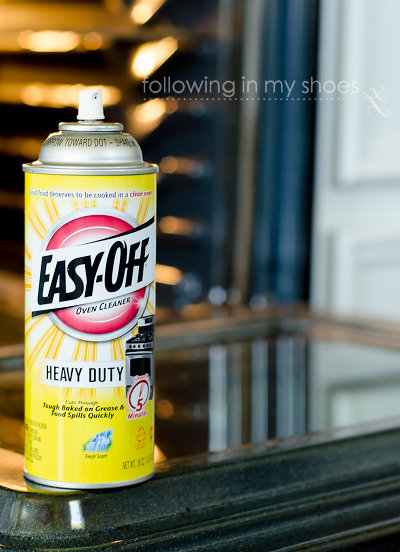 I was an oven-cleaning newbie.  Yeah, that's right: I had never before cleaned my ovens.
(it's ok … you can judge me over this one)
Of course, like I knew from a childhood of watching my mother use the stuff, Easy-Off didn't have a single problem against the charred grime inside my ovens.
The powerful formula cut through it all — the baked-on grease and food spills.  Beautifully and so easily.  And I vowed I would never again let my oven get dirty with such an easy solution at hand.
Then, we moved, life happened, and I broke my promise.  I cooked a lot and might have spilled bacon grease while preparing bacon in the oven.  And all the while, my can of Easy-Off sadly waited for me to remember how quickly and effortlessly it could handle my cooking messes.
Last week, the Husband cleaned the oven for me.  As I dealt with crazy Kidlets, he offered to break out that #1 oven cleaner from its under-the-sink prison and handle all of the grime.
Truth be told, he got the better end of the deal.  While I tried to keep Barney Kneeknuckles from eating potting soil, the Husband had it easy, letting that yellow can of Easy-Off go to work — which, thanks to having more grease-cutting power than our normal all-purpose cleaner, only took 5 minutes.
Yeah, I should have traded jobs that day.
(pssst, it turns out there are several kinds of Easy-Off, including a Fume Free Easy-Off … just in case this post has left you realizing your oven might be a wee bit dirty and you want some easy cleaning options)
disclosure: I wrote this post in partnership with Easy-Off and Burst Media.  The true-life story and opinions expressed are my own.