One would think that since one of my sisters is a professional cake decorator, I would have some little creative baking gene running through me.
I don't.
In fact, one of the last cakes I made, for my nephew's 4th birthday, was SUPPOSED to be a Pirate-Themed cake.  But, it was sooooooooo pathetic looking my sister and I told that gullible little boy a cannon ball had hit it.
Yes, he believed us and, yes, it was that bad.
(don't judge)
I'm still not sure what possessed me to apply for the Wilton Cake Pop Contest.  Seriously — ME?  Being creative with melted candy or fondant or sprinkles or other such little decorating oddities?
But, this baking and decorating adventure was different.  This time, I had a Little Lady who believed in me.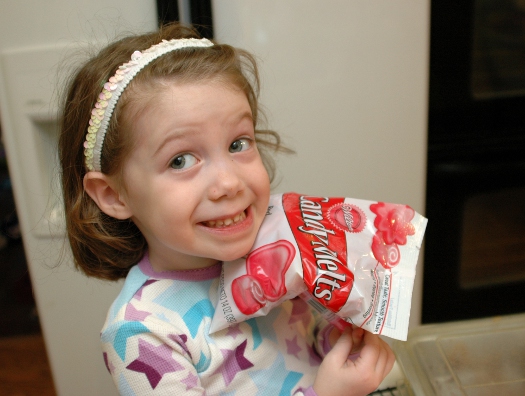 And my little cheerleader wanted PINK cake pops.  With sprinkles.  Lots and lots and lots of sprinkles.
(sprinkles are very important when you're three)
Armed with a strawberry cake mix and strawberry frosting. . . and 8 cans of various Valentine's day sprinkles . . . and one grounded 3 year old (grounded for sneaking into the 9th can of sprinkles and eating over HALF of them),  I got started.
In all honesty, cake pops are NOT hard.  Especially with the new "Recipe Book" Wilton has out: Pops! Sweets on a Stick.  There are cake recipes, cookie recipes, pictures of suggested tools, and instructions for every kind of pop imaginable.  Christmas pops, Baby Shower Pops, Baseball Pops, Zoo Pops . . . I didn't count but there had to be at least one hundred different pop styles.
Of course, for the Cake Pop competition, I had to create a pop that WASN'T in the book.
(sigh)
I had visions of cannon-bombed cake balls tormenting me but I bravely followed Wilton's Pound Cake from a Mix recipe, baked it and then crumbled it.
Yes, CRUMBLED the cake.  There's actually an appropriate time to be destructive during the cake pop process.  Awesome.  At this point, I knew I could do this.
The rest of my afternoon was spent packing the cake pop mix (which consisted of the crumbled cake and a bit of the strawberry frosting) into a silicone baking pan full of petite little hearts.
After several hours of chilling, the hearts were ready to be popped on a stick and dipped into melted candy.
Now, here's where I'm going to stop a moment and give you some very important advice: USE the Wilton Candy Melts.  They are SO much better than alternatives.  I ended up not having enough of the white melts and had to use some vanilla bark.  It ended up being full of tiny lumps.  Annoying.  Very annoying.
But the Wilton Melts are perfectly smooth and melt very quickly in the Wilton Melting Pot.  Love this thing!
While I couldn't copy any of the pop examples from the Wilton Cake Pop book, I did attempt some of the techniques shown, like candy melt leaves — made with melted green candy spread into a silicone muffin cup.  Pretty easy!
I added them to some of my hearts (after they had set completely) to simulate rose buds.
They kinda looked like rose buds.  I had a good idea . . . probably needed a bit more practice to make them look a bit better.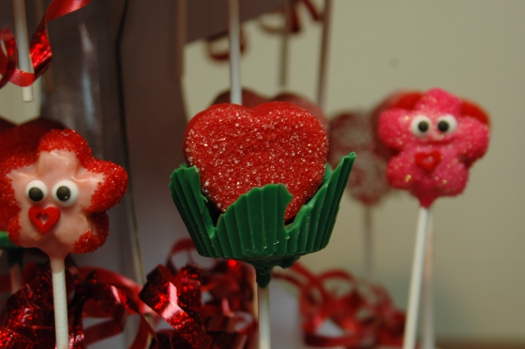 In the end, I didn't have a bombed out mess on my hands but some decent cake pops for Valentine's Day.
Well, most of them were decent.  Some of my flowers ended up looking like star fish.
STAR FISH.
Not cool for Valentine's Day.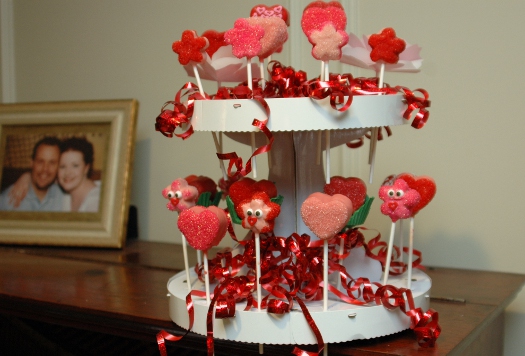 P.S.  If you're curious, here's a list of the items I used to make my Cake Pops:
1 Box of Strawberry Cake Mix
1 can Strawberry Frosting
1 Bag of Red Wilton Candy Melts
1 Bag of White Wilton Candy Melts (should have used two!)
1 Bag of Green Wilton Candy
Wilton Candy Eyes
Wilton Heart Sprinkles
Wilton Red Sugar Sprinkles
Wilton Pink Sugar Sprinkles
Wilton White Sugar Sprinkles
1 Bag of 6″ Wilton Lollipop Sticks
Wilton Pop Decorations — Flower Petals
Wilton Cake Pop Decorating Stand
Wilton Petite Hearts Silicone Baking Pan
1 (completely random) Flower Silicone Pan (I think I purchased it last year from the Dollar Store?  Maybe?)
Wilton Melting Pot
Disclaimer: I received a Wilton Kit containing various tools for making cake pops.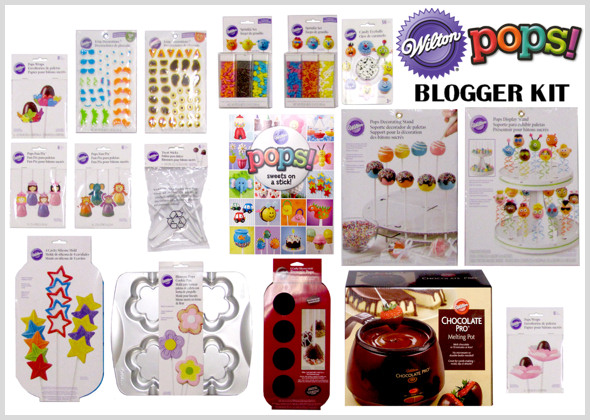 I was not required to give my opinion on the products but to simply create an original pop and share it in a post.  All opinions expressed in this post are my own.