Hooray for surprises! I logged in yesterday morning, low and behold, this blog has been given several awards!
First:
Petra, author of The Wise Young Mommy, and Elaine, author of Commotion from the Ocean of Life, both sent the Brillante Weblog award my way. I'm very honored as this is the 2nd (& 3rd) time I've received this. Thanks ladies!
Normally, this award is to be passed along to 5-6 other blogs, but this time I'm just passing it on to one: Elizabeth at
Parenting Pink
. I discovered this blog yesterday and she DEFINITELY needs this award. Not only does the maintain her Parenting Pink blog, but she also runs the
Parenting Pink website
, which is devoted to helping moms of girls raise strong young women!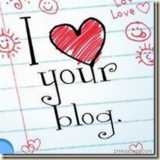 Thank you so very much!!! I'm honored, Mrs. Amy! I will be passing this along to a few blogs;
For those that receive it, the rules are simple:
1. The winner can put the logo on his/her blog.
2. Link the person you received your award from.
3. Nominate up to 7 other blogs.
4. Put links of those blogs on yours.
5. Leave a message on the blogs of the people you've nominated
I'm passing this on to the following bloggers:
The "Kick 'A' Blogger" award.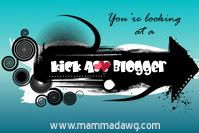 While the name surprised me a bit, I'm glad to know that someone enjoys what's going on over here. Thank you,
Mama of Romance
, for my newest blog award. The award originated on
Mamma Dawg's site
. According to her, this award is for bloggers that
"[have] incredible, original content . . . [are] overflowing with creativity. . .someone that helps [others] become better blogger[s] . . . a bloggy friend [that can be] counted on . . .someone who simply inspires you to be a better person… or someone else who sends you to the floor, laughing."

That's quite a range of descriptions! And now for the people to whom I am passing this award (and, ladies, please visit Mama Dawg's site for the instructions and the original award graphic):
Each of these ladies have distinct perspectives and personalities, as their blogs clearly show.
Visit them and you'll soon agree!