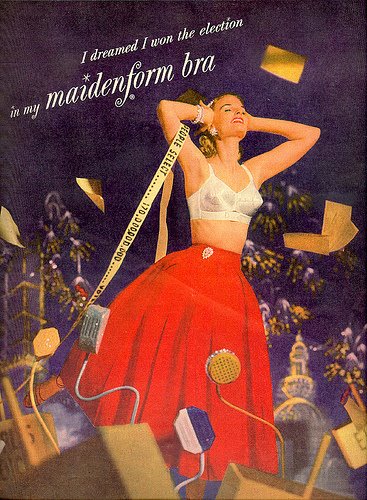 This past weekend, we traveled to The Middle of Nowhere, Texas, for my husband's family reunion.
And, this past weekend, I became one of those women that my mom always warned us against becoming.
I did NOT wear a bra the ENTIRE weekend. . . sigh.
I'm going to blame my venture into the land of bad taste and bad fashion on my husband. After all, it's because of him that I'm pregnant. Because I'm pregnant, my uterus is now up in my ribs, just under "the girls." Because my uterus is co-habitating with "the girls," I can't breathe when I wear a bra. Because I can't breathe when I wear a bra, I decided to NOT wear it for our 5 hour car ride across Texas.
I meant to pack it — I did! (and, yes, I said "it," as in ONE! Sorry, folks, I know that is rather gross but there's only one bra left that "kind of" fits these days. Since the baby could come next month, I've decided to wait on getting the next size up till I know how breast-feeding impacts things. There you go — now you know everything.)
In fact, I put my lone bra right by my purse, so I would not leave it behind. The plan was to be "free falling" for the long car ride and then (somehow — under the black cloak of night) put it on before meeting his family.
But. . . sigh.
Things happened.
We were running late. I was hungry. I was anxious about finally seeing the Little Lady after her week's absence from our house.
I wasn't thinking, and I left my bra neatly folded on the table.
We arrived at the campsite very, very late. Yes, I had to "camp" all weekend — which doesn't factor well into this story. Anyway . . . carefully and strategically carrying my purse (yeah — I decided to postpone putting on the bra I "thought" I had), I walked into my inlaws' camper. After hugging and kissing the Little Lady, we crawled into bed, planning on unloading our bags the next morning.
And, it was the next morning, after I had showered, (semi) dressed, and fixed my hair, that I learned my bra was not in the car.
Shame and tears flooded my face. I couldn't believe it — I would be meeting distant relatives sans foundational garments.
Scenarios started running through my tortured, hormonal mind. I could see myself, bopping down the rocky hill: boing, boing, boign, boing.
"Hi, Family!"
Shocked faces would greet me. Mothers would run to their children, rushing to cover their innocent eyes from the horror of my flopping gait. Fathers would turn red, not sure which way to turn for escape. Grandmothers would turn to one another, whispering in shocked disgust.
As this imagined scene played out, I turned to my husband and began to sob. The poor guy was lost. His pregnant wife, who had been venting for weeks about her uncomfortable bra and wishing she could go without one, was now crying because she didn't have that same hateful bra.
What was a guy to do?
He offered to drive to the nearest Walmart, a mere hour away. He desperately looked around the camper –I'm sure he was trying to find supplies that could be used to "MacGyver" a bra. Alas — there were no Ace bandages, no duct tape, nothing which could be used to cover my overflowing cups.
All weekend, despite my attempts to nonchalantly hide my chest (and despite the double and triple layered shirts I wore in the 100+ temps), I knew that my secret wasn't a secret.
OH — and did you know that a bra does more than just support and conceal one's bosoms? I didn't till this wonderful weekend. A bra also . . . .
(1) Stops sweat (remember the aforementioned 100+ temps) from pooling between the girls;
(2) Keeps nasty, Texas Hill-Country bugs from crawling around to explore my female hills and the salt-water lake below them;
(3) Forms a barrier from the dry dust and dirt that was hell-bent on covering every inch of my chest.

Yeah — a bra is good for a lot of things.
I think it is time to breakdown and buy some new ones, regardless if they might not fit in a month.
No more humiliation, tears, bugs, sweat, and dirty boobies for me.