It's time we had a talk.
A serious talk.
The kind of talk where you don't crack any jokes, raise your eyebrows, or allow yourself to be distracted by the TV.
Yes — a serious talk.
First of all, I appreciate your dedication to maintaining the external appearance of our home. Your watering, pruning, and mowing efforts have paid off — both the front and back yard look beautiful. And, I appreciate your dedication to eradicating the Mole Jungle that has been built beneath the back yard terrain. I know they are driving you nuts and I'm glad that you are so willing to spend time, energy, and money to remove them.
But . . . um . . . well . . .
The baby's room DEFINITELY needs to move up on your personal to-do list.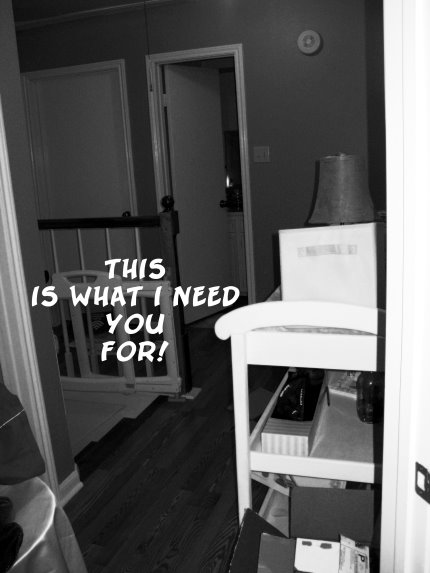 Have you SEEN the state it is currently in? Have you seen the boxes that have been packed, the trash that has been bagged, and the general chaos that has taken over this room?
Have you SEEN it?
Surely you have. I've deliberately left the door open, allowing stacked boxes, furniture, and nursery decorations to spill out into the hallway. You walk RIGHT BY everything each morning, evening, and night as you enter or leave our room.
I know that it is much more fun to play Rambo in the Mole Jungle — adrenaline rushing as you place sonar traps into the ground. You're so fierce.
But — your son needs a place to sleep. You know that we have less than EIGHT WEEKS till I'm full-term, right? Eight weeks. Two months. July and August.
Can you tell I'm just a wee bit anxious about having the nursery completed?
With the Little Lady, I handled the room renovation/decoration myself. I could do it — I wasn't big, bulky, and pregnant.
In case you haven't noticed, this is most definitely NOT the case this time around.
I need your muscles, honey. And, your ability to breathe normally. And, your abdominal muscles — you know, the ones that don't feel as though they are being torn in half every time you bend over.
Basically, I need your body.
(Does that appeal to your masculinity? Does this help my cause?)
I know that nesting isn't your thing. Not at all. It is, however, MY thing, and since I'm the one that allows you to
share
MY
bed (
I'm pregnant, remember
). . .
share
MY
meals (
I'm pregnant, remember
) . . .
and share
MY
tv (
I'm pregnant, remember
). . .
I think you should get on the nesting bandwagon.
I promise I won't make you do anything girly. You can still be Rambo, bravely delving into the dangerous jungle of boxes, crates, and furniture. I'll even make you a headband like his, if that will help. You'll be "THE MAN."
I'll even call you "The Man." I promise.
So — you think you can head upstairs now?
P.S.
If you're still not sufficiently motivated, here's an "in living color" shot . . .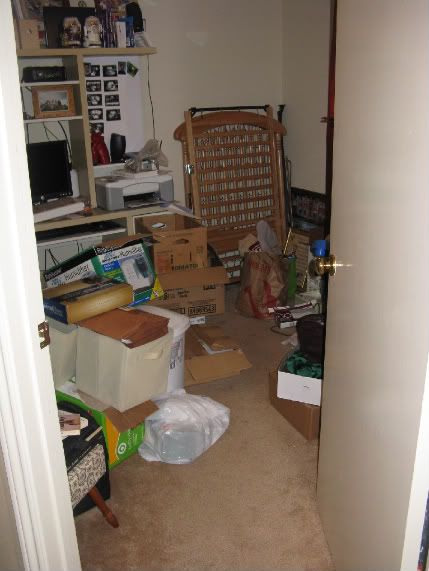 Ready now?