Hello, again, Ladies (and Chris) =) Just one more post from me and then you will be entertained by a few guest-bloggers!
Since Rachel is a very faithful PhotoStoryFriday blogger, I thought it only best to post one for her– ABOUT HER!! That's right. Rachel always posts about The Little Lady, or her Hubby (gotta love him), but I think it's time you see more of my beautiful sister!!
So here we go…. 3….2…. 1…. ACTION!!
Growing up, Rachel has always been the more mature and serious of the four sisters, but she also has a great sense of humor (one that has grown even better since she married a BOY!). She usually tries to be polite and proper (most of the time 😉 )– but here is PROOF of her silly side! May you all be witnesses!!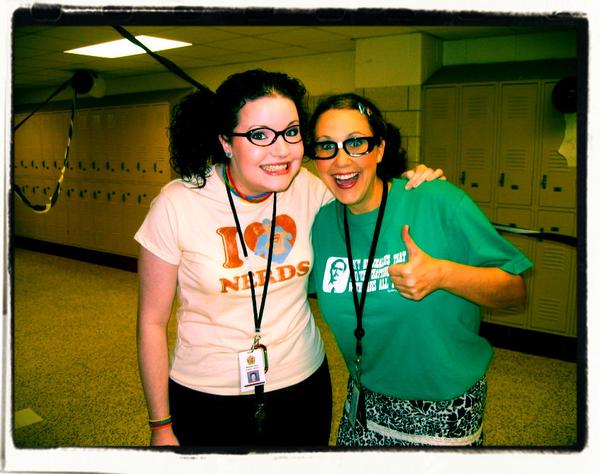 The picture above was taken when Rachel was a high school English teacher in the last couple of years. Most schools have a homecoming "Spirit Week" where the students get to dress up every day for a different theme. THIS theme, was— you got it—- NERD DAY!!!
Yes, this is my sister Rachel, The Nerd!! (If you can't tell, she's on the left– that's right– the really really really white girl).
Rachel isn't just a nerd though. Little does she realize, she is also very cute (when she wants to be!).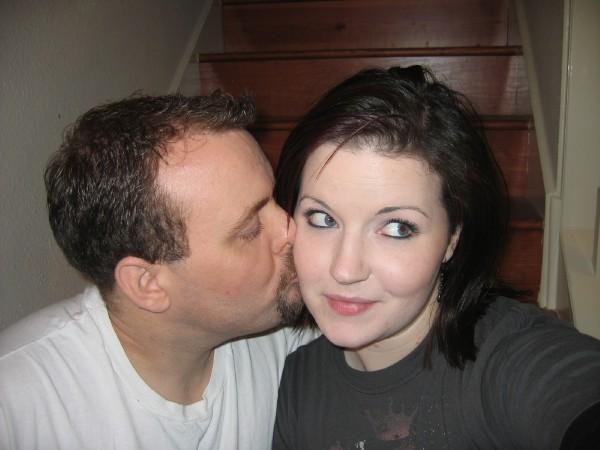 As you will see on your left, we have Rachel being Cute. Adorably and sickeningly, cute. Rachel, like most of us, dealt with her fair share of "mean boys"– but when she finally met Hubby, everything finally came together like a puzzle and it all made sense. He, however ornery he may be, is very affectionate and adores Rachel.
So all I can say is, YOU GO GIRL!!! You be as cute as you wanna be, you earned it!
And finally, I'll show you the woman that YOU know. The mommy-Rachel. The Rachel who loves The Little Lady so much that she has posted hundreds of blogs about her. The Rachel who prayed so hard and for so long for The Little Lady. Brace yourselves, ladies, the next pic may bring tears (it did me).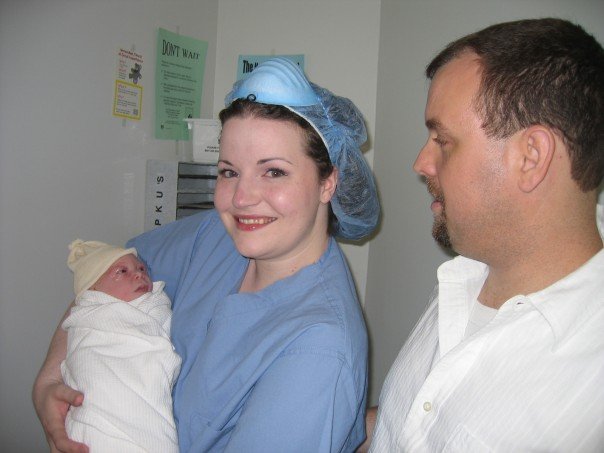 Here on your right, we have my sister holding The Little Lady for the Very.. First.. Time. Finally, holding her baby in her arms, where she's always belonged. I can only imagine what Rachel might have been telling her in this picture… "I'm gonna love you and give you everything you ever wanted, and I'm going to let you get your ears pierced, and have a pony, and eat chocolate every night before you go to bed!"
Come on, I've seen enough TLC's "A Baby Story" to know every new mommy bawls like a baby and blubber's stuff like this. And I'm not hatin'– I totally plan on blubbering my own jibberish when I have my babies one day too!
So there you have it. Maybe you already knew she was a nerd, maybe you didn't. Either way, Now you know!! But at least now you can see her from my point of view 😉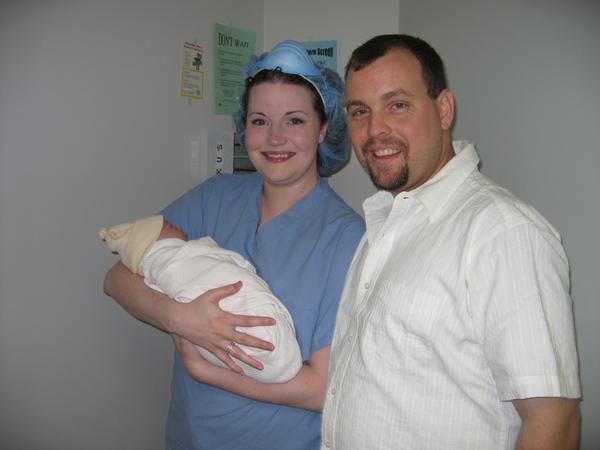 For the record, I had permission from Rachel to use whatever pictures I wanted!!! She just doesn't know what ones I picked yet 😉