When one is without internet, cable, cell service and all other modern forms of entertainment, one must "make do" with whatever is at hand. So, while at my in-laws during our hurricane hiatus, I had the chance to read some oh-so-interesting books (Texas Wildflowers and Trees . . . The Birds of Texas . . . and Texas: Tales Your Teacher Never Told You . . . I am now thoroughly caught up on all things Texan). But, like all good things, those books reached an end. At that point, there was only one thing left to do: watch my kid. And that's when I realized something very, very, VERY scary.
I'm now the mother of a Full-Grown Woman, at least that's what the Little Lady seems to think. I'm not sure when her self-image changed but she definitely believes she is equal with Mommy and Daddy.
Mommy has a fork? Then the Little Lady MUST have one. Oh, and it can NOT be a baby fork. Oh, no! Only a fork perfectly identical to Mommy's will suffice.
Mommy is drinking from a straw? Then forget trying to use a sippy cup; the Little Lady believes she is MORE than capable of sucking a tall straw as well. Don't believe it? Try withholding a straw. Just try it. You'll see a carefully crafted meltdown, worthy of shiny golden awards. This is why I now carry straws in the diaper bag, right next to the wet wipes.
I'm not allowed to help with anything — even art projects. Remember my cry for help with occupying my toddler? This was the result of trying to be a crafty mama: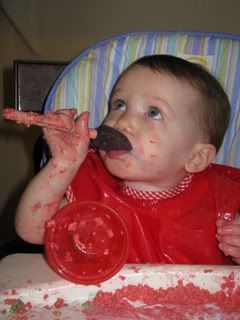 That's right. No art that day; apparently, my daughter believes eating the paint is a better use of her time.
Every little thing seems to require independence now. Even during bathing she asserts her new title of "Miss Independent," insisting on washing her own hair. No help from Mommy is wanted.
MINE and NO have replaced "Mommy" and "Up" as her favorite words. I hear them over and over and over and over throughout the day. I thought these words didn't show up until the Terrible Twos???
Did I mention that she's now capable of deciding when she wants to leave the house? Oh, yes – if Mommy gets to go outside whenever she wants, then the Little Lady can too, with just a cheery "Bye-bye" as she heads to the door. Thank goodness she's never grown above the 5th percentile – at least we've got awhile before her little diva hands can actually reach the door knob!!!!!!
I don't think I'm quite ready for this independent phase. I find myself in panic mode all day long as I try to stop her from doing things by herself: trying to walk up the stairs, trying to plug in lamps, and trying to take plates off of the table. Why does independence have to involve all the dangerous things??????
Mommy needs some Dr. Pepper (again).