Did you ever play that game as a child? You spent your time trying to gross out peers with a scenario more disgusting than the one they had just told you. Good times. (PLEASE, someone tell me this wasn't just a game unique to the Hamill girls??)
I was reminded of that game last week as I enjoyed my last few days with my in-laws during the Great Hurricane Hiatus of 2008. Their little, teeny-tiny town is nestled in between the hills and curves of TX Highway 16. While it is large enough to have its own school district, there aren't any grocery stores, traffic lights, or town policemen. It does have a couple of little cafes, one of which was the setting for one of the cutest moments ever. . . and the most FOUL moment I've ever experienced.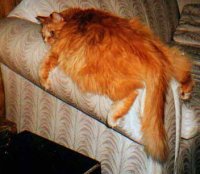 When we walked in, I spotted an ENORMOUS cat. I'm talking FAT — that thing was easily 25-30 pounds. Looking a bit like Garfield, it was just a great big, lazy, orange and white Tom known as "Mr. Kitty," according to a dirty laminated sign. Despite the fact that I am most definitely NOT a cat person, I took the Little Lady over to see her very 1st Kitty Cat. Over the past few months, I had been trying to explain the species known as Feline, trying to explain that they were not puppies, but the Little Lady just didn't get it. I only got blinks of confusion in response to my basic science lessons. Whatever. (by the way, the cat in the picture is NOT Mr. Kitty; this nice fat cat is wayyyyy to clean to be Mr. Kitty)
Here, however, was a way to teach through experience, and it went off without a hitch. The Little Lady, being as cute as she could be, squealed in excitement, shouting "CaCa! CaCa!" (her version of Kitty Kat) The rest of her lunch was spent pointing to that fat animal and "meowing," which delighted her grandparents and exasperated me (come on, it was time to EAT!).
Mr. Kitty swayed over to us, green eyes slowly blinking, every movement letting us know that HE was the one tolerating US in this eating establishment. Suddenly, with surprising agility, Mr. Kitty leaped from the ground to the gray wooden bench belonging to the table behind us. Pausing long enough for a quick tail swish, the cat then heaved his long haired bulk up onto the table.
Now, seeing a hairy cat, with dirty paws and matted butt hair, on a dining table is bad enough to bring on a small wave of nausea. But, before I could talk myself into suppressing the sick sensation knocking at the back of my throat, things got WORSE.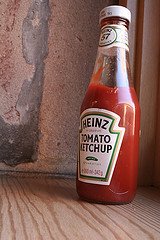 Mr. Kitty, in all of his dirty and hairy glory, turned his wide head back — his green, narrowed eyes meeting my green, shocked ones. As if he felt challenged by my disgusted face, he twitched his nose and slowly turned away, walking toward a lone red bottle of ketchup. His tail contorting in and out of an "S" shape, he lowered his face to the open bottle, sniffing and then licking quickly with his gross little tongue. Licked. LICKED!! L-I-C-K-E-D it off!!!
Do you KNOW what else cats do with those tongues? Let's just say that they don't have sweet Mommies at home, sticking them in warm baths and scrubbing their hair with lavender shampoo!
Once he had tasted all he wanted, Mr. Kitty padded over to the other end of the table and laid down for a nap. A moment later, one of the waitresses came out and pathetically tried to "shoo" Mr. Kitty off. She was not successful. Mr. Kitty cast a baleful eye toward her. The waitress finally decided a direct approach was the best offense; she hauled Mr. Kitty off, grunting all the way.
The ketchup bottle was left on the table and left full of cat germs. The table received only a single swipe of a dirty dishcloth.
I guess I really don't have to say that we will NEVER be eating there again, no matter what "CaCa" lessons the Little Lady needs to learn.