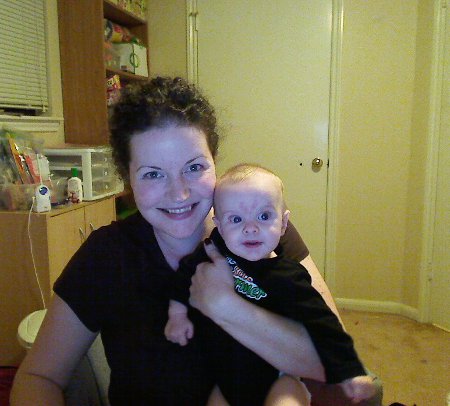 Every day, it's the same routine: wake, make coffee, do my Bible study, and then quickly throw something … anything … on before I start getting the kidlets ready for school.
Is my clothing cute and fashionable? Do I turn heads at preschool drop off? Well, yes, but usually because one of the thee kidlets is SCREAMING (thank you, Barney Kneeknuckles) or I'm trying to keep Mr. Boy from running into on-coming traffic.
By the way, trying to get three kids safely into a building is way underrated.
That pic there on the left?  Typical look for me these days.  Frizzy curls in a pony tail.  No make-up. T-shirt.  Jeans.  Baby accessory on my arm.
Minus the baby, nothing about that look inspires confidence in myself.
I'm in a rut.
And so, I'm turning to you.  Whoever you are.
(I only know for sure that one of you is my mom.  Hi, Mama D!)
I need tips.  Help.  Heck, an intervention wouldn't hurt either.  I must get out of this frumpy blackhole and into a land where clothing and accessories are easy.
I want to feel pretty … even if I am covered in spit-up from my wee blonde man.
Help!
Leave your input below … help a Mama out!
disclosure: I am part of the International Delight Coffee Talk Community. That's right — I get compensated to chat, talk, and gossip. . . and to get fashion help. Any opinions and words expressed here are my own. Thank you and good day.