I think it's safe to say most of us have heard of the Make-A-Wish® charity; we've read or known children who have met their heroes, their celebrity crushes, or had the opportunity to experience a once-in-a-lifetime vacation or dream.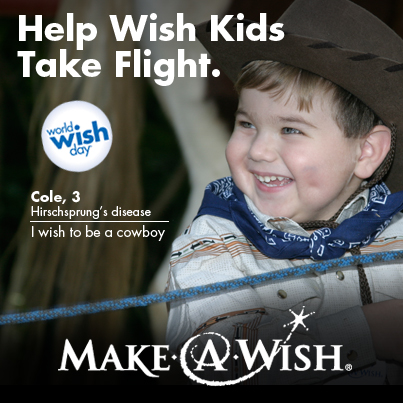 Serving kids with life-threatening conditions, Make-A-Wish and its more than 25,000 volunteers are granting wishes across the country … with nearly one wish fulfilled every 38 minutes.  Since the very first wish — a seven-year-old little boy who, 30 years ago, got his dream of being a police officer for a day — there have been 226,000 wishes granted.

Two hundred and twenty-six thousand wishes in thirty years.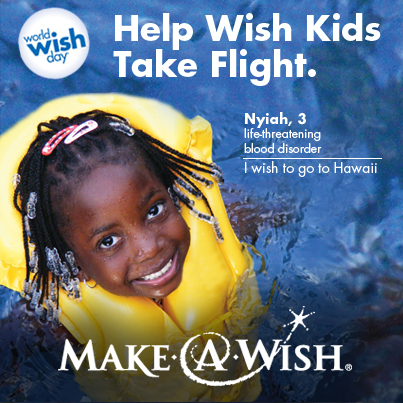 Even as I type out those numbers, a lump is starting to form in my throat.  How simply amazing that (because of the Make-A-Wish program and numerous donors) these children are able to have a break from the monotony of their days dealing with a reality most of us will never know.
According to a 2011 U.S. study of wish impact, most health professionals surveyed believe a wish-come-true can influence the physical health of wish kids. Kids say wishes give them renewed strength to fight their illnesses, and their parents say these experiences help strengthen the entire family.

Parents and health professionals alike describe the wish experience as a frequent turning point in Wish Kids' battles for health.
You Can Help
Most of us would assume (I did, at least) that one needs a large bank account to assist the Make-A-Wish program as it grants wishes  … but that is not the case!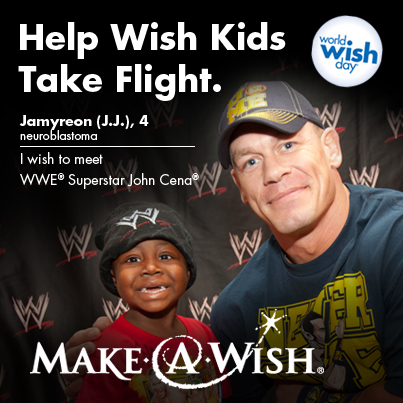 Did you know that 75% of the wishes granted involve air travel for the children and their families?  Each year, 50,000 airline tickets — the equivalent of 2.5 billion airline miles — are needed to cover the costs of sending these children to and from their dream wishes.
Donate Your Airline Miles
Throughout the month of April, Make-A-Wish has been working to collect donations of airline miles and monetary donations that can be used to fund the travel tickets needed fro granting wishes.
Now through April 29th (World Wish Day), WWE® Superstar John Cena® will personally match every frequent flier mile donated in April, up to 4.5 million. United Airlines will also support World Wish Day by matching the donations of its MileagePlus® members, up to 3 million miles, through April 30.
Do YOU have extra airline miles?  Then, help grant more wishes that forever change the lives of Wish Kids, their families, and everyone touched by a wish.  You can donate frequent flier miles or dollars at wish.org/ticket.
Help these Wish Kids take flight.  The difference made is life-changing.
This year, 10,000 wish kids and their families will travel for a Make-A-Wish® experience. That's 50,000 roundtrip tickets or 2.5 billion frequent flier miles. In honor of World Wish Day®, the day of the wish that inspired the founding of Make-A-Wish, visit wish.org/tickets and donate miles and dollars – and help wish kids take flight.
This is a sponsored conversation written by me on behalf of Make-A-Wish®. The opinions and text are all mine.