I have a five year old, a three year old and a one year old.  Anyone want to take a guess as to how "brush your teeth" time goes around here?
"I DON'T LIKE THAT TOOTHPASTE!"
"I CAN DO IT MYSELF!"
"WAAAAAAAAA!"
My Kidlets want to be independent and they fully believe the task of brushing their teeth should be left in their own hands.  Of course, that usually means a mound of toothpaste everywhere, a fight over which toothbrush belongs to whom, and then a quick swipe of their front teeth.
"Done!!", they proudly scream as they grin at their reflection in the sink.  It doesn't take a magnifying glass to reveal that their idea of done and Mommy's idea of done are two very different things.  They just don't understand how long it really takes to adequately clean little teeth.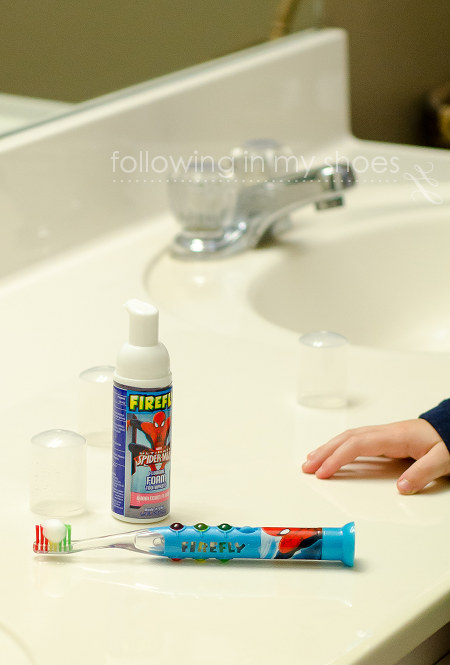 However … our new FireFly Ready Go Brush Toothbrushes and FireFly Fluoride Foam Toothpaste are changing this little morning routine.  Not ONLY have my children been brushing their teeth for longer, more thorough periods of time, they have been asking to brush their teeth.
ASKING, PEOPLE!  Even Mr. Boy, who despises cleaning anything, asks every morning and every evening if it's time to brush yet.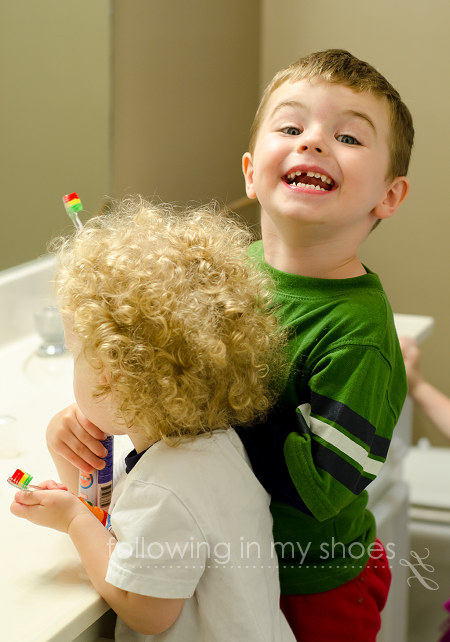 The act of brushing one's teeth has become fun.  This is a game-changer.
The FireFly Ready Go Brush uses the colors and cycle of a traffic light to help kids learn how long they need to brush each row of teeth.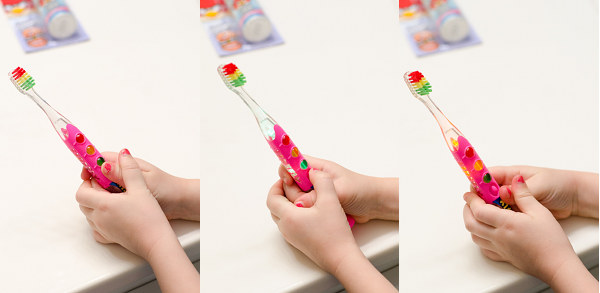 It becomes fun, entertaining and — due to the timed feature of the lights — makes sure the Kidlets brush each row of teeth for the dentist-recommended 60 seconds.
Green: start brushing.
Yellow: half-way point
Red: time to switch to the other row and start again.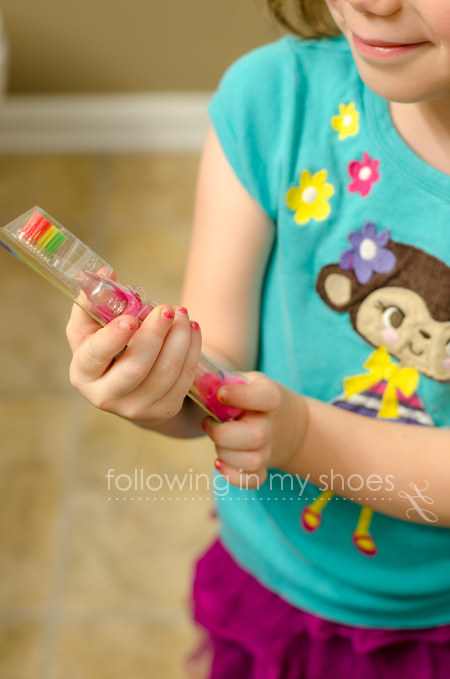 Available in four popular characters — Barbie, Spider Man, Angry Birds, or FireFly — your children in the 3-12 age group will be able to find a theme they love and it will make brushing all the more fun…. as the Little Lady said when she pulled out the Barbie FireFly Ready Go Brush and the matching ("It's PINK, Mommy!!!!") FireFly Fluoride Foam Toothpaste.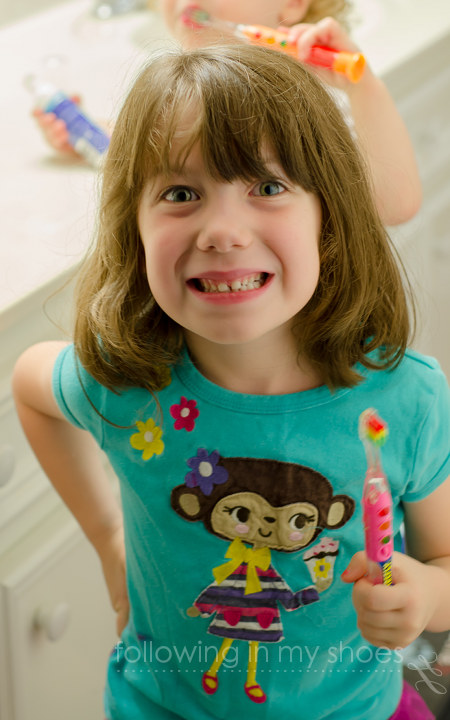 The toothpaste is a foam, designed to squirt directly in the mouth (which is "Mommy's only job" these days).  It immediately gets into all the nooks and crannies, battling all the grape skins and oatmeal after morning breakfast.
Oh, and a bonus? No gummy, sticky messes on my counters.  Woot!
Bottom line?  The FireFly Ready Go Brush and FireFly Fluoride Foam Toothpaste are Kidlet and Mommy APPROVED!
Ok, It's Fun… But What About The Details?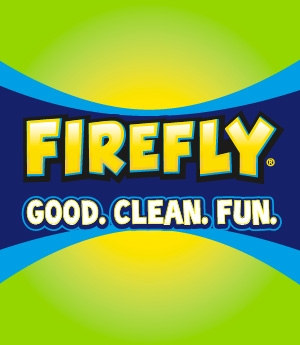 FireFly Ready Go Brush
For ages 3-12
Times children to ensure they brush the dentist recommended 60 seconds per row of teeth
Soft, high quality DuPont Tynex bristles are gentle of children's gums
American Dental Association (ADA) accepted
Suction cup bottom to hold the toothbrush firmly upright (like a traffic light), keeping the bristles clean and away from moisture/germs on the sink
SRP $3.99; available at Target, Kroger, Meijer stores, Amazon and Drugstore.com
FireFly Fluoride Foam Toothpaste
For ages 3-12
Contains fluoride
Bubble gum flavor
Product can be "squirted" directly into the child's mouth, avoiding messy sink and counter spills (as well as gummy, clogged toothpaste caps)
The foam targets "hard to reach" areas and is especially recommended for braces wearers
Immediate foaming action helps flush out bacteria between teeth and gums
SRP $2.99; available at Walgreens, Target, Amazon and Drugstore.com
This post is sponsored by Firefly as part of a sponsored blog tour with Burst Media, but all opinions are my own and my Kidlets!