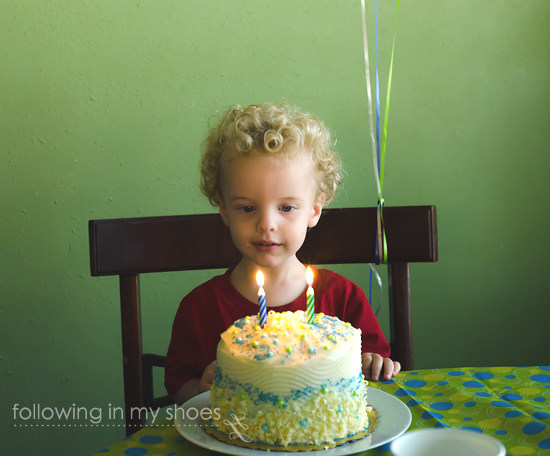 This past Sunday, my curly-headed little boy — my baby — crossed solidly into the world of Toddlerdom.  I can't really call him a baby anymore … he's two.  Running, jumping, climbing, aggravating his older brother and sister (and usually whooping up on them, as we say in the South, when it comes time for some wrestling).
A Daredevil, he daily gives this Mama a heart-attack by jumping off the furniture or climbing on top of the piano or kitchen cabinets.  And if you put a cape on him, Barney takes off through the house, arms extended and "whoooooosh" sounds coming from his rosebud mouth.
He is solidly "Boy. "
But he still loves to cuddle with Mommy … especially in the morning when he stumbles out of his room, the normal cheeky grin hidden by a grumpy scowl.  This child is most definitely NOT a morning person and we have to cuddle for a few minutes alone before he'll even let Mr. Boy or The Little Lady greet him.
He smacks with gusto when he gives kisses and he loves to share his breakfast, lunch, and dinner with his stuffed toys, his baby, his sister and brother, and Max (the dog).  In fact, he's almost TOO good with sharing.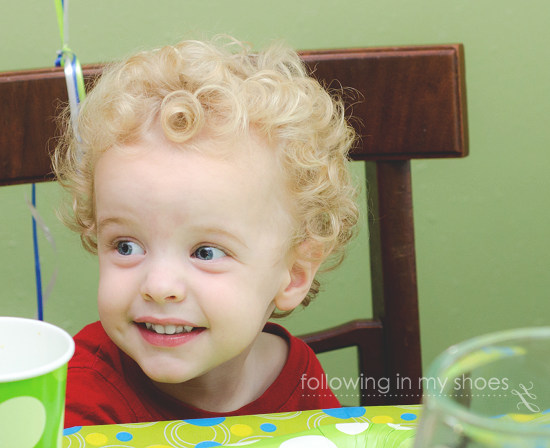 He is still what his Pediatrician calls "Lean and Mean," hitting the height chart at 97% but the weight chart around 50%.  His head?  Still off the charts.
He gets that from me, I'm sad to say.  I'd like to chalk it up to our curls just taking up SO much room … but.  Yeah.  We are just big-headed people.
(sigh)
Like all of his kind, he's a Toddler who loves to make messes, loves to write on the walls or on books or on himself, and he looooooves opening cabinets, drawers, and the refrigerator to empty out anything he can get his hands on.
But he also love people and will give his impish grin to anyone who looks at him, and with those golden curls bouncing atop his head, there aren't many (friends, family or strangers) who can resist tousling his hair as he walks by.
Barney is growing, exploring, and learning what it means to be "Barney" in this world.  He is laughter and smiles and orneriness and blockheaded stubbornness and adorableness all rolled into one curly-headed, blue-eyed, dimpled package.
And, if you can't tell …. I lurrrrrrve this little one.