Last night, I headed a block and a half down the street to our Elementary School.  The time had come, folks, for Kindergarten Orientation.
With a little over one hundred other parents, crammed into child-sized cafeteria chairs, and still trying to memorize the newly-discovered name of my daughter's teacher, I fought back tears.  It was here.  Finally, the summer has waned and it's time for school.  Big-Girl school.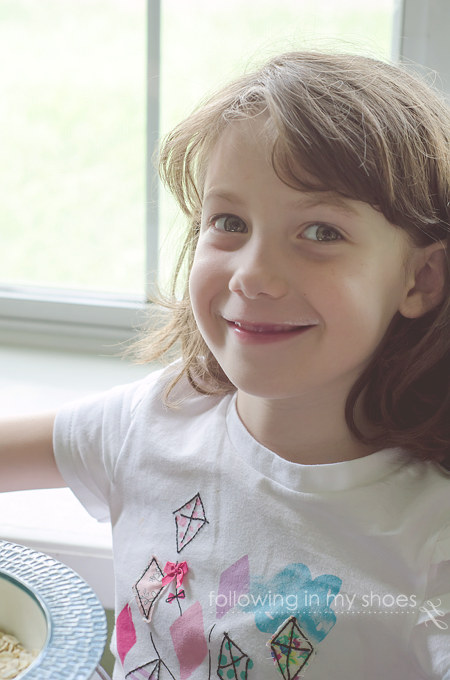 The Principal spoke, assured us life in the elementary school world would be ok, and introduced a variety of staff before going over important information like how to get a visitor's badge and where to pick your child up after school.
(I'm still kind of hazy on that last detail)
And then I heard a set of numbers: 7:55.  Y'all!  They close and lock the doors at 7:55 am!  Technically, the Little Lady needs to be in her classroom at 7:45 am each and every morning.  Seven-forty-five!!!!!!!!
(note: I'm not a morning person)
I'm not sure what mornings will look like around here starting Monday, but I know those few hours between waking and leaving are going to be jam packed with all the steps involved in getting 4 people ready for the day — including breakfast.
What does breakfast even look like that early in the morning?  Will it be whole grain cereals or hot oatmeal or pancakes?  Will we have time for hot eggs and bacon and freshly cut fruit?
Will I even have time for coffee???
As we have "practiced" our school routine the past couple of mornings, I've tried to get our time patterned in a certain order, letting the act of getting up, making the bed, and getting dressed become rote activities … and for Mama?  For me, it's been all about making sure I can get healthy food into these Kidlets' bellies before 7:30 each morning.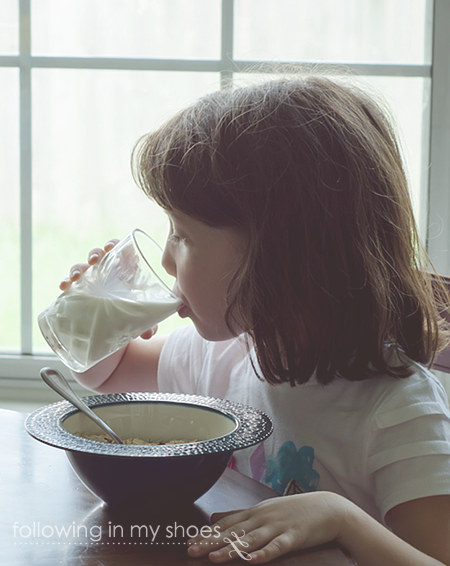 We've sat at the breakfast table — some of us with brushed hair and some falling a little short of that — and taken just a few precious minutes to sit together.  Eating, talking about the importance of breakfast for our bodies and brains, and chatting about our coming day.
Granted, they are little bitty people and it's easy for us all to gather like this without the pull of a hundred different places and activities calling us here and there.  We don't have early morning football practice or marching band to head off to.  We just have school beckoning.
But, my hope is that — as we enter into this new phase of life ("school years") — I am able to set a precendent with my children that will last for the next 13+ years: the act of breaking bread (or biscuits or cereal or bacon) together as a family.  Why?  Because I want to  continue laughing with these children in the hazy morning sun as I fuel their bodies with healthy foods for the coming day.
Because I'm the Mama and this is just what I do.
Every Day is a Big Day
Scholastic (yes, the folks behind the books and book-fairs your kids are always talking about) and Kellogg's®  Frosted Mini Wheats® have teamed up for a new initiative this semester: the "Every Day is a Big Day" program.
The purpose is to invite families to complete "monthly missions" for an opportunity to earn FREE Scholastic books and a chance to win books for your school and community!
The process is simple:
Visit scholastic.com/minimissions to register your family for the Every Day is a Big Day program.
Each month, log in and complete a new Mini™Mission to earn 2 free Scholastic books for your family.
When your family completes a Mini™ Mission, you are also entered into a sweepstakes where 131 prizes will be awarded to schools and communities each month (including classroom books, grants, library makeovers!).
What exactly are these "Mini™Missions"?
The missions are geared with the idea of bringing the family together with a specific objective for each month.
| | | |
| --- | --- | --- |
| Month | Mission | Objective |
| August | Start a Nutrition Tradition | Encourage families to eat breakfast every day to get into a routine for Back-to-School. |
| September | Outdoor Explorers | Encourage families to engage in hands-on learning, and enjoy the fresh air by taking part in outdoor adventures. |
| October | Creative Moments | Encourage families to let their creative sides shine. |
| November | Conversation Bites | Encourage family together time during busy school mornings. |
| December | Give and Get Back | Encourage families to do something good for others. |
You can get the full details as well as information on how to earn extra entries by visiting the Scholastic Mini™Missions site.
This is a sponsored conversation by me on behalf of Kellogg's(R) Frosted Mini-Wheats(R). The opinions and text are all mine.