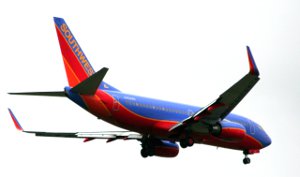 This past weekend, Barney Kneeknuckles and I flew to Oklahoma for a quick, semi-impromptu visit with family.  One of my sisters was down from Boise (yeah, that Boise) and as she hadn't seen the new baby, I thought it a fine excuse for a weekend adventure.
Plus — who doesn't want to experience flying on a plane with a newborn?  It seemed like the best and brightest idea I had ever had.
(sarcasm, sarcasm, sarcasm)
Overall, the little tyke did well and garnered quite a few "Awww, isn't he cute" smiles from everyone — especially older, grandfatherly men.  Those guys LOVED stopping me and commenting on Barney Kneeknuckle's adorable little self, following their compliments with tales and memories of their own children at that age … telling me to enjoy it while it lasts.
(I wanted to ask them if THEY had enjoyed sleep deprivation when their kids were newborn but I decided to just smile and nod.  I was feeling a bit generous despite being cranky from a lack of rest)
As for the actual plan ride, Barney did nothing but snuggle next to me, nurse, and fill his diaper.  I don't know WHAT it was about being in the air, but on each flight, that rat filled his diaper — quite, QUITE loudly I might add —  within 20 minutes of taking off.
(To the Southwest passengers and crew, my apologies.  I know he didn't scream, but he did make his presence known nonetheless and for that I am sincerely sorry)
But, as long as he got free-reign to nurse, Barney had no problems on the plane.  Thankfully, the plane's engine overwhelmed the sound of his guzzling and gulping and milk-drunk sighs, although if they had been audible we might have avoided one embarrassing encounter with a nosy engineer.
Well, I don't know that he was an engineer… but he looked liked one … what I THINK an engineer looks like.  And, he was reading "Why We Hate Oil Companies," so he obviously was somewhat cerebral.  I'm blaming that for his lack of manners.
There I am, Barney Kneeknuckles tucked away under my green and brown nursing cover — suckling away — and the nosy engineer, book unopened on his lap, looks around.  I can tell he is one of THOSE people — one of the chatty types.  The ones who want to sit and talk with you for the entire flight, sharing life stories and their "funny" jokes that they will cause them to guffaw loudly while you politely smile and try to appear interested.
I'm sorry — I know that sounds rude but I am NOT a plane conversationalist.  When I fly, I don't want to do anything but grip the arm-rests, close my eyes and pray to Sweet Baby Jesus that we land safely.   Yeah, flying kind of freaks me out a bit… just a bit.  It's really best if I can just stay to myself during the flight and continually remind myself to breathe.  Talking to me doesn't help the constant "I'm on the brink of a panic attack" mode that I enter once we take off.
Anyway — Mr. Nosy Engineer looked at me.  I could feel his eyes on me but I was busy trying to nurse Barney and trying not to freak out over the fact I was in mid-air with my baby, with only a few feet of metal separating me from a free-fall to earth.
Mr. Nosy Engineer continued to look and I knew he was trying to figure out what I was was doing.  Then, he did it.
He. Leaned. Over. And. Looked.
LOOKED.
Looked over the edge of my "discrete" nursing cover and saw Barney.  And Barney's Mouth.
And probably parts of my anatomy that God didn't intend for Nosy Engineers to see.
(After all, I married a financial adviser, not an engineer)
NOW I was looking at him (and about to give him a piece of my freaked out mind) when it finally dawned on him what I was doing.
"Oh, hey … didn't realize you had a baby in there."
That was his response.
His apology.
His excuse.
Mr. Nosy Engineer, red-faced and acting sheepish, opened "Why We Hate The Oil Companies" and never let his eyes leave the pages within the book.  Not once.
I turned back to Barney Kneeknuckles — who at that very moment — noisily and (thanks to a dairy sensitivity) "odor-rifically" filled his diaper on that flight.
And THAT'S how a newborn lil' boy defends his Mama.