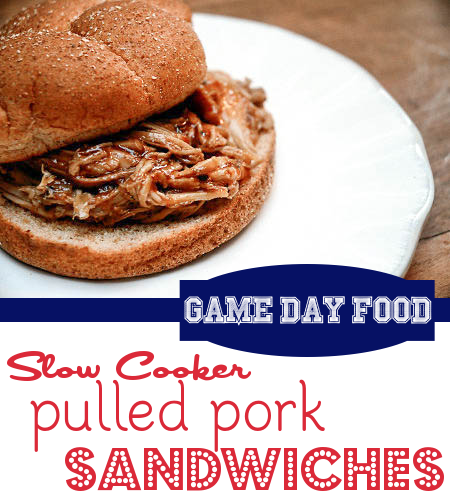 When I hinted in Monday's menu-planning post about a pork recipe I would be sharing today, I played up the suspense.
"Oooo, a new recipe.   Ooooo, it's fabulous.   Ooooooo, it's pork."
And, now, I'm embarrassed to reveal this "new dish" is just my version of the one pork recipe nearly every mom has in her arsenal: pulled pork sandwiches.
It's a simple dish.  Comforting.  Appeals to adults and kids alike.  And, thanks to the slow cooker, easy to serve in the heat of summer or the chill of fall.
It's the perfect, homey, flavorful meal that every. mom. can. prepare.
This mom, however, likes to think she does it a wee bit differently.  My recipe uses the convenience of the slow cooker to take an already flavorful cut of pork (the Boneless Sirloin Tip Roast, exclusively at Costco), a dark beer "braising" liquid and a "semi-homemade" barbeque sauce to create a fresh, lighter twist to the heavily barbequed recipe you might be used to.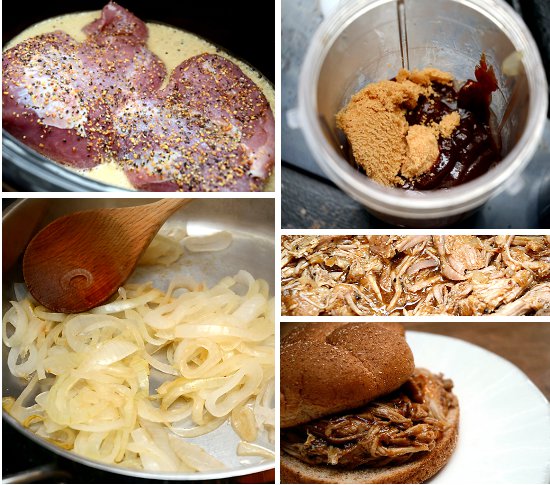 Serve it on top of toasted whole wheat buns and fresh steamed or roasted veggies I promise you'll have a meal even the pickiest kidlet will eat.
Now, you're probably wondering why I would take a roast for a pulled pork dish — especially one that is known for being so juicy and packed with flavor?  Two reasons:
First, with a schedule that involves taking a preschooler back and forth to school, chasing a two year old out of everything he is NOT supposed to get into, and nursing a 7 week old every single minute of the day . . .  I need recipes that don't require much thought from a busy and tired Mama.  By utilizing the roast for a pulled pork dish, I don't have to worry about monitoring the meat's internal temperature and trying to stop the cooking process right at the (USDA recommended) 145 degree mark.
 Nope, with this recipe, you don't have to worry about that optimum temp — just cook it and go about your business.
Second, because life is so chaotic right now, I need recipes that freeze well.  I love, on days when I'm just too tired or too crazy too cook, pulling a meal out of the freezer, heating it up and serving it to my family.  It's so easy.  So convenient.  A life-saver some days.   Barbeque pulled pork is just such a recipe.  LOVE it!
So, here it is — my version of Pulled Pork Sandwiches.  Enjoy!
[print_this]

Ingredients
2.5 lbs Boneless Sirloin Tip Roast*
2 T "Dry Rub" Mixture of Sea Salt, Cracked Black Pepper and Minced Garlic
3 T Worcestershire Sauce
Half a Bottle (around 6 ounces) of Dark Beer
½ a Large Yellow Onion
⅓ C Apple Cider Vinegar
1 T Light Brown Sugar
⅓ C Prepared Barbeque Sauce
Whole Wheat Rolls
Instructions
Place the pork in a 6 quart slow cooker. Sprinkle all sides with the dry rub mixture.
Pour the Worchesteshire Sauce and the beer over the meat.
Cover and turn on "low," cooking for 3-5 hours (depending on how your slow cooker performs) or until the meat is tender and shreds easily with a fork.
Turn the slow cooker to "warm," remove the roast and "pull" the meat with two forks.
Remove 1 cup of the cooking liquid from the slow cooker and set aside.
Return the pulled pork to your slow cooker.
Begin preparing the sauce by slicing the half onion into thin slices.
Pour the apple cider vinegar into a saute pan and place it on the cooktop over medium heat. Add the onions and cover with a lid. Allow the onions to "sweat" or steam until they are soft, slightly caramelized, and have absorbed nearly all the vinegar. Watch carefully so as not to burn the onions.
Remove the onions from heat.
In a food processor, add the onions, brown sugar, ⅓ cup of prepared barbeque sauce (I use KC Masterpiece), and some of the reserved cooking liquid. Liquify, adding more of the cooking liquid if needed.
Pour this "semi-homemade" barbeque over your pulled pork and stir.
Serve the barbeque pulled pork on toasted wheat buns or rolls.
Notes
* I used two of the roasts in the 4-pack Kirkland Boneless Sirloin Tip Roast package, using a scale to weigh them. To freeze: allow the barbeque pulled pork to cool completely and then transfer to freezer bags or other freezer appropriate containers. Seal well, removing as much air as possible. To reheat, thaw in the fridge and then heat in the oven or on the stove top.
[/print_this]
**Don't forget: through October 16th, Costco has a "$2 off" special on their Boneless Sirloin Tip Roasts.  The four-pack I purchased came to around $12 with that special … not a bad deal considering you can make several meals out of those four roasts!
Want more recipe ideas for this pork roast? Check out The Warehouse, Costco's in house newsletter for recipes this week featuring the Boneless Sirloin Tip Roast . . . or Pork, Be Inspired for all kinds of pork info, tips and tricks.
Disclosure: I am working with Costco, the National Pork Board and TheMotherhood to help promote National Pork Month; I am receiving a stipend for my work and was given "Costco Cash," which was used to purchase a membership and recipe ingredients.  The recipe within this post and any opinions expressed are my own.