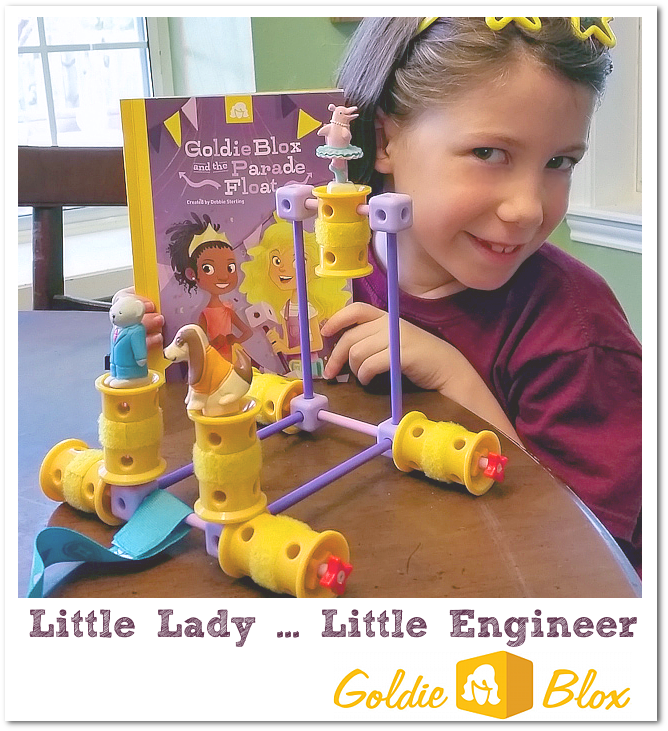 The Little Lady has always been a baby-doll, dress-up, paint and make-over kind of girl.  But she's also the kid who finds reasons to turn the water hose on at any moment … devise new stunts on the trampoline … catch lizards and build "habitats" in her room (um yeah).
She's a mix of girly-girl and tomboy, and she loves a fun challenge.
Goldieblox? Quite possibly her new favorite toy (judging by the fact she's played with them a week solid since I gave them to her!).
Armed with the Dunk Tank Kit and the Parade Float Kit, the Little Lady worked her way through the Goldie Blox story book (which, incidentally, are at an early-reader level and were perfect for this 1st grader).  With each page she completed, my daughter discovered the theme of Goldie Blox's world (creative problem-solving and team-work) and discovered the step-by-step instructions for recreating the very item curly-haired Miss Goldie Blox worked on in the stories.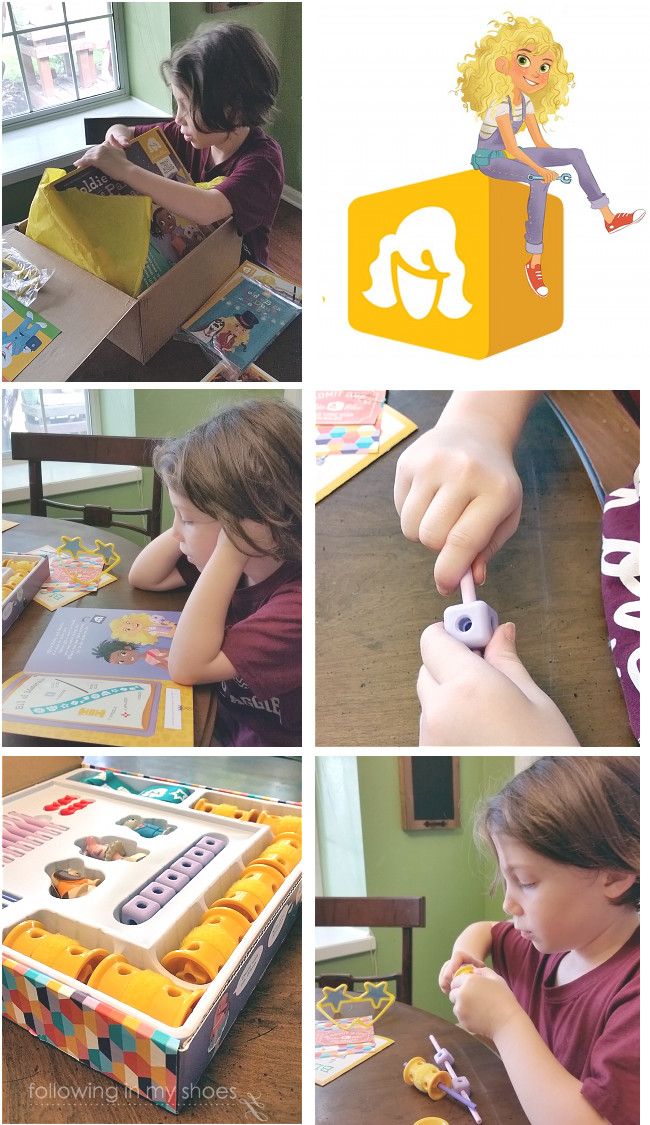 Without question, her FAVORITE, FAVORITE, FAVORITE of the kits was the Dunk Tank Kit — an apparatus using height, pendulums and a little ingenuity to give the dirty dog, Nacho, a bath!!
Over and over, much to the delight of her little brothers, my girl threw the kit's ball at the target and dunked that poor Nacho.  I don't think he's ever been so clean!!
Why The Little Lady Likes GoldieBlox
"It is really good for girls my age. . . you know — over six."
"'Cause I liked it a bunch.  The Dunk Tank was the best!  It was fun to dunk Nacho in the water.  Swing!"
"The little dolls [Nacho, the Pink Dolphin, etc] were fun to play with and I like building stuff for them."
Why This Mama Likes GoldieBlox
Honestly, I've never seen a more perfect toy — *Mama* had fun helping with the Goldieblox build projects!
It's isn't just a set of dry instructions on a folded sheet of paper; the story-lines are great for engaging young minds, and I love that they are written at an early-reader level.  I was able to work with the Little Lady on reading and comprehension skills while we worked on the fun projects.
The instructions also give the "scientific" explanations for why specific things work within the projects — like the pendulum swing that allows Nacho to be dunked in the water tank.  It's all presented in a way that is easy enough for kids to understand.
You aren't limited to just one project with each kit; at the end of each story are 2-3 additional ideas that you can create using that kit's supplies and characters.  And, of course, once sparked, your child's imagination will be burning with tons of ideas.  The Little Lady is currently working on an idea for Roller Skates!
ANYTHING that encourages a child to view math, science, and engineering as FUN, is awesome.  Am I right?????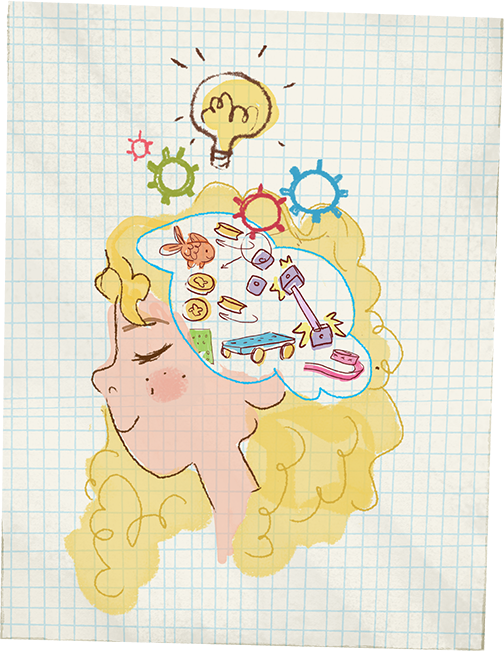 About Goldiblox
At GoldieBlox, our goal is to get girls building. We're here to help level the playing field in every sense of the phrase. By tapping into girls' strong verbal skills, our story + construction set bolsters confidence in spatial skills while giving young inventors the tools they need to build and create amazing things.

In a world where men largely outnumber women in science, technology, engineering and math, girls lose interest in these subjects as early as age 8.  Construction toys develop an early interest in these subjects, but for over a hundred years, they've been considered "boys' toys." GoldieBlox is determined to change the equation. We aim to disrupt the pink aisle and inspire the future generation of female engineers.
 Goldieblox was created by Debbie Sterling — an innovative young woman with a degree in Mechanical Engineering/Product Design who, upon getting frustrated by the small number of women in her field, decided to tackle the problem herself … starting with little girls!  Getting girls engaged in fun STEM (science, technology, engineering, mathematics) projects that encourage exploration of fields that have long been gender disproportionate.  And that's what Goldiblox is all about.
Buy Goldiblox:
From their website: Goldiblox.com (there are a few new kits available for pre-sale; the Little Lady has already asked — multiple times — for the new Zipline Goldie!  And, for disclosure's sake, I've already pre-ordered it for Christmas.  Yup, these are so good, I'm buying more!).  Kits range in price from $19.99 – 59.99.  Expansion packs and other items are available for purchase.
Purchase from Amazon, where prices are currently a wee bit cheaper than other retailers.
More STEM Project Ideas
While you wait for your Goldiblox kit to arrive, check the STEM Pinterest board the folks at Goldieblox have put together — there are TONS of great, kid-friendly, DIY projects to tackle with your kiddos!
GOLDIEBLOX GIVEAWAY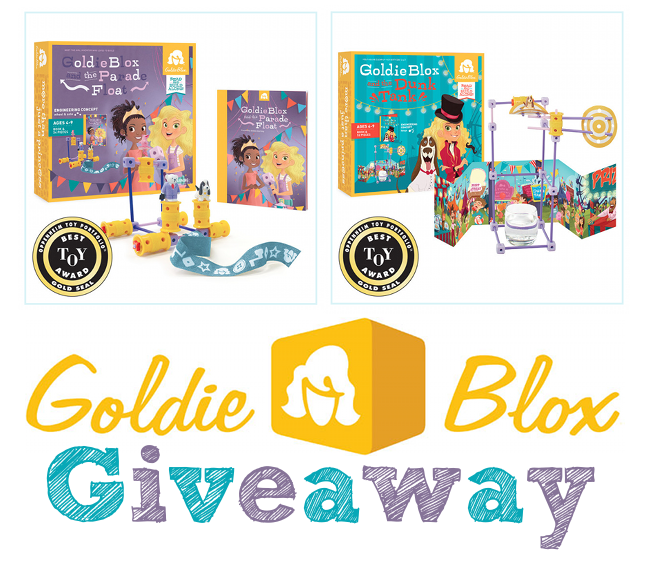 Goldieblox has graciously offered to let me give way TWO kits to one of my readers: one Parade Float kit and one Dunk Tank kit (the same ones the Little Lady received and LOVED).
a Rafflecopter giveaway
Giveaway ends September 30th.  Winner will be notified by email and have 48 hours (from the time the email is sent) to claim the prize.