Well, it's over, isn't it?  Chaos.  Craziness.  Christmas.
Thus far, this Christmas season has been my favorite as a Mommy.  The Little Lady was old enough to remember and anticipate many of our family traditions, like our Advent calendar, and Mr. Boy was finally big enough to join in the fun of other yearly rituals … like our gingerbread house.
Looking over the past 30 days, I've come to realize I'm a Tradition-Junkie, especially at Christmas time.
Advent activities.  Gingerbread houses. Yearly ornaments for the Kidlets.  North Pole breakfasts. These are just a handful of the traditions we have going on now as a family.
And, of COURSE …. we had Christmas jammies.  Mama LOVES her some Christmas jammies on the Kidlets.
Each year, I start scouting for Christmas pajamas around Halloween.  Yes, that's early but it's CRAZY how fast those things fly off the shelves, which — really — is proof positive that I'm not the ONLY crazy obsessed thoughtful Mommy out there.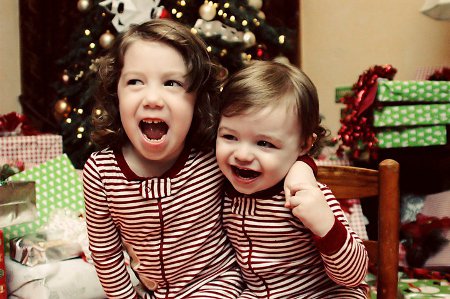 (Christmas Morning, 2010)
This year, my sister — who celebrated her first Christmas as a mommy — had a BRILLIANT idea.  Just brilliant.
THIS YEAR . . . all of the cousins would have MATCHING jammies. . . handmade matching jammies. According to Pinterest, handmade matching Christmas jammies would be a piece of cake.  15 minutes to assemble.  Tops.
Easy. Peasy.
My contribution to the adorable idea?  One of a kind reindeer shirts fashioned from the kidlets' handprints and footprints.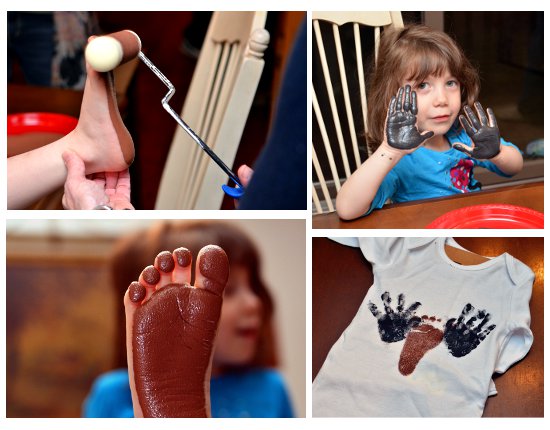 All in all, we would have cuteness to the nth degree for Christmas morning.
What Mommy doesn't want that?  C'mon!
Unfortunately (sigh), we waited till Christmas Eve to start the homespun project of pajama pants.  Yeah … Christmas Eve.  The day everyone is scurrying to get presents wrapped and desserts made.  The day my mom and dad are trying to get ready for Christmas Eve services at our church.  The day THERE IS NO TIME!!!!!
Oh, yeah, and the day my sister goes to party with her In-laws leaving ME and ME alone to finish making jammies for every. kidlet. in. our. family.
Sigh …. traditions.
Many stressful hours later, it was done.  Four matching sets of Reindeer Christmas Pajamas.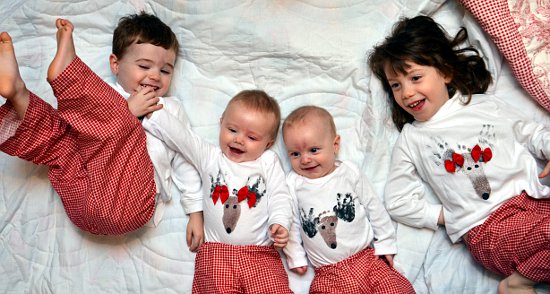 (Made well? Um no.  The Pinterest tutorial wasn't that easy and I was in a hurry … so we aren't going to talk about my seams, my casing for the waistbands, or the hems.  Definitely not talking about the hems.)
And after back-to-back Christmas Eve services, we had four adorable cousins. . .  and plans for NEXT year's set of jammies.
Yep, we want to do it again. A new tradition is born.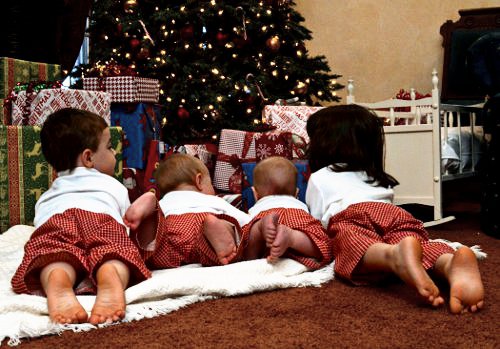 Tell International Delight what your favorite holiday tradition is for a chance to win a $200 Target gift card from BlogFrog.
Add some cheer to your coffee or baking this season with International Delight's holiday flavors. Enjoy the taste of Peppermint Mocha, Pumpkin Pie Spice, White Chocolate Raspberry, Vanilla Spiced Rum or Gingerbread Latte and stir up a moment of sweet inspiration.
This is a sponsored conversation written by me on behalf of International Delight. The opinions expressed by me do not necessarily reflect the view of the International Delight Brand.