Two weekends ago — on the first Saturday of December — we started a new tradition with our little family.
A Holiday Breakfast.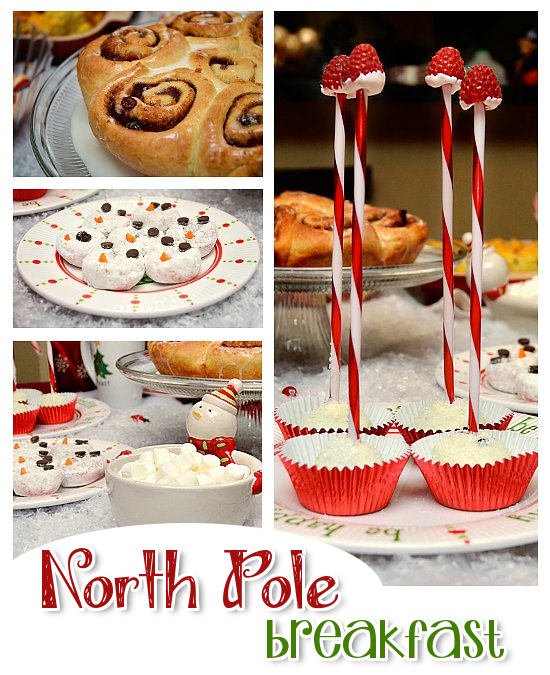 Most people wait till Christmas morning to do a big theme breakfast with their loved ones, but we are always out of the state on Christmas day — spending the morning (and breakfasting) with my extended family.
Creating an intimate, Holiday morning meal — with just our kidlets — is something I've been wanting to do for several years.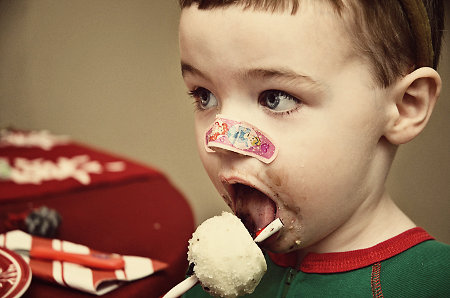 (ignore the oddly placed princess bandaid … his "noses" hurt)
I love making memories through traditions … love the anticipation of favorite events, decorations, and foods each year.  The idea of tradition is probably the main reason I adore the Christmas season; everything about it — advent activities, nativities, Christmas programs, music, decorations, treats — lends itself to becoming a family tradition.
Since we can't plan a Christmas morning breakfast but wanted a "food tradition" that belonged just to our family, Hubby and I decided to plan for a meal the first weekend of December.
For days and days and days, I was glued to Pinterest, looking for food and decor ideas.  And, in full disclosure, I was *thisclose* to serving Manger Hay (hashbrowns) and Baby Jesus Bites ("lil' smokies" wrapped in crescent rolls). . .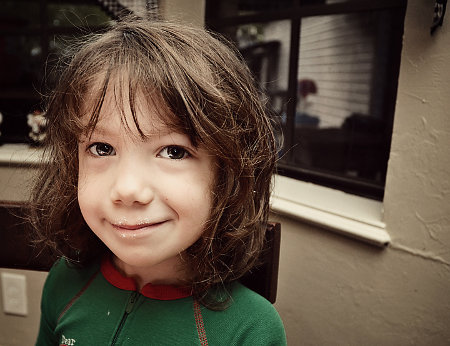 (Suspicious white powder on her jammies, in her hair, and on her mouth…. yet she claims to have eaten only ONE powdered donut)
Then Baby Jesus intervened and brought me to my senses and Mommy realized she was attempting to take a theme just a wee bit too far.
(Baby Jesus Bites??????  I blame sleep deprivation for that one.)
The Friday night before the big meal, I stayed up till 4 am.  Yes, you read that correctly … FOUR IN THE MORNING!
Now before you go and think I'm crazy … those hours of work were unavoidable.  I planned a big, fun menu (free of any deity-inspired recipes)  and, because of commitments earlier in the evening, I couldn't get started on anything till after 11pm.
So, see?  5 hours of actual work only shows that I am mildly crazy.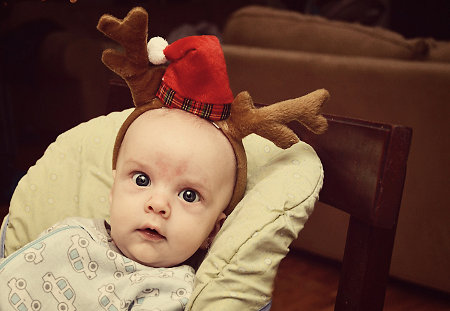 (A Reindeer Baby … 'cause why not?)
At the end of those five hours, as I looked at the blurry sight before my tired eyes, I hoped it would be magical for the kidlets … the wee sleeping ones who had no idea anything special would taking place.
On the table?
Homemade orange-cranberry cinnamon rolls.  "North Pole" cake pops.   Snowman donuts.  Hot chocolate.  Candy Cane milk.  Country hashbrown casserole.  Fresh raspberries and oranges.
Christmas Jammies and Reindeer Headbands.  New coloring books and Christmas cups.
And everywhere … snowflakes.  Big ones.  Little ones.  Glittery ones.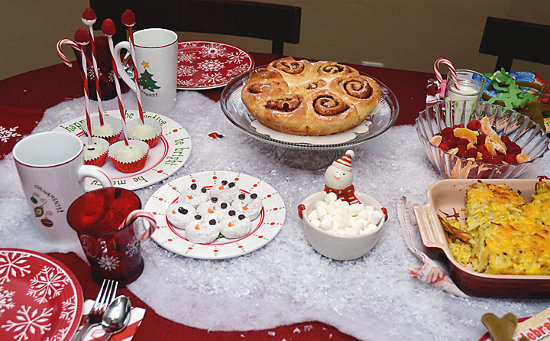 Was it all worth it?
I'd say the look on the Little Lady's face — when she first saw the food, her Christmas jammies and all the rest of the spread — shows it was beyond worth it.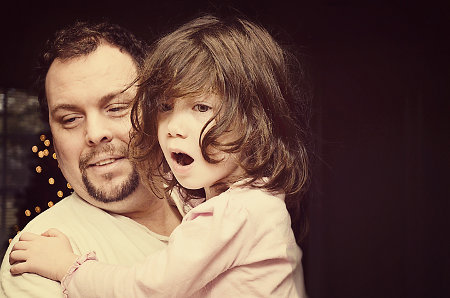 She made a memory. . . and is STILL asking for more donuts.