It's been a few weeks since I've posted pics and links to all of the wildly creative projects that I would LOVE to do (even though we all know I'll never get around to them).
This week, though, I *have* to complete a few projects . . . birthday party projects.
I have to admit, there's nothing that intimidates me more than a party — whether it be attending one or throwing one.  I'm SUCH a wall-flower that the thought of going to a party can make my stomach knot up.  I hate being so shy!
Over the past couple of years, I have gotten a little better.  A little bit.  I've been trying to make myself "get out there" and enjoy parties.  It's working — I don't get as nervous as I used to do.
BUT — I still get horribly, terribly nervous and stressed out when it comes to hosting a party.

(which, is why I rarely have people over to my house)
What if they don't have a good time?

What if I don't have enough food?

What if the food I have is horrible?

What if I forget something?

What if I forget to clean something?

What if, what if, what if . . . . sigh.
So, with such party-anxiety, WHY ON EARTH did I decide to throw a great big joint-birthday party for the kidlets?  WHY?
Personally, I think I went insane.
Or, maybe I just am trying to completely break free of my thick, "I'm terrified of social-situations" shell.
Either way, I'm throwing a party.  A kids party.  A BIG kids party.
Next week.
And, I just realized that it's "next week" YESTERDAY.
(I bet all of the party-planning divas never have had that happen to them!)
Yeah — last minute preparations and planning don't help the panic situation I have going on.
I didn't intend on waiting till the last minute.  See my pretty invitations?  I made and passed those out 5 weeks ago.  I was on TOP of things!
Then, I completely forgot that July came after June . . . forgot that there was more work to do after the invites  . . . forgot that one can't just "throw together" a Carnival Party.
Oh, yes — we're having a Carnival Party .. . or is it a Circus Party?
(is it a bad sign that I still don't know what kind of party we're having?)
After a few frantic tweets and Google searches yesterday, I stumbled across a over-the-top, uh-MAZING party planning blog.
If you want ideas and pictures to help you plan your next kid's party, baby shower, etc., you need to swing by her site!  Now, her budget is wayyyyyy beyond what mine will be, but I still found so many cute, cute, cute ideas for our Carnival Party.  I mean, our Circus Party.  No — wait, it's a carnival.  .   . I think.
She threw a Circus Party for her boys and, holy cow, it was crazy adorable!
Here are just a few ideas I am stealing for our party (all of the pics below are from Kara's site):
Matching Circus Shirts — using the same applique techniques I used for The Little Lady's "3" shirt.
Photo Booth — the first "activity" will be for the guests to head to our photo booth (which I'll be making out of Cardboard and Fabric, like the one below made by fabulous Miss Kara), where they will don Clown Noses and say, "CHEESE."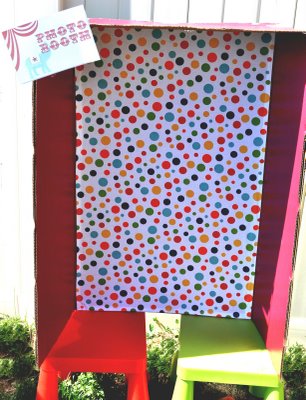 Later, when everyone is present, the kids will make a circus photo frame for their picture (the picture/frame will be part of their party favor).  I can't afford to buy frame kits, so I'll be making them from craft foam and supplying glue sticks for the kids to use.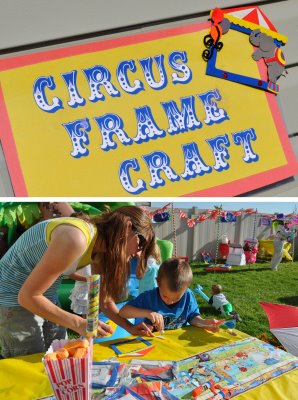 Party Snacks?  Well, COTTON CANDY for one!  Luckily, I don't need to rent a machine because my mother-in-law HAD one of her own.  Seriously, this woman has the most random possessions!  I love it.  🙂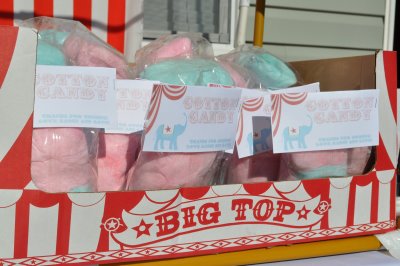 Popcorn will also be served;I have an air-popcorn machine, so we'll use it.  (I'm getting my popcorn boxes from Hobby Lobby)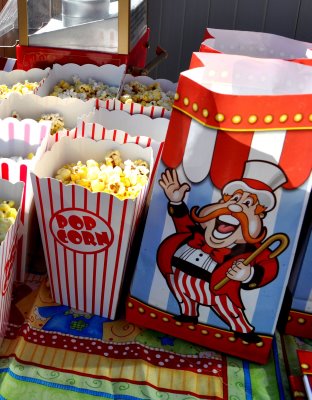 No "birthday cake" at this party . . . we're going to have POPCORN CUPCAKES!  You can see how cute Kara's turned out in this pic.  All she did was put marshmallows on top of cupcakes and spray them with yellow food coloring!  I don't know that I'll have time to cut down popcorn boxes for to serve as the wrappers, which is what she did, so I'll probably use normal paper wrappers instead.  I can't wait for these!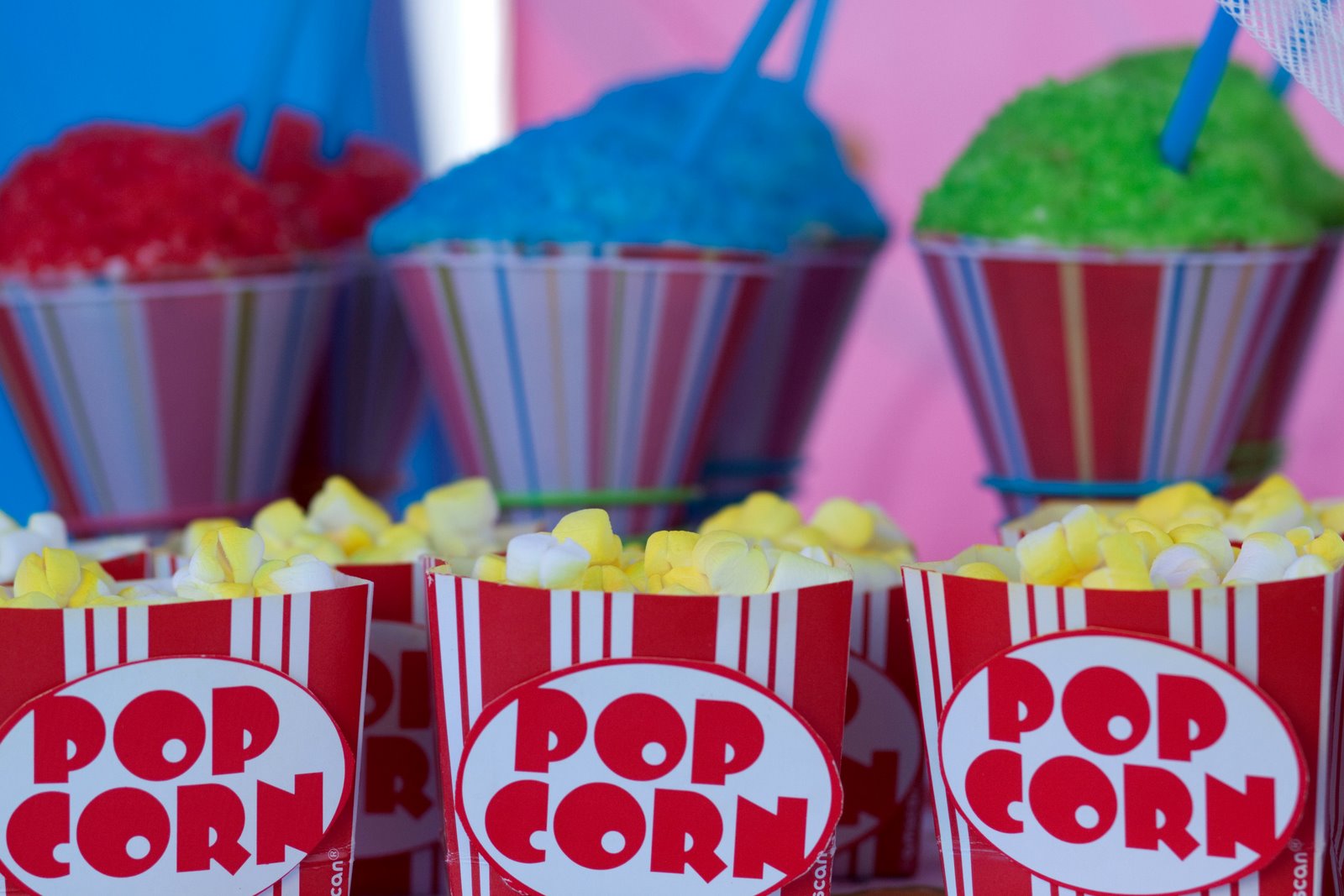 I found an inexpensive Bean Bag toss game, similar to this one, at one of Houston's local party supply stores.  Yay for giving kids things to throw.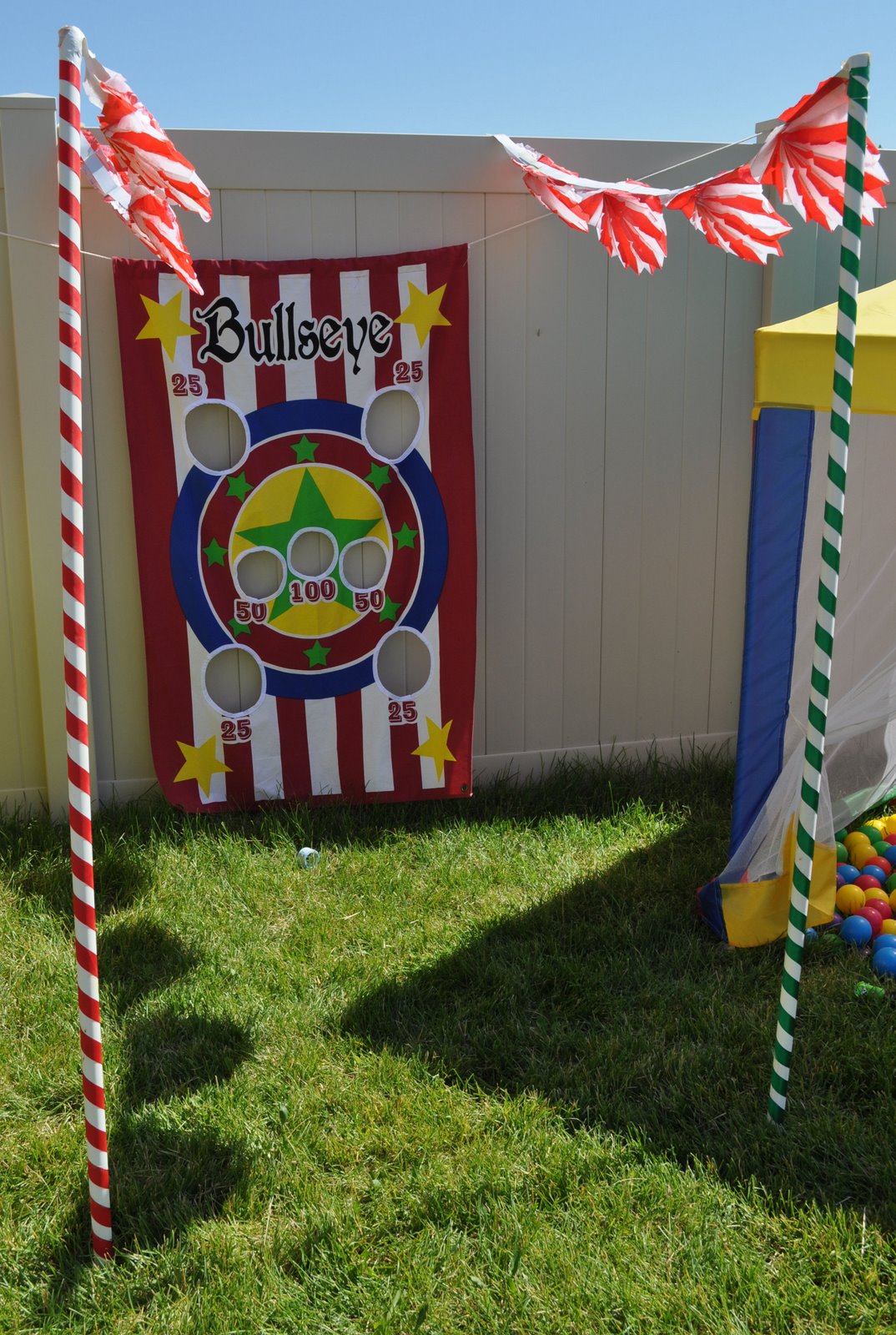 I'm going to have a few other things going on — mainly water activities since it's Houston and 90-billion degrees out — but I'll post those pics after the party.
Ok — gotta run.  After all, my party is NEXT week and gathering ideas is only step two.  I have to actually get to work and make all of this stuff!
(Please be praying that I stay sane through all of this. Seriously — Mama don't do parties!)