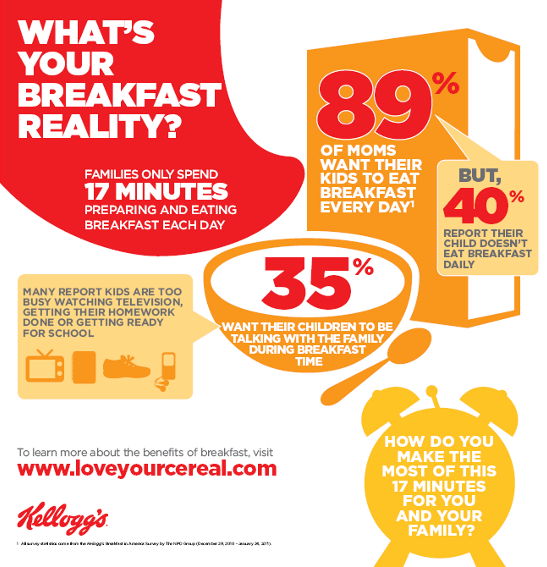 Mr. Boy and his Daddy ADORE breakfast.
Pancakes.  Sausage.  Eggs.  Toast.  Cereal.  Oatmeal.  Doesn't matter what is served, those two boys will lap it up … and in a heartbeat.
The Little Lady and Mommy?  Ummmmmm …. well … we love breakfast foods but it takes us awhile to eat.
Our bodies take a loooooong time to wake up.
(so watch out for us first thing in the morning — we are NOT happy campers)
Every morning, as we're scurrying around the house, scrambling to get everyone ready before it's time to take the Little Lady to school, I make breakfast for the kidlets.
Two minutes later, Mr. Boy is asking for seconds.  The Little Lady still hasn't taken her first bite.
Honestly, breakfast ends up being a chore around here because of how slow the Little Lady is about eating the first meal of the day.  But, I don't let her get away with skipping it.  A year and a half ago, when I was working with a nutritionist, I learned how important mindful eating is … and how important breakfast is for everyone — children and adults.
That first meal wakes our bodies up — digestive system and brain alike.  It fuels our metabolism and helps keep synapses firing for morning tasks.
It's necessary.
And as the Mommy around these parts, it's necessary for me to ensure my kidlets start their day off right.
So, sorry, Little Lady.  Breakfast rules.
 What's breakfast like at your house?
Disclosure: I am working with Kellogg's and TheMotherhood to promote "breakfast" and received compensation for my work.  Any opinions expressed are my own.