The 4th of July has always been  a special holiday for me; my sisters and I all looked forward to it every summer.  Fireworks, cousins chasing each other across my grandmother's lawn, taking turns manning the ice-cream maker. . . it was the highlight of our hot Oklahoma summers.
This year, for a variety of reasons, I think we're going to stick close to home for the 4th of July.  And, I'll be honest . . . I'm more than a little mopey about the fact.  Celebrate the 4th of July at home? ? ? No cousins squealing as the sun sets?  No aunts cluttering around the kitchen?  No fighting over lawn chairs?
(It just doesn't feel the same.)
So, now I'm in full-gear planning mode, trying to think of ways that I can make the day special and fun for my little family (and, yes, for me too).  I don't want it to be just another day.
(Am I whining too much yet????)
I have one treat planned: Rice Krispy Treat Sparklers … but that's it in the food department.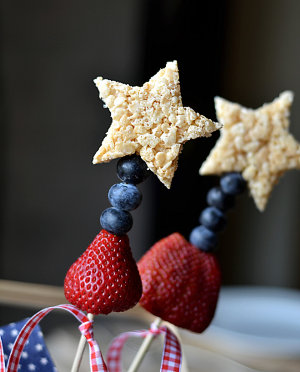 I have found a few fun, patriotic activities and food ideas (thank you, Pinterest) that look promising . . .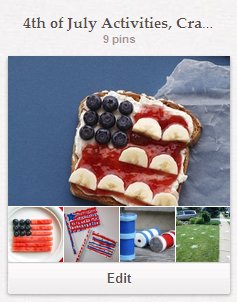 But, here is where I turn to everyone else: how do YOU celebrate our Nation's birthday?

What activities, special traditions, crafts or food do you share with your family on the Fourth of July? 

Share your idea (links are welcome!) with me.

disclosure: I work with the Ebates Savvy Living Community, where I get to chat and get help and ideas … just like the ones needed now!