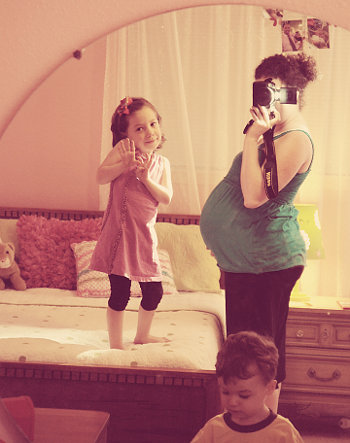 Every time I venture out of the house . . . or answer my cell-phone . . . I get THIS question:
"So, how are you feeling?"
How?  Am?  I?  Feeling?
I honestly don't know how to answer.  Do people really want the raw truth?
(1)  My abdomen is stretched farther than I ever thought possible — in fact, I now have stretchmarks ABOVE the OUTIE belly button I'm sporting (incidentally, this is the first time EVER I've had an outie.  Ever.).
(2)  Barney Kneeknuckles is sooooo heavy.  If I lay on my back, it feels as though an enormous bowling ball . . . one of those with the giant finger holes for some giant of a man . . . is crushing every internal organ.
(3)  I get winded getting up off of the couch . . . WHEN I can get off the couch.  If I don't remember to sit "just right," I need a crane (or Hubby's arm muscles) to pull me up.  Fun times.
(4)  Heartburn.  OH, the heartburn.  Everything . . . EVERYTHING gives me heartburn.  Eating has lost its pleasure — I take bites, trying to enjoy the flavors I've craved, but knowing that it won't be long before a smoldering fire starts its way across my esophagus.
(5)  Insomnia.  I don't know when I last had more than forty-five minutes of uninterrupted sleep.  Most nights, I lay in the bed . . . trying to toss and turn (it's nearly impossible without the most ridiculous amount of momentum) . . . for hours.  Just blinking in the dark.
(6)  I'm crabby.  No, REALLY crabby.  I pretty much want to stab everybody's eyes out with a hot french fry.
(Ok , maybe that IS a bit extreme . . . but you get the picture)
(7)  My hip and pelvic bones feel like they are going to fall apart any minute.  They creak.  They crack.  Bones rub against one another.  And the PAIN of trying to roll over, get up or anything else involving those bones.  Absolutely ridiculous and annoying.  'Nuff said.
So . . . do people really wanna hear all of this?  Are they looking for these awful, "make you wish you just could lay an egg and be done with it all" details?
Probably not.
That's why I just wanly smile and say, "I'm hot."  And, since we're on day 49 of triple digits . . . everyone understands.
And then they watch me waddle off.
'Cause I'm totally waddling these days.