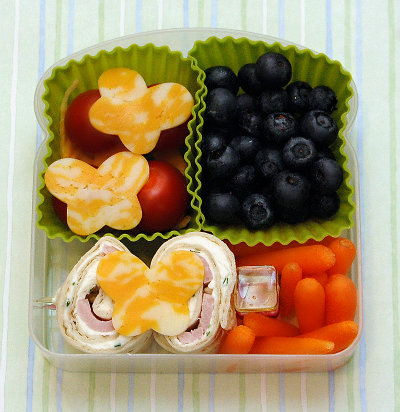 The kidlets and I have been experimenting with lunch options lately, in anticipation of the Little Lady starting preschool.  This Bento Lunch (packed in a simple sandwich box) is full of the Little Lady's favorites: baby carrots, cherry tomatoes, blueberries, a few cheese butterflies . . . and her NEW love — Cream Cheese and Ham Pinwheels.
This is one of those recipes that probably everyone has in their back pockets. . . and the possibilities for ingredients are endless, as shown by this spicy tortilla roll up.  My mother used to make a variation of them for every Church potluck, shower and gathering when we were kids.  They are incredibly simple and, I'll say it again, the ways you can go with this idea are limitless (heck … cream cheese and blueberries for breakfast pinwheels?).
The Little Lady has had these pinwheels in a few lunches now, and, each time, she devours them first . . . before anything else.  Even before the tomatoes.  THAT, my friends, is proof-positive that we have a hit on our hands.
[print_this]
[/print_this]