Once Upon a Time . . .
I had a wonderful idea: the Kidlets should have coordinating costumes for Halloween.
Brilliant!
But, then came the big quandary — how should I dress them?
Raggedy Ann and Andy?
Thing 1 and Thing 2?
I turned to the Little Lady, allowing her (for the first time, mind you) to offer input as to what her Halloween costume should be.
"I wanna be LADYBUG GIRL!!!!!!!!!!!"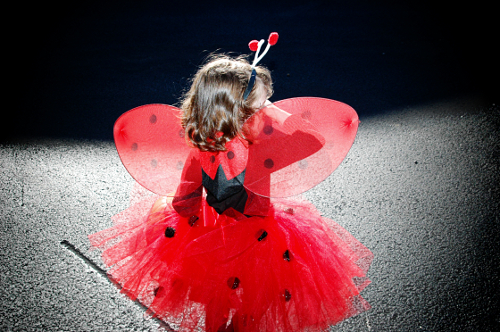 (Side note: if you haven't read the Ladybug Girl series, you MUST — they're adorable.)
Ladybug Girl is her heroine — a spunky, slightly older version of herself who knows she is NOT too little to do big things.
The Little Lady wanted to be Ladybug Girl, and I couldn't tell her no.  But, where would this leave Mr. Boy?  There is no Ladybug Boy . . . no masculine way to wear red and black polka dots.
After a brief bit of research, I stumbled across a bit of luck: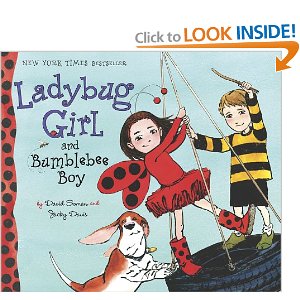 That's right — Ladybug Girl and Bumblebee Boy!  It was PERFECT — the Little Lady could have her Halloween wishes and I could have the coordinating costumes.
Halloween PERFECTION.
Except . . . well . . . it turns out that Bumbleebees are usually girls too.
(sigh)
Every other stinkin' little Bumblebee-Child we encountered was a little GIRL!
NO BOYS!
And, at every house we visited Halloween night, the candy-dispensing Grandma or Grandpa had the same thing to say: "Oh, isn't she ADORABLE?  Oh, just look at that sweet little Bee!"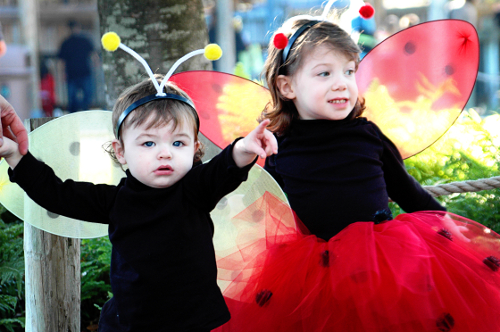 I tried adding face paint in the form a "mustache," but that didn't help much . . . especially after he discovered the drooly, sticky power of Suckers.  They successfully washed away most of the 'Stache.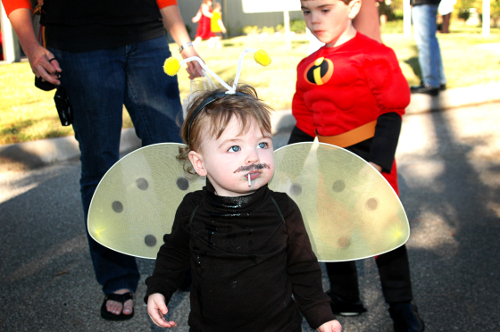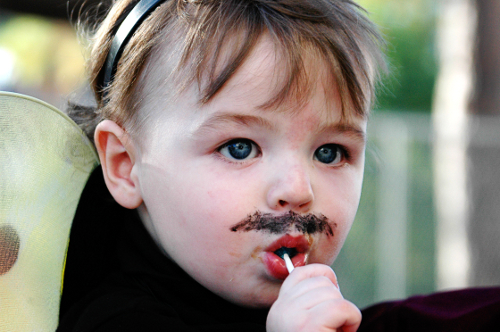 Lesson Learned — next year, only gender-appropriate costumes . . . unless I want Daddy, I mean Mr. Boy growing up with a complex.
This Wordless Wednesday post is linked up with 5 Minutes for Mom and Parenting by Dummies.
And, just because she's cute . . . .here's a random photo of my Ladybug Girl . . . in full Ladybug-Girl-Attire.